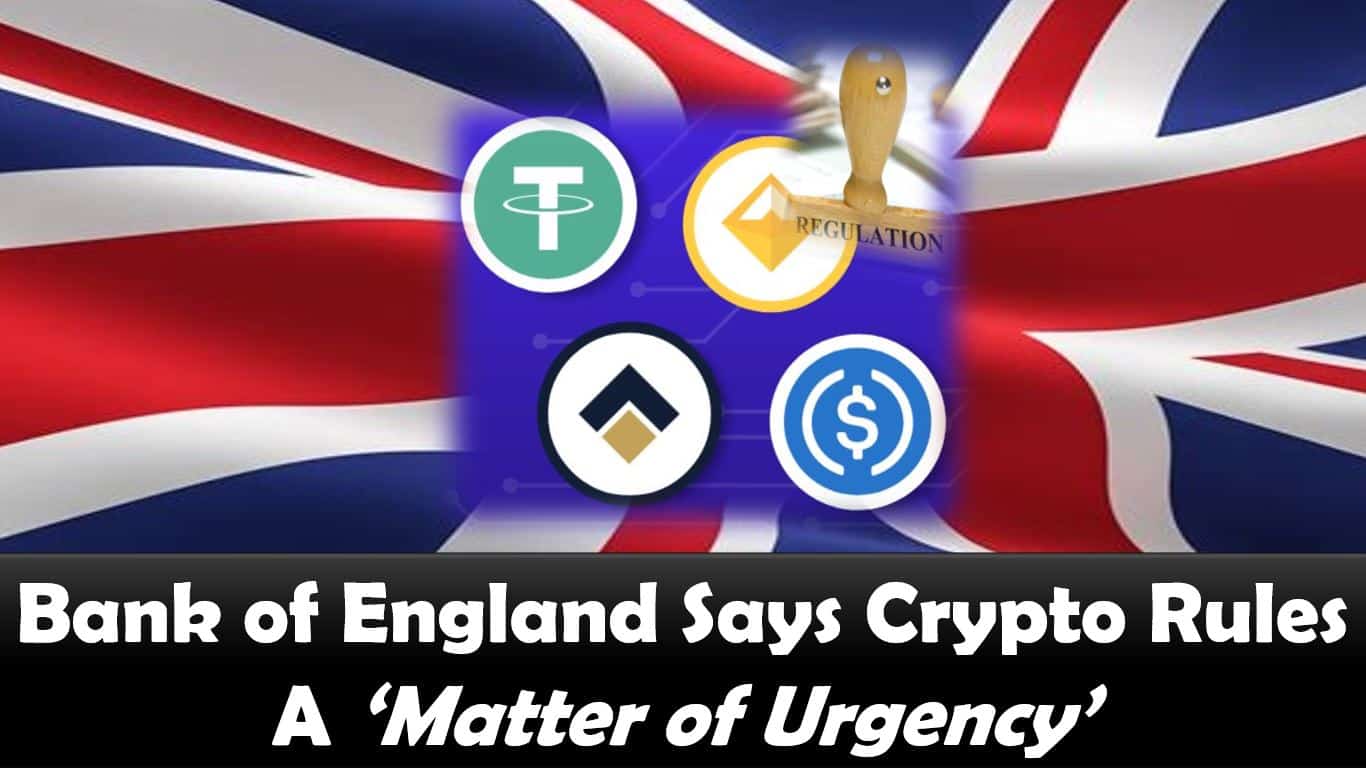 Bank of England Says Crypto Rules A 'Matter of Urgency'
Last updated on November 1st, 2022 at 03:55 pm
Sir Jon Cunliffe, the Deputy Governor for Financial Stability at the Bank of England, has issued several recommendations on creating a stable crypto climate.
The executive stated that a crash in cryptocurrency prices was "plausible" and that rules regarding crypto assets needed to be "pursued as a matter of urgency."
Cunliffe gave these remarks during the SIBOS conference, where he noted that the crypto market had grown by 200% this year to over $2 Trillion, but most of the assets lacked any backing by any asset or fiat currency.
Cunliffe noted that the unregulated nature of cryptocurrencies made them pose a risk to financial stability. He referred to a case in point in the U.S. mortgage market that collapsed in 2008 and caused a global banking crisis.
"But as the financial crisis showed us, you don't have to account for a large proportion of the financial sector to trigger financial stability problems – sub-prime was valued at around $1.2 Trillion in 2008," he stated.
Cunliffe stated that a collapse in the crypto sector was a plausible event, given that these assets do not have intrinsic value and are subject to high price volatility.
He also identified the other concerns that increase the risky nature of cryptocurrencies, such as their vulnerability to cyber-attacks and their "herd behaviour", wherein all cryptocurrencies dip or gain almost simultaneously.
The executive also addressed the growing concern of increased institutional investments in cryptocurrencies.
He noted that the need for a regulatory framework was now more important than ever, given that the traditional financial system involving professional investors, hedge funds and banks now had a greater connection with cryptocurrencies.
Cunliffe Speaks On DeFi Boom
Cunliffe also shared his thoughts regarding the rapidly growing decentralized finance (DeFi) sector. The executive noted that the DeFi space lacked investor protection measures despite offering similar financial services to traditional institutions.
He added that the Bank of England was already looking into DeFi and ways to reduce or manage the risks found in this space.
Last week, regulators worldwide proposed that stablecoins should be subject to the same regulations as systemic clearing houses and payment systems. Stablecoins are cryptocurrencies whose value is pegged to an underlying asset or fiat currency.
However, despite these safeguards, stablecoins make up only 5% of the entire cryptocurrency market; hence these safeguards will do very little in taming the growing crypto sector.
Cunliffe was among the global regulators involved in developing these safeguards. He stated that these measures had been developed over a 2 year period, which was too long given that stablecoins have since grown by over 16x.
However, Cunliffe did not call for a total ban on cryptocurrencies. He noted that there were many potential benefits of the underlying technology being used in the finance sector. However, he noted that these benefits could only be achieved if the cryptocurrency sector grew sustainably.
"Indeed, bringing the crypto world effectively within the regulatory perimeter will help ensure that the potentially very large benefits of the application of this technology to finance can flourish in a sustainable way," Cunliffe stated.
He also stated that regulators should not focus more on the technologies used to support cryptocurrencies because these technologies were beneficial. Instead, he stated that what should be regulated are the activities that this technology is enabling.
Disclaimer
The information provided here is for INFORMATIONAL & EDUCATIONAL PURPOSES ONLY!
View our complete disclaimer on our Disclaimer Page