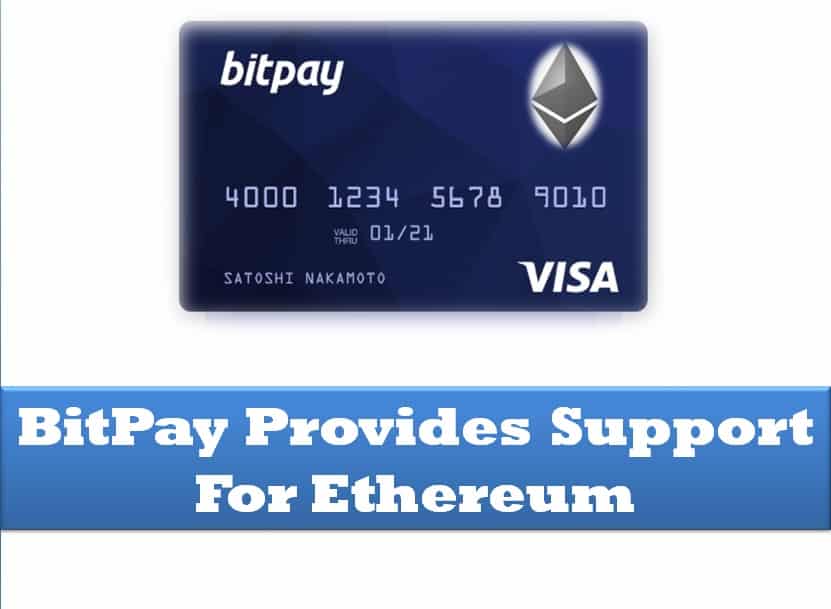 BitPay Customers Can Now Use Ethereum
Last updated on November 1st, 2022 at 04:47 pm
True cryptocurrency advocates, those who treat the digital asset as it was intended, like currency always seek out new and better ways to be able to spend their crypto.
One of those way is by the use of credit card, enter BitPay.
BitPay, one of the biggest providers of cryptocurrency payment services, has added support for Ethereum on its platform. Ethereum (ETH) is the second largest crypto asset by market capitalization, and its addition to Bitpay will take the payment processor one step closer to becoming the leader in the industry.
According to a press release from BitPay, entities which make use of BitPay for payment processing will now be able to accept ETH for any transactions, without the need to set up enhancements.
Users of BitPay can also store their ETH holdings on the BitPay wallet and users of the BitPay Visa Card can use the cryptocurrency to top up their funds.
Providing Real World Use For Cryptocurrency
The addition of Ether to the cryptocurrencies supported by BitPay expands the options a crypto user has when they make use of the payment processor. Prior to the addition of support for Ethereum, BitPay users could make payments using Bitcoin and Bitcoin Cash. BitPay converts these crypto assets into fiat currency and vice versa, in order to facilitate any kind of payment.
Since its inception in 2011, BitPay has enabled over $3 billion worth of transactions. Vitalik Buterin, the co-founder of Ethereum, said that he is excited to see BitPay leading the integration of Ethereum into payment systems. He added that this opens up a lot of new possibilities for the Ethereum network as a whole and creates opportunities for the development of more real world use cases for the cryptocurrency.
Creating a Secure Payment Processing Platform
BitPay's platform has become more popular over the past year or so and the company has stepped up its efforts to add more security to the payment processing system.
In August this year, BitPay added new verification protocols for payouts, refunds and some high value payments. Users who need to make use of one of these functions will now need to execute a one time verification process. The verification makes use of personal details such as a passport number, social security number, or a photo of one's ID document.
Recent BitPay Payment Controversy
Over the last few weeks, BitPay has been at the center of a controversy regarding the firm's refusal to forward funds to their intended recipients. BitPay refused to forward $100,000 worth of Bitcoin towards the Amazon rain-forest charity, saying that the amount was beyond the limit for donation amounts that can be sent through the platform.
BitPay also came under fire for refusing to handover Bitcoin donations made to the Hong Kong Free Press (HKFP). Tom Grundy, the founder of HKFP, took to Twitter to express dissatisfaction over the withholding of funds by the payment processing platform. No clear reason was given as to why the funds have not been transferred to the HKFP.
Disclaimer
The information provided here is for INFORMATIONAL & EDUCATIONAL PURPOSES ONLY!
View our complete disclaimer on our Disclaimer Page