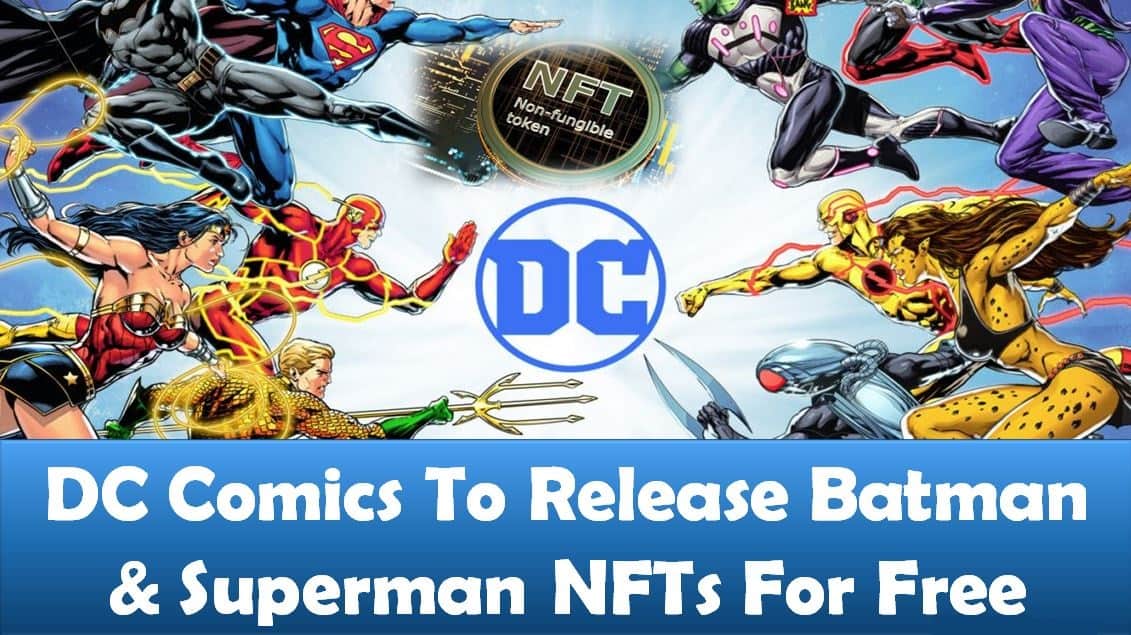 DC Comics To Release Batman & Superman NFTs For Free
Lovers of DC Comics classics will now have a chance of being part of the non-fungible token (NFT) boom.
The free NFTs to be given out by DC Comics will involve some of the most notable characters in the comics world, such as Batman, Superman and Wonder Woman.
DC Comics, one of the most renowned book publishers in the U.S., has partnered with Palm NFT Studio to launch its NFT collection. This NFT release is expected to attract comic lovers from across the globe as this collection will include some of the most popular DC Comics characters.
DC Comics had previously explored the possibility of NFTs and the recent move will be part of the firm's continuing effort in exploring this rapidly growing sector.
In this new initiative, DC Comics is liaising with the Palm NFT Studio. This studio is renowned for being supportive of supporting culture and creativity.
DC Comics has announced that the digital collectables for this platform will be available from October 5. The availability of this collection will be on DC FanDome for new and existing users. Moreover, another NFT collection will also allow users to engage with DC Comics on its social media platforms.
The NFTs that will be made available for free with this initiative will be chosen by Jim Lee, the Publisher and Chief Creative Officer of DC Comics. He will handpick these collections that will feature characters like Batman, Green Lantern, Harley Quinn, Superman and Wonder Woman.
This NFT collection will also give users the chance to collect three covers for every character. These covers will be chosen in the three levels of rarity. This will give fans a wide range of digital collectables to choose from despite the NFTs being free and easily accessible.
Comics and NFTs
DC Comics is not the only comics platform venturing into NFTs. The firm's greatest competitor, Marvel Entertainment, has also announced plans to join the NFT craze by launching its own NFT collection.
When Marvel Entertainment announced plans for an NFT, it stated that it would collaborate with VeVe, a digital collectables marketplace based on blockchain technology. Through this partnership, VeVe will officially issue the first NFT that deals in Spider-Man.
The firm had already issued its first series of the Spiderman NFT that included five variations of the superhero. The NFT was sold at the cost of between $40 and $400.
Dan Buckley, the President of Marvel Entertainment, has supported bringing non-fungible tokens into the comics company. Buckley stated that the plan to release Spider-Man NFTs is the first step toward developing more NFT collections related to superheroes in the coming months and years.
Buckley also noted that a Spider-Man NFT would see overwhelming demand because he is one of the most iconic characters of Marvel.
"We can't wait to bring Marvel fans and collectors even more exciting drops throughout August and beyond," Buckley noted.
From the statistics provided, it seems like the first series of the Spider-Man NFT collection was a success. The company stated that it had sold the entire collection of 60,500 statues 24 hours after launch.
Following the exceptional performance of the first NFT edition, Marvel has expanded its digital collectables. This NFT expansion will now feature more legendary characters such as Bucky Barnes, Captain America and the Red Skull.