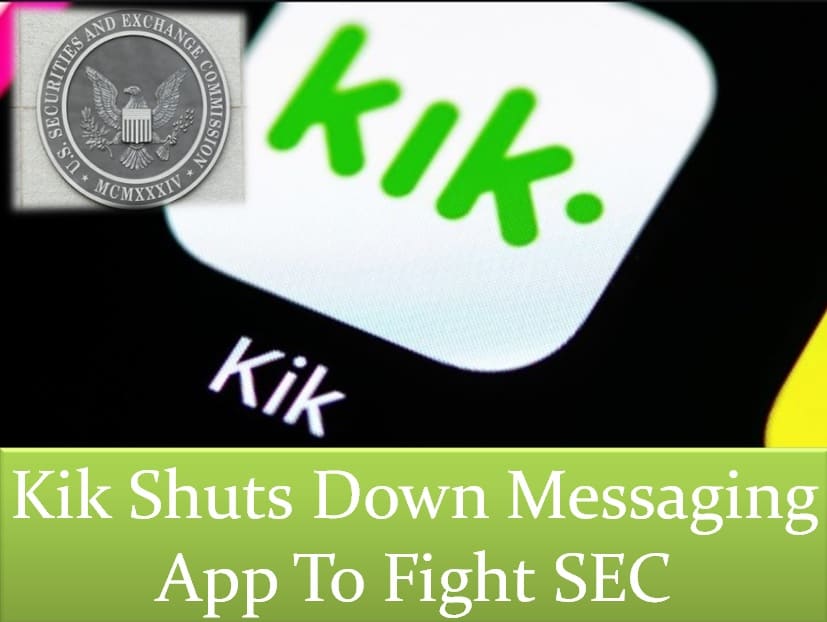 Kik Shuts Down Messaging App To Fight SEC
Last updated on November 1st, 2022 at 04:44 pm
Ted Livingston, the CEO of Kik Interactive, announced that the firm is shutting down it's messaging app, Kik Messenger. According to Livingston, they are shutting the messenger down as the company moves to solely focus on its cryptocurrency named Kin.
As cryptocurrencies and the crypto projects in the space are continuing to reach for mainstream adoption. They are doing so by stepping up efforts to perfect their products.
Kik Interactive is changing its business model to focus on its digital asset. Livingston said that the company has decided that it would be better not to sell some of their Kin into the limited liquidity that exists in the market today.
The company has decided to channel it's resources towards the few things that matter. He said that this move would reduce the company's burn rate by up to 85% and this will help them in their upcoming trial against the Securities Exchange Commission (SEC).
Kik's Battle With The SEC
Kik Interactive is currently engaged in a legal battle with the SEC.
Two years ago, Kin was launched and the token raised close to $100 million through an Initial Coin Offering (ICO). The company's offering was one of the first held by a mainstream tech firm and it drew a lot of attention.
Following the ICO, the SEC said that Kik's management knew that their messenger would run out of money by 2017 and to avert this, they planned the launch of Kin.
Kik Interactive said that the claims made by the SEC about their finances were solely for misdirection and for portraying the company in a negative light.
The SEC says that the tokens sold by Kik during their ICO violated securities laws. The accused company denies that Kin is security. Kik says that after 18 months of engagement with the SEC, regulators say that Kin should be registered as a security or the issue will be taken to court.
Obviously, registering Kin as security will affect the token's usability and it would set a dangerous precedent for the entire industry says, Livingston.
Growing User Numbers For Kin
Kik's CEO went on to say that Kin is not available on many exchanges and hence, it does not rely on speculative demand. The digital asset is used by millions of people on several independent apps and these users are what drive Kin. The company is looking to increase the number of people who use cryptocurrency.
Livingston believes that there are three ways through which the number of Kin users can be increased. The company is aiming to reduce the confirmation time for transactions to less than a second, building a mobile wallet which makes it easier to adopt and use Kin and increase growth and adoption for developers who include Kin in their applications.
Disclaimer
The information provided here is for INFORMATIONAL & EDUCATIONAL PURPOSES ONLY!
View our complete disclaimer on our Disclaimer Page