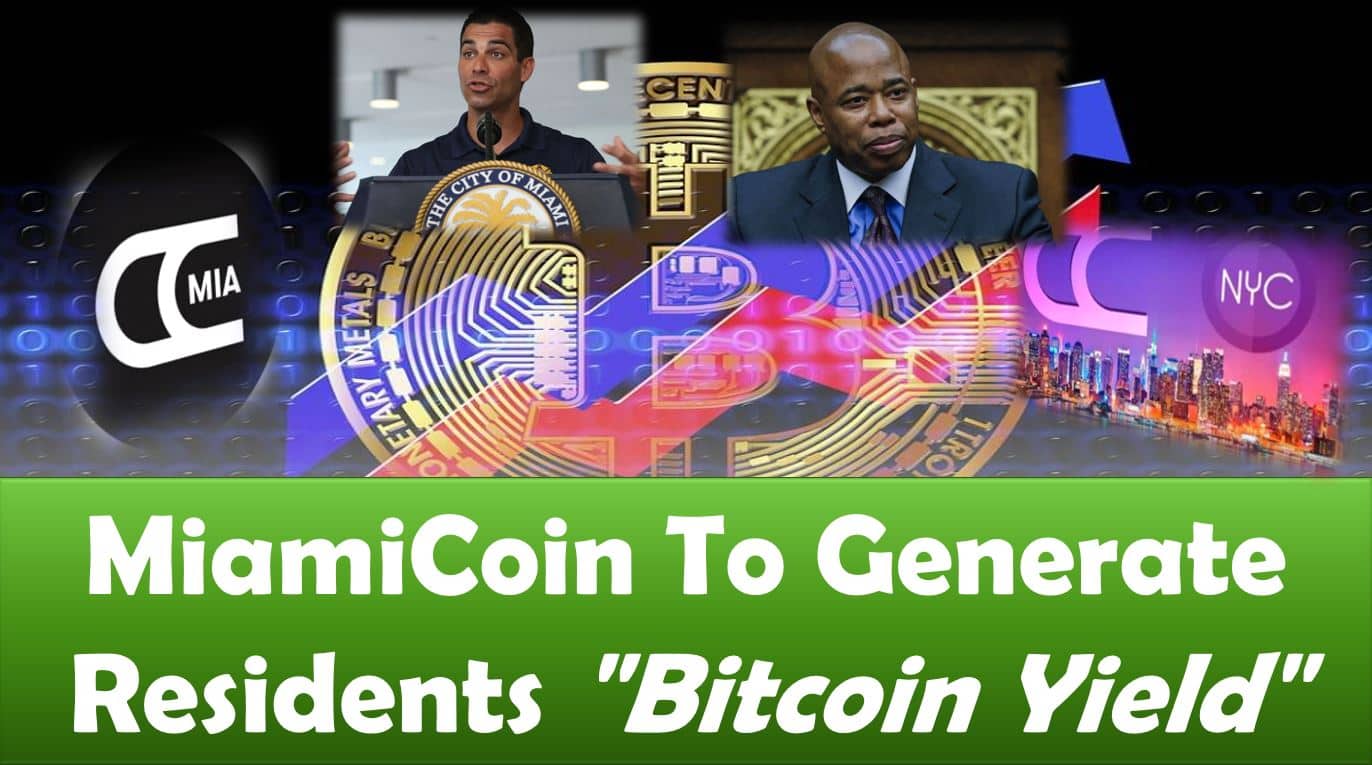 MiamiCoin To Generate Residents "Bitcoin Yield"
Last updated on December 4th, 2022 at 10:15 pm
Miami is one of the most-friendly crypto hubs in the United States. The city launched its own cryptocurrency dubbed "MiamiCoin" in August, and according to the mayor, Francis Suarez, the coin has already made major gains.
Suarez has now revealed that he plans to create a form of "Bitcoin yield" for Miami residents that will involve staking the MiamiCoin.
During an earlier interview with Coindesk, Suarez stated that a "Bitcoin yield" for the city residents might soon be available. This initiative is among the many proposals that Suarez has tabled to make Miami one of the leading blockchain hubs in the United States.
During the interview, Suarez stated that if this yield product is launched, it will allow the staking of MiamiCoin to earn interest. The mayor also added that if this initiative is launched, all city residents would be required to create digital wallets that can be used to receive distributions from this yield.
The mayor further mentioned the gains that MiamiCoin has registered so far. According to the mayor, the coin has earned the city profits of over $21 Million since it was launched three months ago.
Suarez noted that these revenues would contribute largely to the city's taxes because if the profits from the coin were annualized, it would total one-fifth of the city's annual tax revenue. Suarez noted that if the MiamiCoin gains can somehow increase five-fold, it would be possible for Miami to abolish city taxes.
Suarez Pushing Other Mayors Towards Crypto
Suarez is one of the staunchest crypto advocates in the United States.
In his push for making Miami a major blockchain and crypto hub, Suarez has made several announcements to show his support for Bitcoin. Earlier on, Suarez had stated that he would receive 100% of his next paycheck in Bitcoin.
Suarez has also called for investing part of the city's reserves in Bitcoin.
"We're trying to create a comprehensive Bitcoin and crypto ecosystem so that we can grab the mantle of the most crypto-friendly city in the US."
It now seems like Suarez's actions to embrace crypto are attracting other mayors who have also come out to show support for Bitcoin and the entire crypto market.
The newly elected mayor of New York, Eric Adams, has also stated that he will receive his next three paychecks in Bitcoin.
Adams has also stated that he intends to make New York a major hub for crypto businesses and innovation. He even stated that he was planning on enabling businesses to transact in Bitcoin, but noted that such a plan could take a while before it was actualized.
Adams also recently stated that crypto and blockchain studies should be added to the schooling system. He stated that this would give the young generation the early knowledge needed to understand this innovation and be part of the changing landscape.
This week, Adams will also be launching a New York cryptocurrency that will be known as NYCCoin. This will be a similar cryptocurrency to MiamiCoin, and it is aimed at making New York a crypto hub and pushing Adams' agenda of making this possible.
The NYCCoin will be launched using CityCoins, a nonprofit and open-source protocol that was also behind the development of MiamiCoin.
Disclaimer
The information provided here is for INFORMATIONAL & EDUCATIONAL PURPOSES ONLY!
View our complete disclaimer on our Disclaimer Page