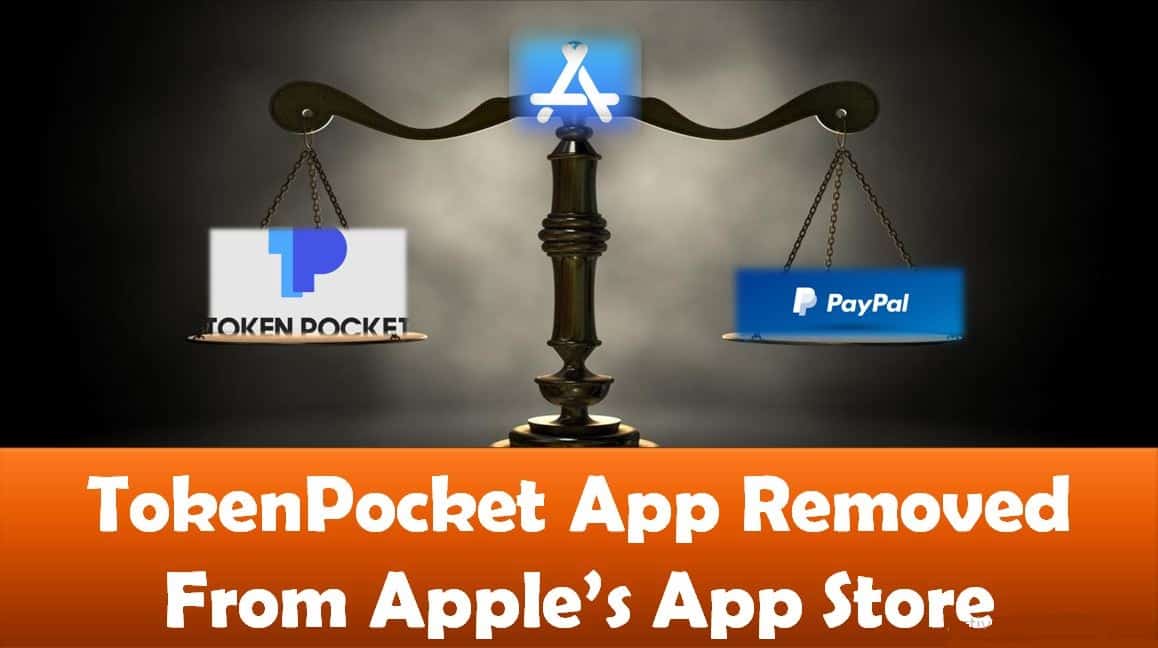 TokenPocket App Removed From Apple's App Store
Last updated on December 4th, 2022 at 10:17 pm
Apple has removed the TokenPocket app from the App Store. This app was removed from the platform because PayPal filed a trademark complaint against the crypto wallet.
TokenPocket has stated that it had received a notice from the payments giant firm concerning the matter earlier this year. However, TokenPocket added that it was open to resolving the matter in a friendly manner but that PayPal had not responded.
PayPal Claims Trademark Infringement By TokenPocket
The report from TokenPocket read in part,
"We received a lawyer's letter from PayPal in 2021, which is about the dispute with our company's trademark. We attach great importance to this and dispatched professionals to conduct research on both sides' trademarks, sorting out and communicating in detail in the form of pictures and texts to explain the differences on both sides' trademarks."
The nature of the trademark infringement has not been disclosed. However, some online users have stated that it could be because of TokenPocket's logo that almost looks similar to PayPal's. The two logos contain two letters with similar colors, with some users stating that they had ended up downloading one when they intended to download the other.
TokenPocket is a firm launched in early 2018 after it started a platform that offers Web3 services. This platform is a crypto wallet service provider and according to its website, it serves more than 10 million users in over 200 countries and regions.
In the announcement, the firm mentioned that PayPal has also invested in blockchain projects and that it started these initiatives in 2019, with a roadmap to expand these services into the future.
TokenPocket has maintained that it maintains effective communication with App Store to see how the matter can be resolved amicably and through friendly negotiations. However, the firm added that it would still maintain its legal means to defend its rights in this matter.
The platform has also urged its users to preserve their private keys and to remember their secret recovery phrases. It further warned users to remain vigilant and ensure they are not duped by anyone who claims to be an official requesting their information.

PayPal Expands Crypto Services
PayPal is among the largest payment firms globally, with millions of users and merchants using the platform. The company first ventured into cryptocurrencies in late 2020 and it has since expanded its presence in this area.
Towards the end of October, the payments giant firm issued an announcement stating that it intended to expand its cryptocurrency services. The firm has already launched a new service that allows customers to buy, sell and hold cryptocurrencies using their PayPal account.
The firm also stated that it had plans to expand its cryptocurrency utility by making these services available as a funding source for customers who wanted to make purchases at more than 26 million merchants using the platform.
According to PayPal, the expansion of these crypto services has been done to boost customer understanding about crypto and boost adoption.
The firm has stated that the cryptocurrencies available through this new service include Bitcoin, Ethereum, Bitcoin Cash and Litecoin, which will be linked directly within the PayPal digital wallet.
However, this service is only available to U.S. users, but it intends to expand this to its international markets. The company also extends to expand its crypto services into Venmo.
Disclaimer
The information provided here is for INFORMATIONAL & EDUCATIONAL PURPOSES ONLY!
View our complete disclaimer on our Disclaimer Page