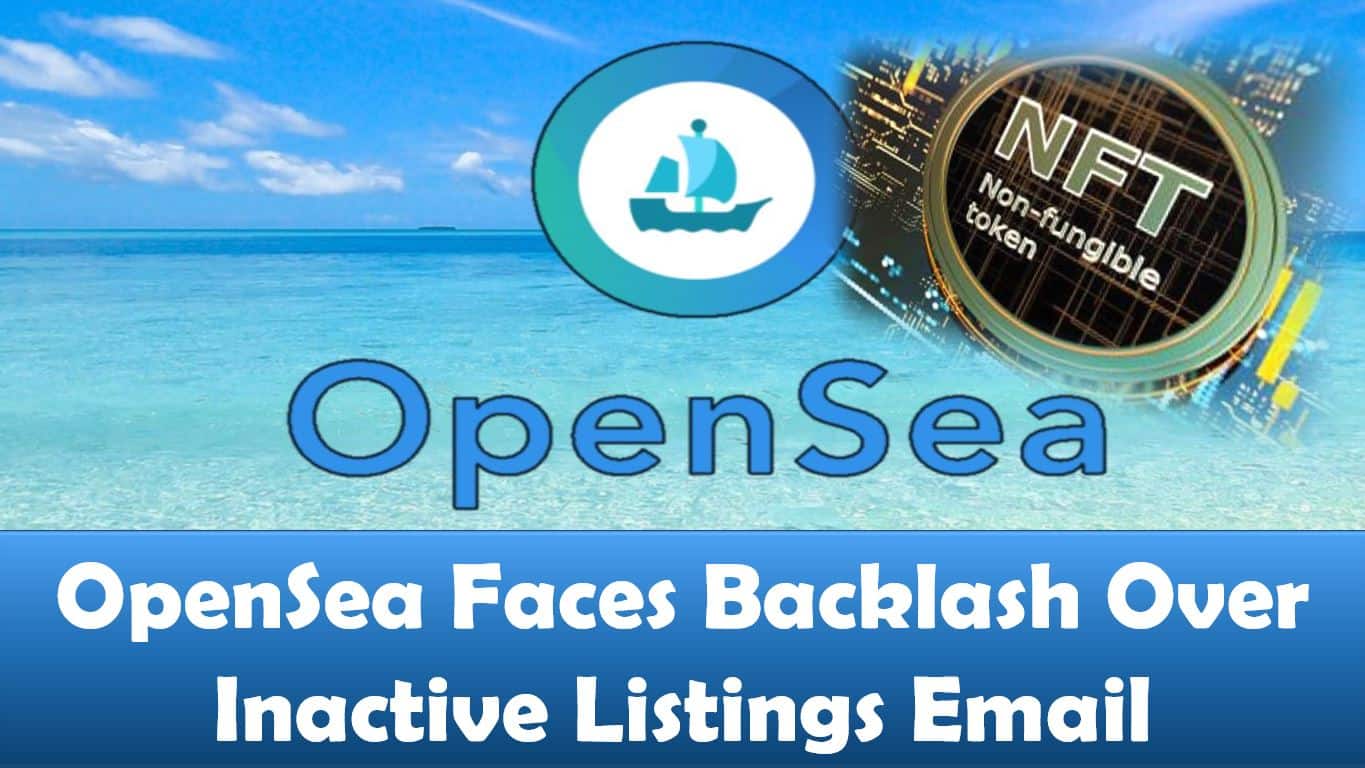 OpenSea Faces Backlash Over Inactive Listings Email
Last updated on November 1st, 2022 at 03:51 pm
OpenSea, the largest non-fungible token (NFT) marketplace, has faced backlash over an email sent out to users with inactive listings. The email urged users to cancel their inactive listings because they were still fulfillable.
The email explained that cancelling these old listings would prevent items from being sold at their old listing price.
OpenSea Email Stirs Twitter Debate
OpenSea sent out this email to prevent further exploits by bad actors buying inactive NFT listings at old prices. However, the NFT community on Twitter reacted negatively to this email.
One Twitter user, @dingalingts, warned that performing the action given by OpenSea would do more harm than good. The user noted that cancelling a listing could recreate the order. Dingalingts urged users to transfer the NFT first to a different address before cancelling the listing on the original address.
In a Twitter thread that has attracted much engagement, dingalingts said it was "incredibly irresponsible" for OpenSea to send out an email that "makes things 100x worse." He noted that the contents of the email made it easier for an exploit to be conducted.
Dingalingts referred to some OpenSea users that have already lost money by following the prompts given in the email.
A user by the name @swolfchan.eth claimed to lose at least 15 Ether tokens after cancelling an inactive Mutant Ape Yacht Club listing. After cancelling the listing, it was relisted for 6 ETH, but an individual in the ETH mempool front-ran the cancellation and sold the NFT in the same block.
While some users supported dingalingts and @swolfchan.eth, some users were not convinced. One user commented on @swolfchan.eth's accusations saying,
"This one's on you man. Don't play with the company because you were trying to save a couple of bucks."
The co-founder of OpenSea, Alex Attalah, also responded to the thread by @swolfchan.eth, saying that a team was "working on it and putting a countermeasure now."
OpenSea has yet to respond on whether it will reimburse the user for the loss incurred.
OpenSea Users Affected By Exploit
OpenSea is currently reimbursing users affected by an exploit that allowed attackers to buy NFTs for below their market prices. Some users on the marketplace state that their NFT collections, such as Bored Ape Yacht Club (BAYC), were bought at old and cheap prices.
The listings were inactive and they were not cancelled on the blockchain. However, the user interface on OpenSea showed that the listings had been cancelled. This is not the first time for this exploit to be detected on OpenSea.
Due to the high gas fees on the Ethereum blockchain, some users on the marketplace have avoided the process of manually cancelling a listing that is yet to expire.
These users found a loophole that prevented them from paying the high gas fees. If an NFT is transferred to a secondary wallet and then back to the original wallet, the listing was removed from OpenSea.
However, this listing was not entirely cancelled by OpenSea. Rather, its status went from active to inactive. These inactive listings pose a major risk and they can still be bought by blockchain experts.
OpenSea has announced that it will be reimbursing some Ether to BAYC holders affected by the exploit. So far, the marketplace has reimbursed 750 ETH valued at around $1.8 Million to the affected users.
OpenSea Backpaddles
On January 27th OpenSea took to Twitter and apologized to its users for the decision and how it impacted the community.
The statement from OpenSea continued its statement by saying it has the best interests of their creators in mind. The statement continued,
However, we've recently seen misuse of this feature increase exponentially. Over 80% of the items created with this tool were plagiarized works, fake collections, and spam.
OpenSea expressed that it did not make its decision to send their original email lightly. However, they admitted that they should have run it by the community before making the change.
Regarding their decision to reverse their move, OpenSea stated,
In addition to reversing the decision, we're working through a number of solutions to ensure we support our creators while deterring bad actors. We commit to previewing these changes with you in advance of rolling them out. Please give us feedback along the way.
Disclaimer
The information provided here is for INFORMATIONAL & EDUCATIONAL PURPOSES ONLY!
View our complete disclaimer on our Disclaimer Page