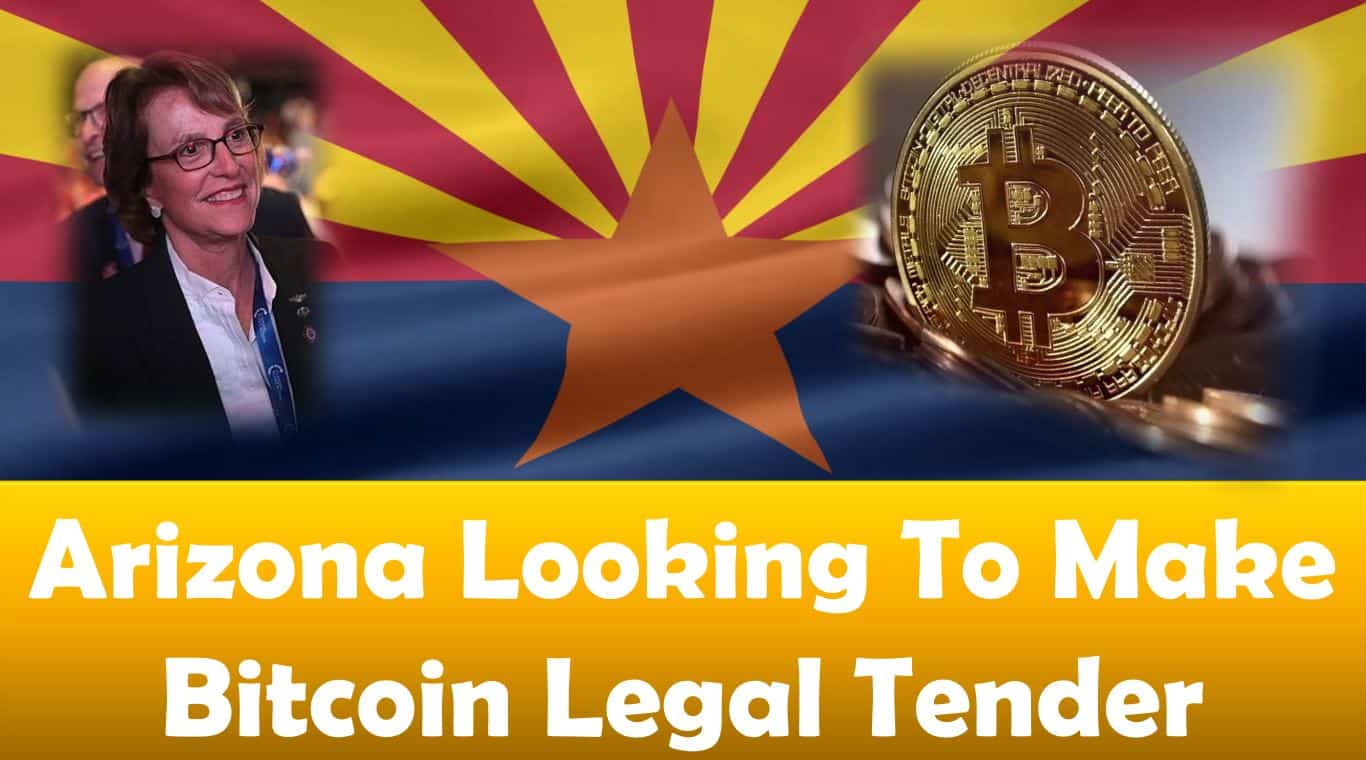 Arizona Looking To Make Bitcoin Legal Tender
Last updated on September 9th, 2022 at 10:11 am
A bill proposing the introduction of Bitcoin as legal tender in the U.S. State of Arizona was introduced by Senator Wendy Rogers on January 28th. Bill 'SB 1341' proposes making Bitcoin a legal medium of exchange, allowing citizens to pay debts, taxes and public charges with Bitcoin.
The bill which specifies only Bitcoin as opposed to cryptocurrency in general, refers to the token as a
"decentralized, peer-to-peer digital currency in which a record of transactions is maintained on the Bitcoin blockchain and new units of currency are generated by computational solution of mathematical problems and that operates independently of a central bank"
Wendy Rogers, a Republican, took office in early 2021 and later in the year announced that she had been appointed to the Blockchain and Cryptocurrency Study Committee, going on to tweet, "I am going to work to help make Arizona crypto-friendly."
Rogers has regularly tweeted her support of bitcoin, replying to a tweet that said politicians are realizing Bitcoin is good for business with "Correct. It is good for everyone."
This bill aims to make Arizona the first state to make Bitcoin legal tender in the U.S. However, before Bitcoin becomes legal tender the bill has to pass both the Arizona Senate and House of Representatives. Only if it passes both these chambers would Arizona Governor Doug Ducey be able to sign it into law.
It is worth noting that currently the U.S. Constitution does not allow individual states to create their own legal tender, however this can be interpreted as states not being allowed to mint or generate their own currency but since Arizona would not be 'minting' Bitcoin this remains a gray area.
The Constitution does however go on to state that states and individuals and businesses must pay taxes and must pay those taxes in the currency of the federal government. All this means that the chances Bitcoin actually becomes legal tender in Arizona following this bill are relatively low.
---

---
Bitcoin Has Increasing Support
There is however support from other politicians with Texas Governor candidate Don Huffines recently stating that he would similarly propose making Bitcoin legal tender in the state of Texas should he be elected, going on to say,
"Texas must stop the federal government from shutting down the industry and discriminating against Bitcoin holders."
Currently, El Salvador is the only country that accepts Bitcoin as legal tender, with the country starting to accept Bitcoin in September 2021.
However, the recent decline in the price of Bitcoin has created a lot of skepticism about the move to accept Bitcoin with the IMF (International Monetary Fund), recently urging El Salvador to drop bitcoin as legal tender.
El Salvador's President, Nayib Bukele, recently tweeted a series of bold 2022 predictions for Bitcoin stating,
"- Will reach $100k
– 2 more countries will adopt it as legal tender
– Will become a major electoral issue in US elections this year…"
President Bukele is already predicting that Bitcoin will be a hot topic in the U.S., especially around elections.
Politicians like Senator Rogers and prospective Governor Huffines both publicly supporting the cryptocurrency may mean that Bukele may be right on at least one of his predictions.
However, there have been many other politicians who have publicly come out to support Bitcoin. Miami Mayor Francis Suarez is a huge proponent and MiamiCoin is currently generating yields for Miami residents.
But the support doesn't end there, newly elected Mayor of New York, Eric Adams just received his first paycheck and it was converted into Bitcoin and Ethereum. Also, Cool Valley Missouri Mayor Jayson Stewart has advocated giving each resident $1000 in Bitcoin.
Disclaimer
The information provided here is for INFORMATIONAL & EDUCATIONAL PURPOSES ONLY!
View our complete disclaimer on our Disclaimer Page