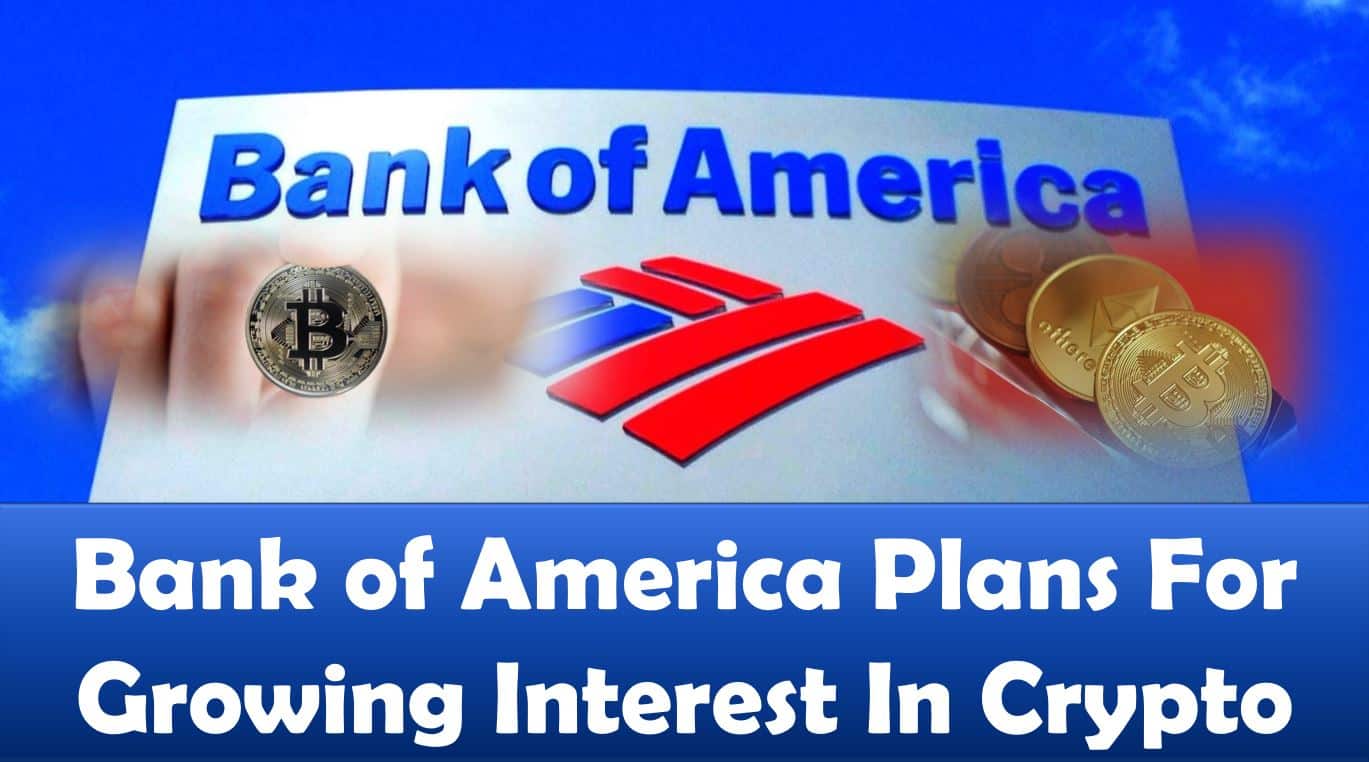 Bank of America Plans For Growing Interest In Crypto
Last updated on December 4th, 2022 at 10:48 pm
Bank of America is putting together a team that will research cryptocurrencies. As one of the largest banks in the US, this move will increase the rate at which Wall Street firms are unveiling crypto services to meet the growing demand from investors.
According to a report that was published on Bloomberg, Alkesh Shah will lead the new crypto research team. Shah used to serve as the bank's Global Technology Specialist team. The memo states that Shah will be reporting to Michael Maras, the head of fixed-income currencies and commodities research worldwide.
Shah started working at Bank of America in 2013 and has worked with other Wall Street banks such as Morgan Stanley and Lehman Brothers Holdings Inc. Other people who will join the crypto research team include Andrew Moss and Mamta Jain, who will report to Shah.
In the memo, Candace Browning, the head of global research for Bank America, stated that
"Cryptocurrencies and digital assets constitute one of the fastest-growing emerging technology ecosystems." "We are uniquely positioned to provide thought leadership due to our strong industry research analysis, market-leading global payments platform and our blockchain expertise."
The memo also mentioned that the crypto market currently has a valuation of around $2 Trillion, and the inflows to ETP and ETFs were valued at $50 Billion. There was a growing interest from venture capital firms investing heavily in firms offering crypto and blockchain services.
Because of this growing interest in the sector, Bank of America wanted to create an environment in which their investors would easily venture into crypto.

Growing Institutional Interest in Crypto
Wall Street Banks have been closely researching the crypto sector and how they can tap into its benefits. Most banks that have ventured here are offering wealth management products of digital asset custody services.
JPMorgan Chase & Co. and Goldman Sachs are among the few large banks that have done extensive research into the crypto sector and are extending their offerings to give their clients exposure to this asset class. These banks have launched crypto derivatives trading as a way of offering indirect exposure to crypto.
At the beginning of the year, Goldman Sachs relaunched its crypto trading desk to tap into the bullish trend of bitcoin and other cryptocurrencies. On the other hand, JPMorgan ensures its clients are updated with the ongoing trends in the crypto market by publishing regular notes on popular digital assets.
Nikolaos Panigirtzoglou recently had an interview with CNBC in which he stated that bitcoin no longer derived institutional interest as it had done at the beginning of the year.
In the interview, he stated that
"Institutional interest in Bitcoin and other cryptocurrencies has dried up and even turned negative in May 2021. It's probably close to flat at the moment. The most important thing to notice is that institutional interest started slowing down in April 2021, before the May correction."
However, the recent move by Bank of America shows that institutional adoption for digital assets is still at play, even though the rate of interest may have slowed down.
Disclaimer
The information provided here is for INFORMATIONAL & EDUCATIONAL PURPOSES ONLY!
View our complete disclaimer on our Disclaimer Page