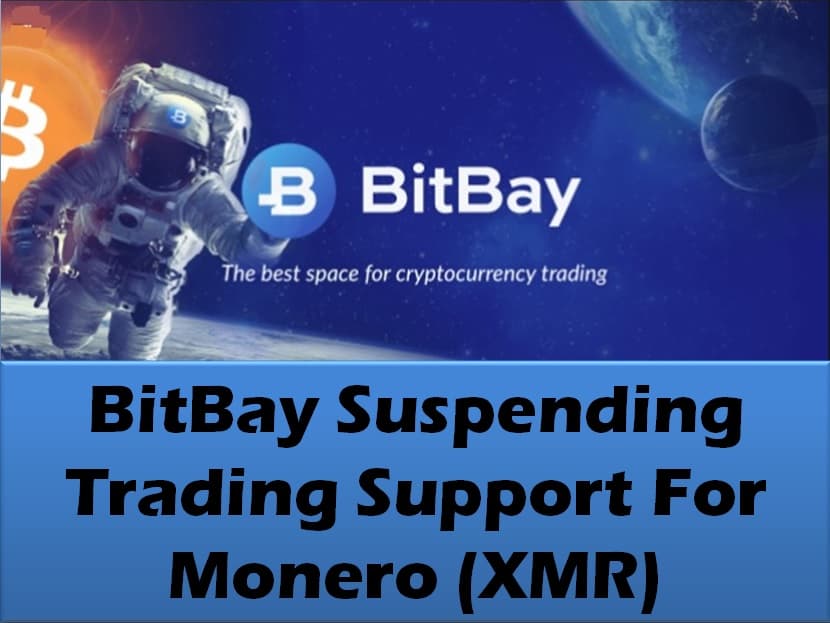 BitBay Suspending Trading Support For Monero
Last updated on November 1st, 2022 at 01:58 pm
Cryptocurrency platform BitBay made it clear that it is going to stop all trading support services offered to Monero (XMR). Monero is a privacy-oriented cryptocurrency and currently the largest by marketcap.
Even though in it's announcement regarding trading support services ending on the 19th of February, 2020, BitBay has made it abundantly clear that it will not accept deposits via XMR starting the 29th of November.
Clarifying The Issues
Depositing of Monero has already ended and BitBay has provided further clarification regarding any pending transactions on their platform.
Basically, once the support for this digital asset has been withdrawn, all XMR orders, either buy or sell that have been initiated before the deadline are not going to be processed.
The platform provided clarification of their decision regarding the trading of Monero on their platform, saying a number of factors weighed heavily during their decision making process. The most prominent of these factors was the characteristic of the digital currency itself.
According to BitBay, this was a primary source of worry, given fears that the digital currency is being used for illegitimate transactions. Such transactions include the financing of terrorist activities and the laundering of money from questionable sources.
This increasing concern by governments and financial institutions across the globe has prompted a recent onslaught of negativity toward cryptocurrency in general and privacy-centric cryptos in particular.
Privacy Coins Trigger Discussion
This is not the first time that XMR has been on the chopping block, two months ago, Monero faced similar delisting on other cryptocurrency trading platforms. The digital currency was removed by UpBit and OKEx.
This delisting not only affected Monero, but another popular privacy-centered difgital asset, Dash. As with BitBay, these delistings were also said to be the result of fears relating to illegal transactions.
Monero's woes don't end due to it's privacy characteristics. Other issues for XMR include the fact that it has been the 'go to' crypto for cryptojackers.
Cryptojacking is where code is injected into computers and mobile devices, which forces use of the resources of these devices to mine Monero. Of course, all of this goes on in the background, without the knowledge of the device owners.
Disclaimer
The information provided here is for INFORMATIONAL & EDUCATIONAL PURPOSES ONLY!
View our complete disclaimer on our Disclaimer Page