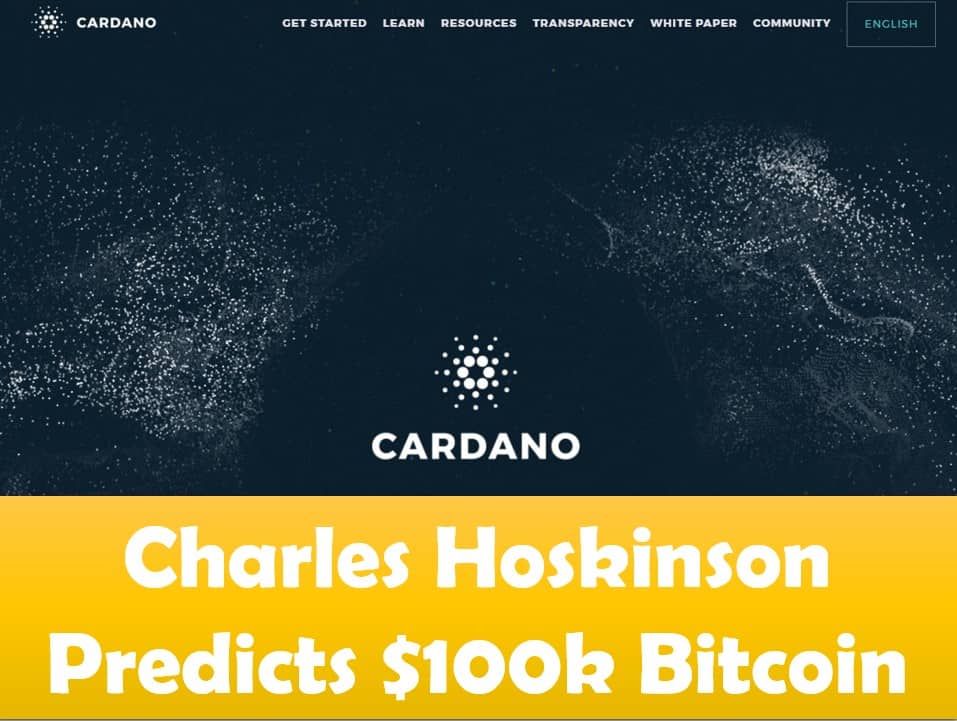 Charles Hoskinson Predicts $100k Bitcoin
Last updated on November 1st, 2022 at 02:01 pm
As a co-founder of the Ethereum blockchain and creator of Cardano's blockchain, Charles Hoskinson is waist-deep in the crypto industry. Something that becomes clear with anything he does is the sheer bullishness he feels towards Bitcoin and the crypto industry as a whole.
Whether or not you are a fan of Cardano (ADA), you have undoubtedly see Charles Hoskinson do many surprise AMAs, especially lately.
You can watch his latest AMA here
If you have followed us here at CryptoCoinMindSet for any length of time, then you know that we are big fans of Cardano.
Unfazed Resolve
A testament to this fact is his recent reaction to Bitcoin taking yet another dive after it enjoyed a somewhat artificial surge in price. Most analysts have attributed this price bump mainly to Chinese President, Xi Jinping.
Instead of doing anything remotely 'neutral,' Hoskinson climbed to the proverbial rooftops of his twitter and declared that Bitcoin would easily go back to $10k. On top of that, the crypto creator predicted that Bitcoin would reach the $100k mark in due time.
Hoskinson believes that the current Bitcoin price drop isn't anything to be worried about. He blames the decline on a combination of FUD (fear, uncertainty, doubt), news, trading and market manipulation.
Hoskinson said that crypto is still a world movement, one that will irreversibly change the world we live in today. He boldly finished his statement with, 'Crypto is unstoppable. Crypto is the future.'
By The Numbers
Cointelegraph has crunched the numbers when it comes to mathematical predictions about Bitcoin. The report stated that Bitcoin and other forms of crypto had taken a rather noteworthy drop in price. According to Cointelegraph, Bitcoin was below the $7000 mark before restabilizing just above it.
Even so, Cointelegraph's report shows that Bitcoin has been showing dominance in the crypto market for this week. Clocking in at 69% dominance, Bitcoin has once again outperformed other forms of crypto.
To show this 'lingering' positive sentiment, Bakkt enjoyed a brand new all-time high in their trading of Bitcoin futures. This shows a clear interest in the crypto with its newfound volatility proving to be something desirable in its futures traders.
Bitcoin is Crypto's Brand
Last month, Hoskinson made an intelligent point. He explained that the entire crypto industry would collapse in on itself should Bitcoin ultimately fail.
That doesn't mean he considers Bitcoin a perfect asset, however. He also expressed that Bitcoin was constructed 'blind, deaf and dumb, and that was by design.' In that sense, he considers Bitcoin a proof of concept and a trailblazer to pave the way for other forms of crypto.
He also reminded the world that Bitcoin was never designed to replace the world's financial system. He said that he believes that it wasn't the world's first cryptocurrency's scope when it was created. He cites the inability to make pull payments, a fundamental feature in modern commercial systems, as a vital example of this.
Disclaimer
The information provided here is for INFORMATIONAL & EDUCATIONAL PURPOSES ONLY!
View our complete disclaimer on our Disclaimer Page