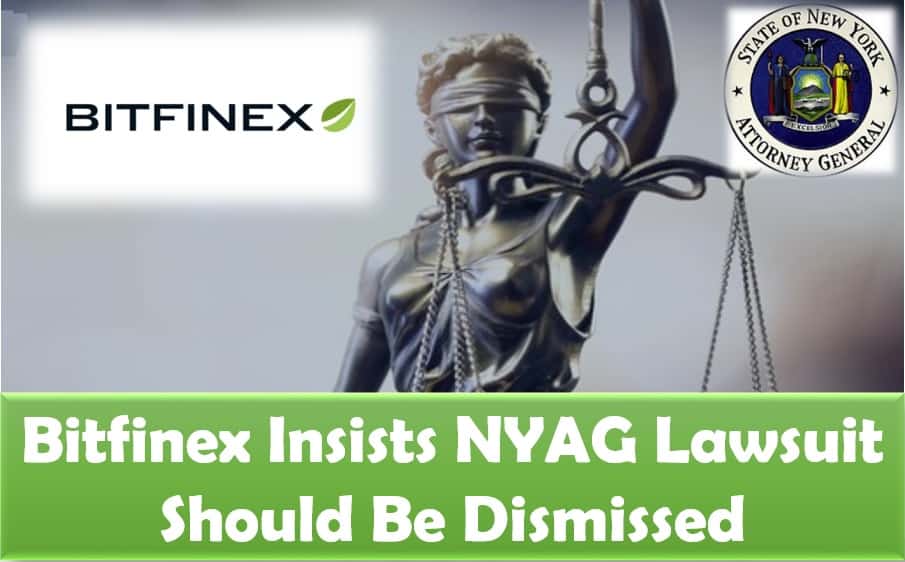 Bitfinex Insists NYAG Lawsuit Should Be Dismissed
Last updated on November 1st, 2022 at 04:27 pm
Crypto exchange Bitfinex has asked the court to waive the case against tether and the exchange, insisting that they were not in the wrong as they have not targeted investors in New York.
In April this year, New York's Attorney General's office (NYAG's) filed a lawsuit against Bitfinex for covering-up $850 million loss.
NYAG Office Response
NYAG's office requested that Bitfinex cooperate in the case of $850 million loss concealment and replied that the argument by the exchange is unfounded and backward.
According to Bifinex, the lawsuit filed against it does not really describe the product the supposed victims bought.
The exchange asked the court to dismiss the case filed against it because there was no basis for such claim and it had not covered-up any loss within the state.
Bitfinex Standing Its Ground
Bifinex stated that the court should dismiss the proceedings of the Attorney General's office in New York. The exchange argued that the lawsuit is not connected to any conduct by either Tether or Bifinex in jurisdiction of New York.
The exchange continued that, contrary to the assertion of the NYAG, Tether's tokens are not commodities or securities within the law stipulated by the New York Martin Act. Furthermore, the brief of the Attorney General was as if it has the legal jurisdiction over Tether and Bitnifex, which is not true.
Bitnifex is arguing that it did not try to hide its loss in New York in any way, as claimed by the Attorney General. The exchange also asked the court to dismiss the case since the Attorney General's Office is not the direct regulator of the exchange and Tether.
Bifinex Faults NYAG's Claim
Bitfinex is also accusing the NYAG's Office of presenting a situation that is highly untrue and not a representation of the actual fact. It argued that the factual misrepresentation of its loan as an ordinary IOU that won't be repaid is completely wrong. Bitfinex said that its investors have no problems with their approach; neither do other markets.
According to the exchange, holders of the Tether are free to redeem them for the rightful amount they paid for them, and the company has never denied any holder's request to redeem their tokens.
The NYAG accused Bitfinex of misrepresenting its loss of $850 million and covering the loss with a $700 million funds from its parent company. However, the exchange company denied the allegation, stating that it deposited the said amount in Crypto Capital, a Panamanian company. It said the money was later retrieved and kept in several jurisdictions, including the United States, the UK, Portugal and Poland.
Disclaimer
The information provided here is for INFORMATIONAL & EDUCATIONAL PURPOSES ONLY!
View our complete disclaimer on our Disclaimer Page