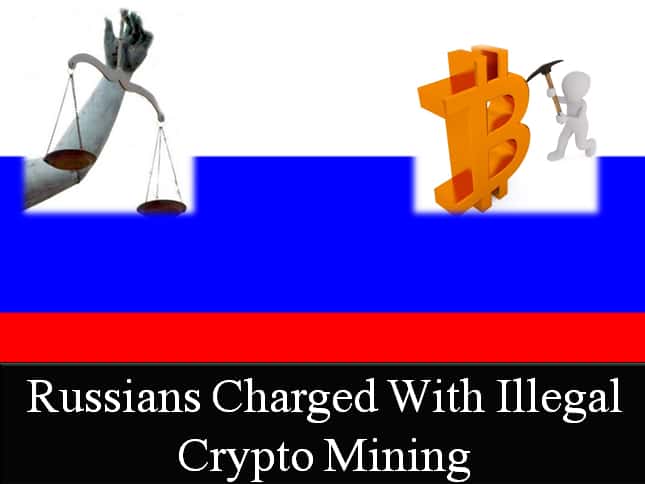 Two Charged With Using State Computers To Mine Crypto in Russia
Last updated on November 1st, 2022 at 04:31 pm
Two Russians are currently facing jail terms for illegally mining cryptocurrency from state computers.
Tass, a local media agency, reported that the individuals gained access to these computers using a program. This platform mines cryptocurrency from the hardware through a web browser, according to Tass.
One of the suspects focused on mining cryptocurrency at JSC Rostovvodokanal, Russia's state water facility.
The other accused reportedly designed a botnet that infects state computers in different parts of Russia. He does this through a remote connection.
The officials disclosed that the mining activities disrupted the performance of the system as it can take up to 80 percent of the processing ability of the target computer.
Cryptojacking On The Increase
Cryptojacking is a word used to describe the illegal use of someone's computer to mine crypto without their knowledge. This illicit act is gradually increasing.
These illegal miners are using a hacking bot to gain access to the victim's computer hardware. One such program is the Coinhive code, which is used to illegally mine Monero through a browser.
Deputy Director at Center for computer Incidents in Russia, Nikolay Murashov, revealed that the mining activity eats a lot of power from the processor. He stated that a user might not know when their computer is infiltrated for mining purposes, even though the activity consumes about 80% of the hardware's strength.
Murashov also stated that the illegal takeover of a computer's processing unit to mine cryptocurrency could damage computers and reduce productivity in companies. Therefore, companies should beef up their cybersecurity to prevent such issues.
Strict Regulatory Measures
In February last year, security observers witnessed the worst case of illegal mining at state-owned computers. Russian security agents uncovered a plot by some nuclear engineers to mine cryptocurrency on one of Russia's most powerful supercomputers.
The security group exposed them before they concluded their job. Apart from this, there have been other cases where the illegal miner has tried to gain unauthorized access.
But the government is preparing to institute a rule that will give authorities power to seize cryptocurrency holdings. According to the law, it will be part of judicial proceedings.
There are also reports that Russia's Ministry of Finance, financial regulator and Central bank are supporting the Government's ban on cryptocurrency for payments of goods and services.
These are all measures taken to curb the rate of illicit crypto mining in the country. According to security researchers, the rule will also reduce the use of cryptocurrency in funding criminal or illegal activities.
Disclaimer
The information provided here is for INFORMATIONAL & EDUCATIONAL PURPOSES ONLY!
View our complete disclaimer on our Disclaimer Page