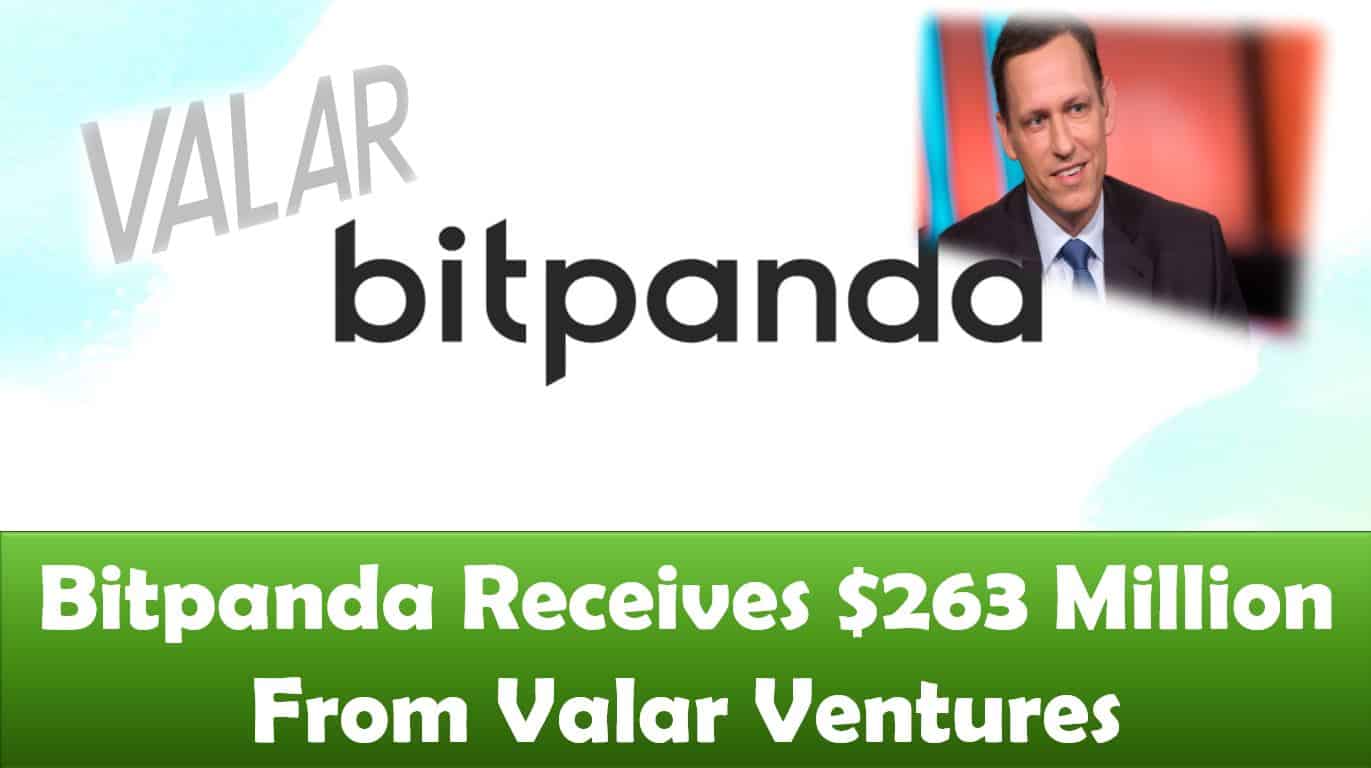 Bitpanda Receives $263 Million From Valar Ventures
Last updated on December 4th, 2022 at 10:30 pm
Bitpanda, a popular crypto trading platform, has benefited from a $263 Million dollars in funding from the renowned Peter Thiel. This brings the value of the crypto firm to $4.1 Billion.
With this development, Bitpanda now stands three times its value five months ago when they received private funding to $1.2 Billion. The pocket behind this life-changing funding was Peter Thiel, the United States-based technology billionaire who is also the co-founder of Valar Ventures, a venture capital firm.
Bitpanda is a crypto trading platform whose headquarters is in London in Europe.
The investment by Valar Ventures is Peter Thiel's third act of faith in the crypto firm as he has stood with Bitpanda twice before right from their first funding in September.
According to the CEO and Co-founder of Bitpanda, Eric Demuth, fundraising, though an important enabler for development, is often very time-consuming.
In this statement, Eric meant to express his preference for partners instead of holding a fundraising event. Affiliations with well-funded partners spare you from all the hassle that comes with fundraising, including the roadshows.
Eric Demuth supports that the value development was quite an easy process, especially because the interests of both parties were at an intersection. While Valar Ventures was interested in doubling down, Bitpanda was more interested in maintaining their association.
Other investors who put their money on Bitpanda include REDO Ventures and Alan Howard, a billionaire hedge fund manager from Britain. Other existing investors such as Jump Capital and LeadBlock Partners had maintained close associations with the crypto firm for quite some time.
Bitpanda's Boost and Regulatory Concerns
With the financial investment, Bitpanda has been elevated to a more valuable state.
This sets it at a strategic position in the cryptocurrency environment, especially amidst the bullish trend that crypto enthusiasts have displayed right from the beginning of the year.
For instance, as of the writing of this post, Bitcoin and other popular cryptocurrencies were at their peak during April and May before their fates changed. Bitcoin has, however, made a notable U-turn, along with other small cryptos, an action that has boosted the crypto industry over the $2 Trillion bar for the first time in the last quarter.
The crypto market faces the threat of regulation and Bitpanda, too, has not been spared. With countries seeking to control digital assets and their characteristic speculative investing, crypto enthusiasts cannot help but feel scared about affecting the industry.
Europe has, however, not been very active as far as crypto regulation is concerned. The new rules set by the European Union are tailored to position their crypto ecosystem within supervisors' regulations.
Despite the expected changes, Bitpanda is not ready to go public just yet. They also do not intend to merge with any special purpose acquisition company (SPAC); these are organizations that only list to make the other company embrace going public.
Disclaimer
The information provided here is for INFORMATIONAL & EDUCATIONAL PURPOSES ONLY!
View our complete disclaimer on our Disclaimer Page