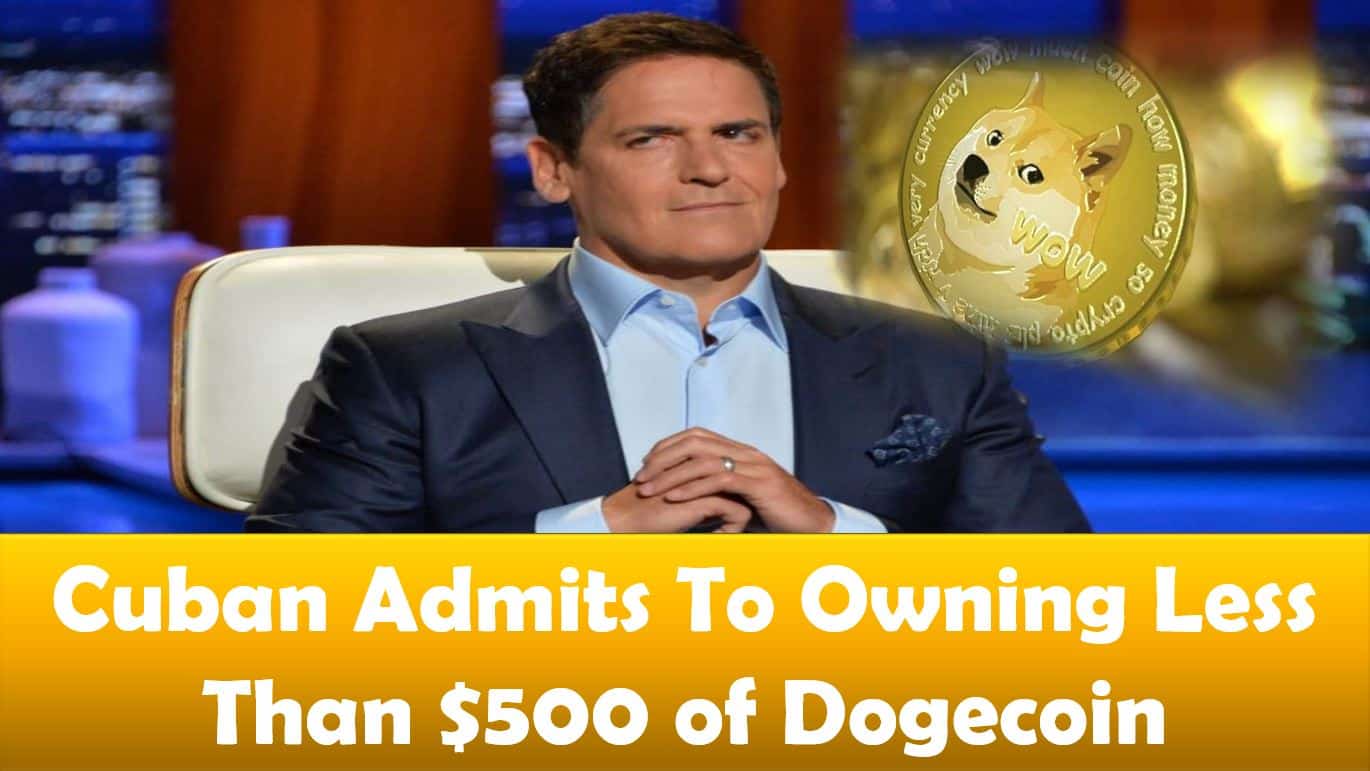 Cuban Admits To Owning Less Than $500 of Dogecoin
Last updated on December 4th, 2022 at 10:31 pm
Mark Cuban, a renowned Dogecoin pumper, is not having it easy from the online community after he finally made it public about the amount of Dogecoin he owns. The online community is offended that Mark Cuban advocates for this meme coin in such a way that you would expect he is a big supporter.
Mark Cuban has made a name for himself as a huge crypto enthusiast, with a special focus on Dogecoin (DOGE).
When he finally announced to the public that what he owns is less than $494 worth of Dogecoin, crypto enthusiasts did not waste any time before expressing their disappointment.
Besides his reputation as a cryptocurrency supporter, Mark Cuban is a billionaire businessman, TV host and owner of an NBA team.
Cuban has made several appearances on social media, attempting to sell Dogecoin and advocating for it month after month to encourage his social media following and invest in the meme coin.
In a recent post, Mark Cuban demonstrated his support for what the Tesla CEO Elon Musk said. In this post, the electric car manufacturer said that Dogecoin was the strongest of all cryptocurrencies for when mediums of exchange are considered.
According to Musk, Dogecoin can serve as a means for purchasing goods as well as services. In April, Mark supported the opinion that the Doge community presented the best opportunities to be used as a medium of exchange like money is used.
Adding to his support for Dogecoin, Mark Cuban also approves of DOGE as a means for payment at his NBA team, the Dallas Mavericks team Store, where he accepts as a medium for customers to acquire merchandise for his dealership.
As a show of commitment to the coin, he announced that his team would be offering a discount for anyone who pays using DOGE on the summer sale they hold annually.
Mark Cuban Response To Crypto Pumping
Renowned personalities like Mark Cuban have been spotted crypto pumping on social media and trying to influence their followers into investing in their respective coins.
After Cuban's truth, internet users were very negative about his remarks, accusing him of manipulating the price of the Dogecoin when he owns very little.
Dogecoin
Cuban came forward to address the accusations saying that the only thing he pumps is the merchandise sold by the Dallas Mavericks team store. He also expressed his passion and interest in the Dogesphere. Cuban finds DOGE memes very funny and likes to associate with their fun stuff.
Crypto pumping is a common trend among influencers outside of the cryptocurrency space. They leverage their social media following to try and manipulate crypto prices and pump their bags.
Recently it was Elon Musk in the limelight for the same conduct and much like Mark Cuban, the crypto community did not spare him.
Musk was attributed to the massive rises in Bitcoin and Dogecoin prices because of his tweeting support for the currencies. However, Musk later dropped BTC as a means of payment for Tesla, causing a massive price dip.
This type of pumping of cryptocurrencies is so lucrative that Musk impersonators have made boat loads of money pretending to be the man himself.
Disclaimer
The information provided here is for INFORMATIONAL & EDUCATIONAL PURPOSES ONLY!
View our complete disclaimer on our Disclaimer Page