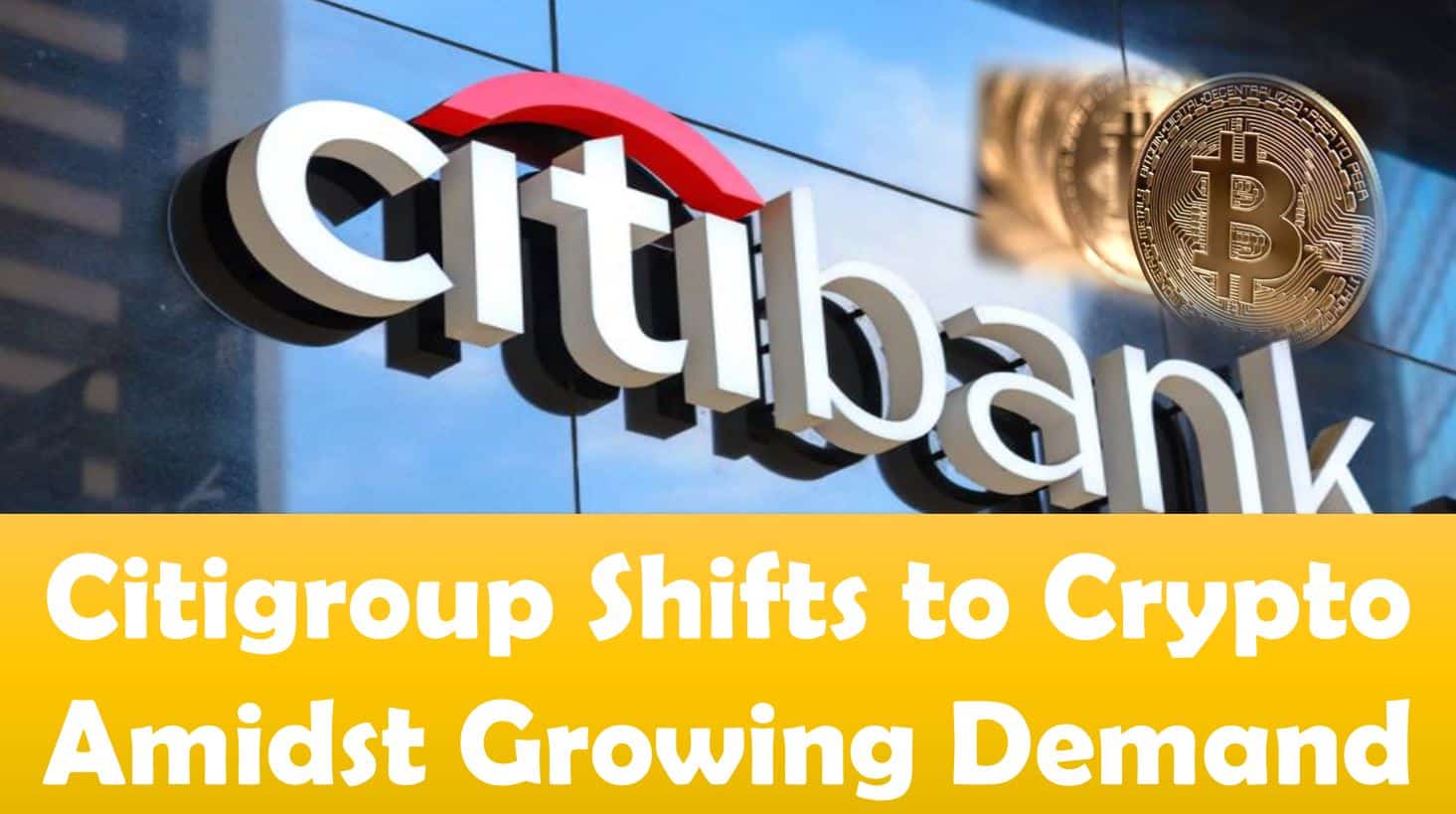 Citigroup Shifts to Crypto Amidst Growing Demand
Last updated on December 4th, 2022 at 11:10 pm
Investment banks are now pursuing trading, finance and custody services related to cryptocurrency. It comes amidst growing retail and institutional demand for these assets.
Citigroup is allegedly considering offering services related to crypto. Its target consumers are mainly asset managers and hedge funds whose demand for these services has dramatically risen.
Citigroup's head of foreign exchange, Itay Tuchman, confirmed the allegations in a Financial Times publication stating that the firm was looking into the crypto sector. However, Tuchman added that the firm would not rush into launching a service that would not meet customer needs.
"We shouldn't do anything that's not safe and sound. We will jump in when we are confident that we can build something that benefits clients and that regulators can support," Tuchman said.

Increasing Crypto Demand
Tuchman also pointed out the increasing demand for crypto, in particular, Bitcoin (BTC). The inquiries about BTC had started in August 2020. At the time, Bitcoin was trading at $12,000, a 33% increase from $9000 in the previous month. The entire cryptocurrency market cap was only a tenth of its current value.
Even with Bitcoin now trading at around the $50,000 mark, Citigroup is still not in a hurry. Tuchman said that the bank would not be rushed but would instead focus on a long-term strategy to create a robust crypto ecosystem for its clients. Tuchman added that Citigroup believed crypto would still be around for a long time.
"I don't have any FOMO [fear of missing out] because I believe that crypto is here to stay and that we are just at the very beginning of the market. This isn't a space race. There is room for more than just one flag," said Tuchman.
Bitcoin's Use in International Trade
Earlier, Citigroup had published a report titled 'Bitcoin at the Tipping Point.' The report shows that Bitcoin was evolving to become attractive to retail investors and institutional investors. This change was attributed to the development of exchanges, trading, and custody services. These services made Bitcoin accommodative to institutional investors.
The report also highlighted the advantage of Bitcoin is being used in global payments. This was possible through decentralization and lack of foreign exchange interference. Bitcoin also offered better security and traceability. These attributes and its global reach would make it the ideal currency for international trade.
The report also stated that Bitcoin's fourth transition was being used for international trade would be its fourth phase. The other three transitions were technology adaptability, censorship resistance and being labelled as digital gold.
The report also showed some challenges in Bitcoin's development. Some highlighted challenges include the impact of mining on the environment and institutional concerns surrounding the currency.
Furthermore, the report shed light on the risks and obstacles that were inhibiting Bitcoin's progress. However, the opportunities that lay with using this crypto outweighed the challenges surrounding it.
In conclusion, the report also noted that Bitcoin was at a tipping point. It could pave the way for an incredible transformation of the crypto into mainstream spaces.
Disclaimer
The information provided here is for INFORMATIONAL & EDUCATIONAL PURPOSES ONLY!
View our complete disclaimer on our Disclaimer Page