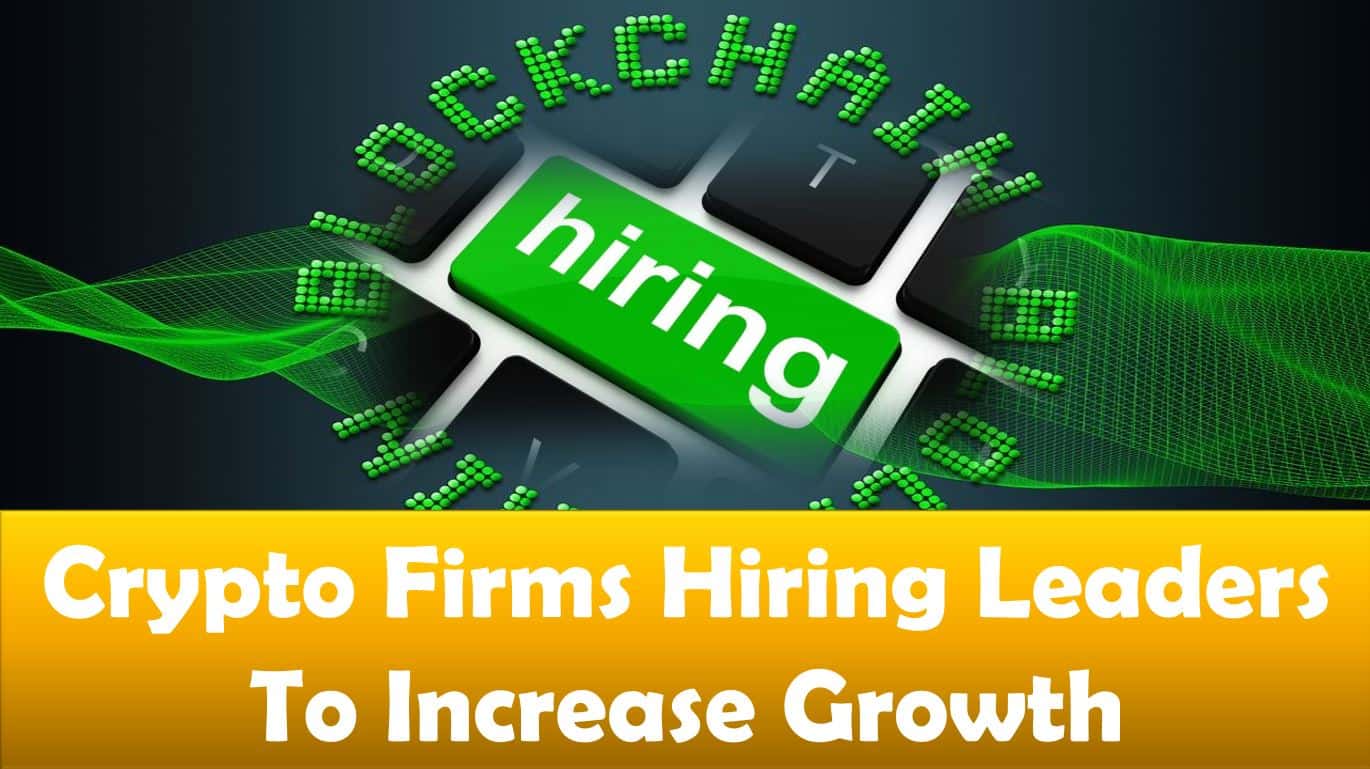 Crypto Firms Hiring Leaders To Increase Growth
Last updated on December 4th, 2022 at 10:06 pm
This year, the crypto market has recorded astronomical growth leading to recruitment agencies realizing that crypto-based firms are hiring expert leaders to help these firms achieve scalability.
The crypto market failed to appeal to institutions and professional investors during its early years. However, the industry has matured, not just in terms of investment adoption but also in the talent it has attracted.
Crypto Needs Leaders To Scale
A report from Cointelegraph quoted David Richardson, a partner at Heidrick & Struggles, who noted that these firms were looking for leaders who will manage the high growth rate.
"It's all driven by the growth rate of these firms and hiring leaders that can help them continue to scale and continue to keep pace with the growth rate in the business," he said.
Firms offering crypto services are searching for executives with experience scaling businesses. Moreover, these firms are willing to hire these leaders regardless of whether they have experience in blockchain and digital currencies.
Crypto firms deal with a wide range of offerings; hence, they hire experts from different fields. However, the fields that have witnessed increased demand include engineering, legal, finance and corporate.
While these firms look for expertise before hiring these executives, the report notes that they also look for executives that possess extra skills such as adaptability, passion, excitement and the zeal to work in the sector.
Crypto Sector Difference
The crypto space has different attributes compared to the other business areas. For instance, the crypto regulatory framework is not harmonized globally and these firms are heavily reliant on regulatory and legal executives.
On this, Huehnergarth said,
"many companies we've been working with have had more of a regional focus instead of a more traditional, centralized type of setup."
The other area of difference is that the crypto sector is more geared towards remote work, given that most of these organizations operate on decentralization. Therefore, remote work stands as a major incentive that attracts top talents.
These firms also maintain talent through cash compensation and long-term incentives.
"Crypto companies have the cash and have been bidding away very senior talent who only have one or two years' of crypto experience with offers that they cannot turn down."
Moreover, crypto companies do not all operate under one business model. Some have more of the financial side than the technological side and vice versa. The business model is usually determined by how the firms were started.
Nevertheless, most, if not all, crypto firms start with a technical team.
However, as they grow, they diversify to other divisions such as sales, finance, legal and compliance. As these firms grow, they become less reliant on attracting a high-degree technical team and focus on other talents and experience.
Disclaimer
The information provided here is for INFORMATIONAL & EDUCATIONAL PURPOSES ONLY!
View our complete disclaimer on our Disclaimer Page