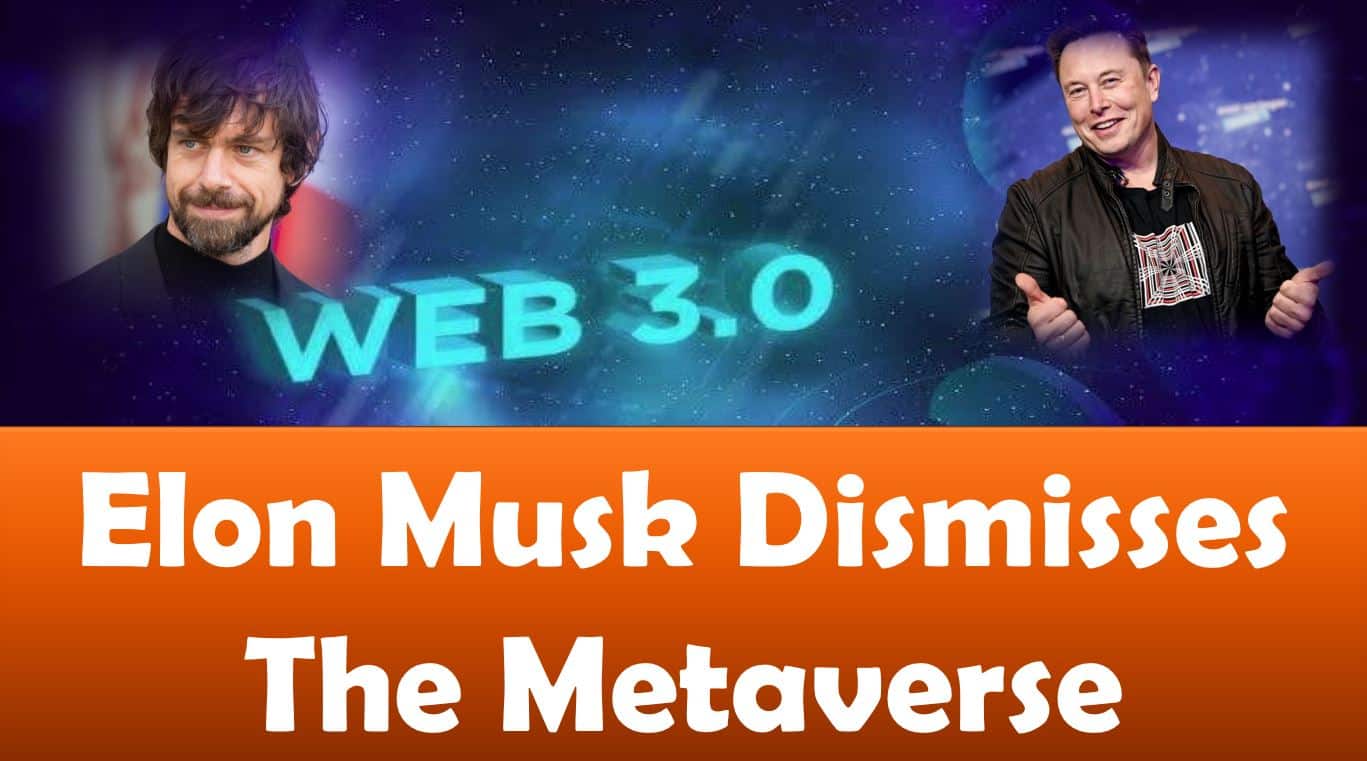 Elon Musk Dismisses The Metaverse
Last updated on November 1st, 2022 at 11:07 am
Elon Musk is not a fan of Web 3.0.
In his tweets, Musk had dismissed the concept of Web3 severally and even supported Jack Dorsey when he said that Web 3.0 was a concept by venture capitalists and liquidity providers.
Now, Musk has also stated that he does not understand the metaverse. Instead, he notes that Neuralink is the ideal solution for achieving virtual reality.
Musk Doesn't Support Metaverse
The CEO of Tesla and SpaceX is not joining the metaverse hype despite being a major advocate of cryptocurrencies. During an interview with The Babylon Bee, he stated that Web 3.0 and the metaverse were merely marketing tactics.
"I don't see someone strapping a friggin' screen to their face all day," he stated. "I don't know if I necessarily buy into this metaverse stuff, although people talk to me a lot about it."
He added that he does not see when people will choose to live in a virtual world rather than in the physical world. He noted that VR headsets could not be used for a long time because, from his personal experience, the gadgets can cause motion sickness.
"In the long term, a sophisticated Neuralink could put you fully into virtual reality. I think we're far from disappearing into the metaverse, this sounds just kind of buzzwordy."
Musk launched Neuralink, a company dealing in neurotechnology. Neuralink uses brain implants to restore and boost physical capabilities through electronic devices. He added that there was no compelling argument for the metaverse, but he remained open to understanding the concept in the future.
His argument also revolved around the continuous use of VR headsets and their effect on eyesight.
"It's gonna ruin your eyesight, right? And now we've got TV literally right here (on the face). I'm like what? Is that good for you?"
Musk & Dorsey Make Fun of Web3
Musk and former Twitter's CEO, Jack Dorsey, stirred a conversation among online Twitter users after dismissing the concept of Web3. In one of his Twitter posts, Musk asked his followers,
"Has anyone seen Web 3? I can't find it."
Web3 is a decentralized form of the internet based on blockchain technology. The concept represents the next evolution of the internet, transitioning from a centralized system to a decentralized one.
The proponents of Web3 argue that it will not be owned by a single entity, thus removing power from trillion-dollar Web 2 companies. This argument is further emboldened by a recent uptick in censorship by platforms like YouTube, Facebook and Google.
Dorsey weighed in on Musk's tweets, revealing that he does not support the Web3 hype. In his response, the now Block CEO noted that Web 3 was "somewhere between a and z," which was seen as a mockery of the entire concept.
Dorsey created an independent Twitter post illustrating that the decentralized concept of Web 3 is a fad.
"You don't own "web3". The VCs and their LPs do. It will never escape their incentives. It's ultimately a centralized entity with a different label. Know what you're getting into…."
While Dorsey's remarks were met with much criticism from Web3 supporters, the remarks by the two billionaires have stirred debate on whether the concept of Web3 will be realized.
Nevertheless, the concept of the metaverse has already picked shape, with Facebook rebranding into Meta. Microsoft has also shown interest in the metaverse through the Xbox gaming platform.
Disclaimer
The information provided here is for INFORMATIONAL & EDUCATIONAL PURPOSES ONLY!
View our complete disclaimer on our Disclaimer Page