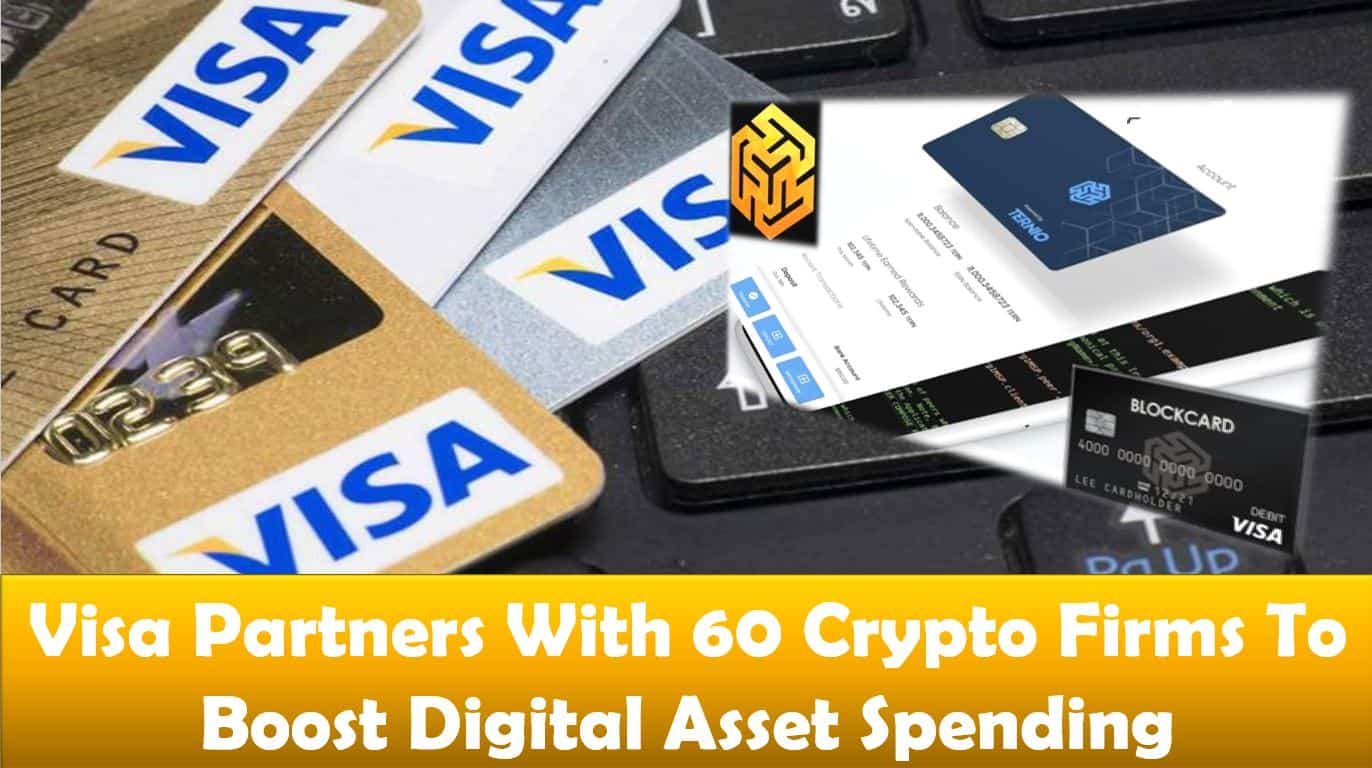 Visa Partners With 60 Crypto Firms To Boost Digital Asset Spending
Last updated on September 9th, 2022 at 10:18 am
Visa has remained committed to pushing for crypto adoption and meeting demand from its customers and merchants. In order to accomplish this monumental task, Visa has jumped into digital asset payments to boost its competitive edge.
In an interview with NDTV, Visa's head of cryptocurrencies, Cuy Sheffield, noted that the company had launched 60 partnerships with crypto companies.
Sheffield opined that
"at Visa, the scale and scope of our work in crypto has grown dramatically. The number of people cross-functionally at Visa working on crypto in some capacity is now in the hundreds – up from just a handful of employees. And we've more than doubled our number of partnerships with crypto platforms in the last 18 months – up to 60 partnerships today."
Visa has partnered with some of the firms in its crypto journey, including the FTX exchange, Crypto.com, Binance, Coinbase and BlockFi. The partnerships have led to the launch of card programs that bring efficiency in the conversion and spending of digital currencies at around 80 million merchants globally.
The executive noted that cards linked to crypto assets make it easy for consumers to spend their digital asset holdings when conducting daily tasks like buying coffee or grocery shopping. These cards make it easy for merchants to accept cryptocurrencies during checkout.
"All the conversions from crypto to fiat happen instantly behind the scenes. In-store online, it's as easy as a standard Visa transaction."
During the interview, Sheffield also talked about Visa's expansion plans. He opined that the payments giant was focused on boosting its crypto network to 80 million merchants and over 15,000 financial institutions that rely on its card services.
"We've built a lot of momentum in this space, and we'll continue to support the crypto ecosystem in several ways," he concluded.
Crypto Advisory Services Launch
Visa card programs have come in handy to allow users to use Bitcoin in their services and generate rewards. The network also offers support for USD Coin, a stablecoin whose value is pegged to the U.S. dollar. USDC is now supported to settle transactions on Visa's payment network.
However, Visa's network is still unsupportive of the direct use of cryptocurrencies such as Bitcoin. According to Visa's chief financial officer, Vasant Prahbu, the use of Bitcoin and alternative digital currencies will depend on price stability.
Visa is not the only payments giant that is working towards crypto payments. Mastercard, one of Visa's greatest competitors, has also announced the launch of several crypto offerings.
Disclaimer
The information provided here is for INFORMATIONAL & EDUCATIONAL PURPOSES ONLY!
View our complete disclaimer on our Disclaimer Page