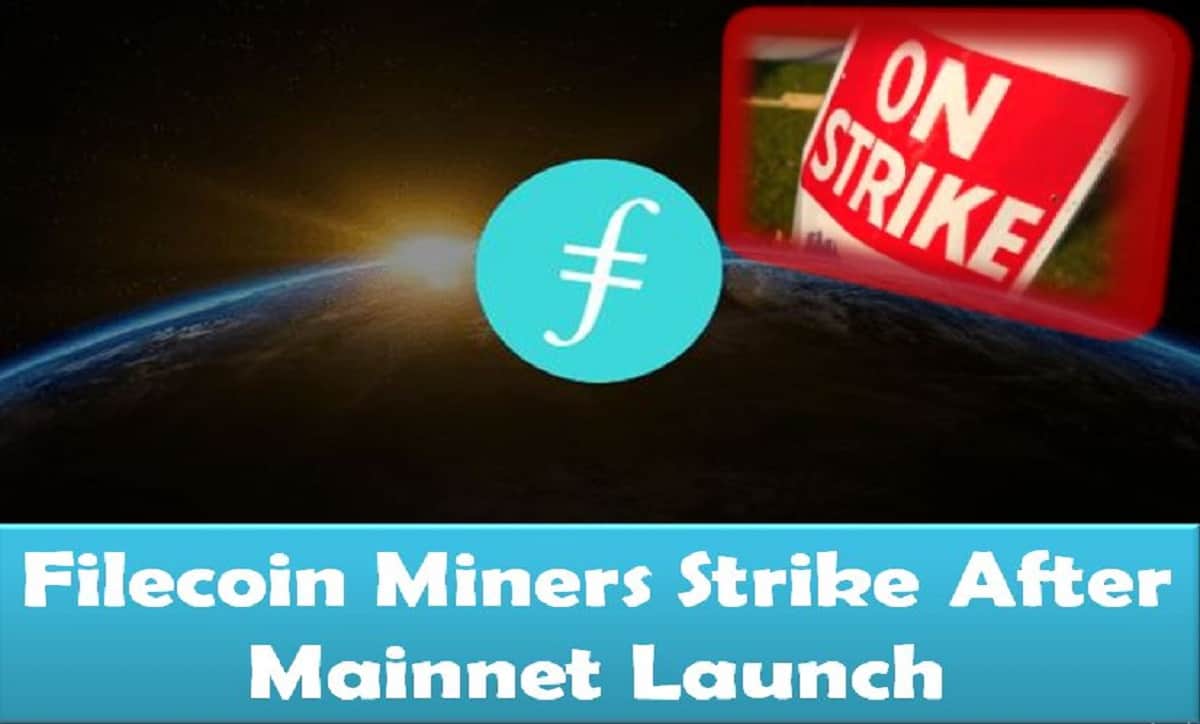 Filecoin Miners Strike After Mainnet Launch
Last updated on December 7th, 2022 at 08:37 pm
It's like this project came out of nowhere…
Filecoin? What is that?
Don't get us wrong… Filecoin is a project we've had our eyes on for some time… and right now, is certainly one we wished we had invested in.
In a nutshell, Filecoin is a decentralized cloud storage project. Cloud storage is almost a necessity these days, but as with everything controlled by a centralized entity, there is a question of privacy with the items stored on these centralized cloud servers.
Since it's mainnet launch, the FIL coin has seen a major increase in price. But, this launch was not without issues.
Striking On The Blockchain
Along with the launch of their mainnet, Filecoin was recently listed on major exchanges Gemini and Kraken even before its mainnet launch.
Only a day after its mainnet went live, the project's miners decided to go on strike due to its 'unfair' economic model.
What happened?
The mainnet launch for Filecoin was on October 15th. Soon after that, however, five of its largest miners stopped processing transactions by turning off their mining gear.
According to them, the project's economic model requires too many FIL to even start mining, which is something that the miners see as unfair.
One of the top five miners, Zhihu Cloud, currently owns more than 8,000 IPFS (InterPlanetary File System) mining machines. However, on Saturday, October 17th, only around 276 of them were operating. Which was the largest amount of machines that any of the five largest miners were using on that day.
The Filecoin project's goal is to offer its users a decentralized data storage, alongside transmission services, enabled by servers that miners themselves are offering through the use of commodity hardware.
In order to start mining, the miners have to stake a portion of their FIL as their Initial Pledge Collateral and the majority of the miners feel that this pledge amount is simply too high for them.
This pledge system is nothing new to the process of cryptocurrency mining or staking, it is used in most of these types of consensus protocols.
Collateral is used it to make sure that miners will deliver their services in full. However, according to the miners, the collateral amount prevents them from even getting started, which is bad for decentralization right at the start.
Miner Options
If a miner wanted to join the group, they have two ways of obtaining additional tokens. They could either earn them as rewards and then use them as collateral or buy them from exchanges.
The first method is problematic, as Filecoin releases FIL rewards during the six-month period after the block is built. This means that miners will start off with very few tokens.
Alternatively, buying the coins is not only expensive, but also risky, as there are many who see the project's coin as overvalued, based on its current price after the recent parabolic run-up.
FIL is also still very volatile. On its opening day, its price reached $100. Soon after, however, it crashed down, causing many to claim that the coin is overpriced.
Filecoin's Attempt at Resolution
Filecoin attempted to soften the angry reaction of its miners by releasing 25% token rewards in advance. While this was seen as good enough by some, other miners did not feel the same.
IPSFMain's CEO, Xiaoming Zhan, for example, said that the revision would be enough to enable 80% of the firm's total mining capacity.
It should be noted that miners of this project have criticized the project's mining economics long before the mainnet rolled out. Unfortunately, the project did not do anything to change it prior to mainnet launch.
Disclaimer
The information provided here is for INFORMATIONAL & EDUCATIONAL PURPOSES ONLY!
View our complete disclaimer on our Disclaimer Page