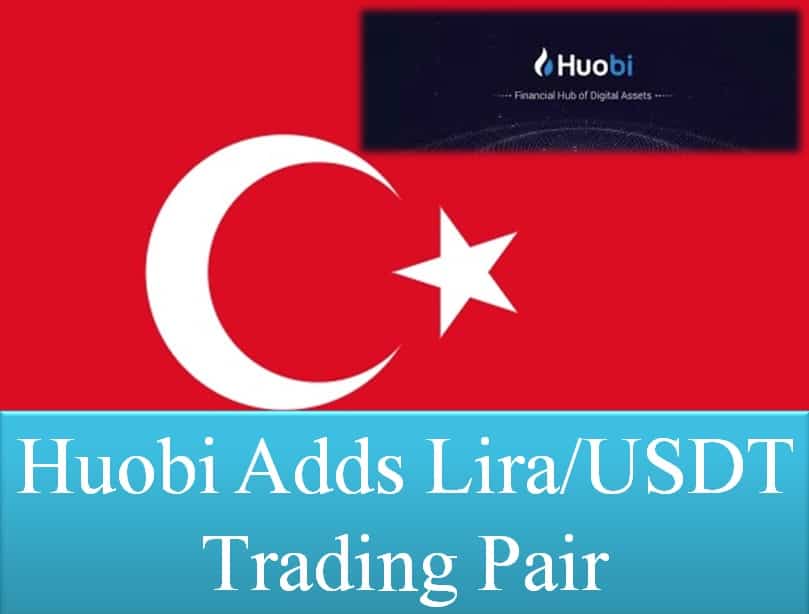 Huobi Pairs Turkish Lira With Tether
Last updated on November 1st, 2022 at 02:29 pm
The citizens of Turkey have come to rely heavily on cryptocurrencies in an attempt to deal with the difficult financial situation that has taken hold in the country. In a move by crypto exchange, Huobi the people of Turkey will be able to easily access to over 250 cryptocurrencies.
Houbi recently announced that it roll out a new fiat gateway for this country by pairing Turkey's national currency, Lira with Tether (USDT).
New Crypto Regulations Incoming For Turkey
This move by Huobi came shortly after the country announced a legal framework that would clarify some of the most important issues of the crypto market.
Furthermore, a lot of people in Turkey already hold cryptocurrency, or at least they did at some point, making it an excellent place for finding new customers interested in this digital asset class.
The exchange's new project was announced at the Eurasia Blockchain Summit, which was held in Istanbul.
Of course, Huobi's decision to target the Turkish market did not exactly come out of nowhere — the exchange has been talking about its plans to get more involved in this country's crypto scene ever since June. However, the exchange kept its cards close to the vest and were careful not to release too many details regarding their plans.
Furthermore, Huobi's EMEA regional president, Mohit Davar, stated that the exchange also managed to enter a partnership with one of the most notable local banks, with which it will collaborate on the creation of the infrastructure for the new fiat gateway. The unnamed bank would also help the exchange comply with the local laws and regulations.
Additionally, Davar mentioned that the partnership would be disclosed in December, when the fiat gateway gets ready for the launch. However, he also indicated that the launch might even come earlier than that, as the tests of the new platform are already underway.
Benefits of This New Fiat Gateway
This fiat gateway being provided by Huobi represents a major step forward for the citizens of Turkey. Until now, due to a lack of adequate regulation, Turkish banks were basically left to their own decision making.
So, what will this fiat gateway look like for the people of Turkey?
This gateway would enable Turkish crypto supporters to buy USDT with nothing but their own bank account and then trade Tether for any other coin which USDT is paired against on Huobi's exchange. The pairing is expected to make transactions easier and provide the Turkish crypto community with easy access to numerous new coins.
To further incentivize the people of Turkey to use this new gateway, Davar stated that Turkish users will be allowed to trade at a 50% discount, while the transaction fees would not be larger than 0.1%. Meanwhile, those who choose to invest in the exchange's native crypto, Huobi Token (HT), would receive an even greater discount.
Huobi has also prepared a Turkish version of its trading website, as well as a smartphone app to help the local customers with finding their way around the exchange with more ease.
What remains prior to launch is for the exchange to complete its test and assemble the local team. Additionally, Huobi will likely be looking for other financial institutions within the country to help it expand access to the people of Turkey.
Disclaimer
The information provided here is for INFORMATIONAL & EDUCATIONAL PURPOSES ONLY!
View our complete disclaimer on our Disclaimer Page