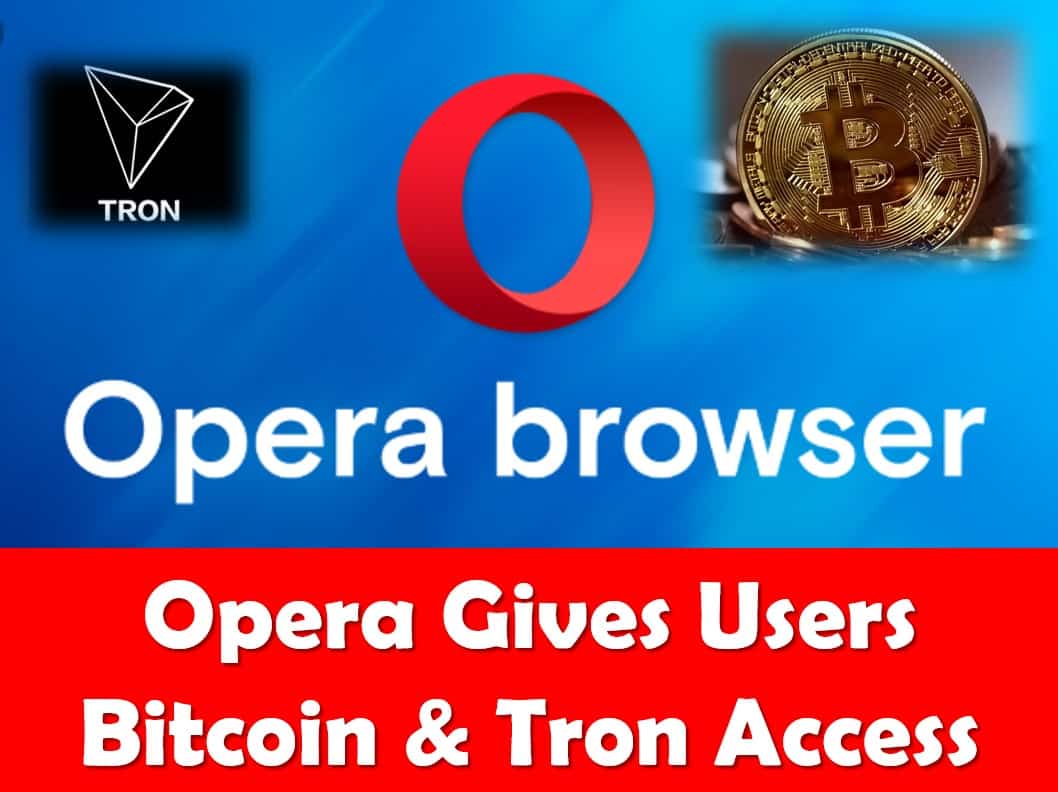 Opera Gives Users Access to Bitcoin & Tron
Last updated on November 1st, 2022 at 02:25 pm
We've talked many times about how people across the globe, regardless of economic status often have access to a smartphone… and how because of this, we believe that mobile devices such as cell phones will help to spur on the inevitable mass adoption of cryptocurrency.
Phone manufacturers and blockchain developers alike continue to make strides to integrate the technologies.
Check out our video below where we highlight some of the developments with integrating the tech as well as our view of the role of smartphones and mass adoption.
Read More About Samsung's Integration of Blockchain Keystore Here
So, what is the latest thing with mobile phones and crypto?
Popular mobile web browser Opera has added both Tron (TRX) and Bitcoin (BTC) to its Android browser.
Providing support for Tron and Bitcoin to its browser, helps to expand accessibility to cryptocurrencies. With more than 200 million users on Opera's platform, there is surely the opportunity to grow access to the decentralized economy.
According to data released by StatCounter, Opera's market share among all internet browsers is about 2.5%. Charles Hamel, who is in charge of the crypto department at Opera, said that the Opera browser is the right platform to integrate so many users into the cryptocurrency market.
He further pointed out that the browser is a major gateway to a lot of things in the user's life. With the integration of the cryptocurrency into opera, it will enable users to trade in the Tron and Bitcoin market without going through the stressful process of installing a wallet plugin or an external wallet.
Justin Sun is delighted that the company has reached a new milestone, which gives Opera users easy access to the Tron Dapp ecosystem. In a press release, Justin said the company is happy to integrate its crypto network with one of the most popular web browsers.
Opera Becomes Most Supportive Crypto Browser
Opera has been aligning with cryptocurrency networks. The collaboration with Tron and Bitcoin is not the first time the browser has dabbled into the crypto community.
In December last year, Opera allowed Ethereum to add its customized wallet to the browser. It is on record that Opera was the first to collaborate with Ethereum in that regard. The integration allowed users to store, receive and send Ethereum via the platform. It made things a bit easier for traders as they don't have to go through the long process of installations.
While Opera may not be the largest browser in terms of the user base, it surely is the most open to collaboration with cryptocurrencies. It is among the few platforms that are making efforts to adopt web 3.0 platforms.
This switch to the 3.0 model will give Opera a little leverage on the competition with it's support for Dapps on Ethereum and Tron, easy access to cryptocurrency payments and customized VPN capability, there is no doubt that opera is the leading enabler of the crypto network across all browsers.

Use Code

CCM

at Checkout & Get 50% Off For Life
Bitcoin & Opera – A Good Combination
The influence of the world's largest cryptocurrency continues to grow. One of it's major hurdles with seeing mass adoption is the current difficulty with using Bitcoin to pay for goods and services. Adding this ability as well as other valuable services will ultimately help crypto investors as we march into the future.
Collaboration between internet giants and cryptocurrency continues. Opera's Beta browsing version allowing users to see their payment history and carry out transactions via the integrated platform may mean that we are closer to mass adoption than many think.
Disclaimer
The information provided here is for INFORMATIONAL & EDUCATIONAL PURPOSES ONLY!
View our complete disclaimer on our Disclaimer Page