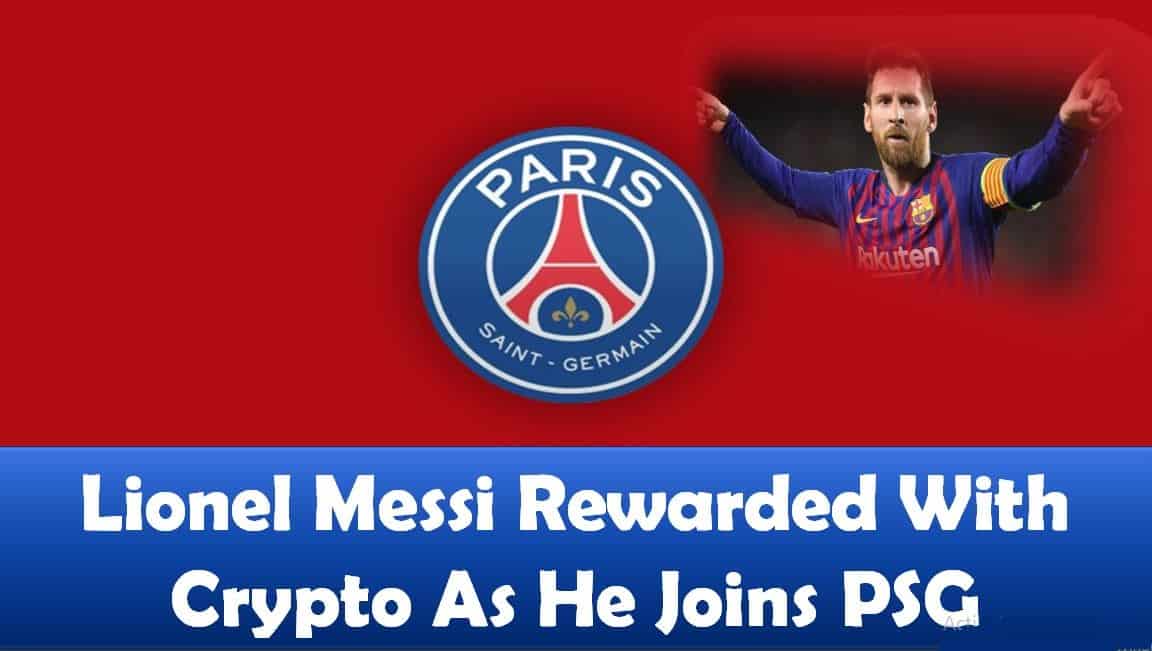 Lionel Messi Rewarded With Crypto As He Joins PSG
Last updated on November 1st, 2022 at 11:19 am
Lionel Messi's two-year deal with Paris Saint-German (PSG) has come with good news for the crypto community.
The soccer star was given fan tokens as part of his "welcome package" to the soccer club, a move that has created hype surrounding the PSG fan token.
The 34-year old soccer star left Barcelona and signed a two-year deal with PSG, a Qatari owned soccer team. The deal also contained the option of a thirdyear. News of Messi's signing with PSG caused a stir among soccer fans, but now this buzz has extended to crypto fans.
According to Reuters, the fan tokens were included in a welcome package estimated to be worth between $29 Million and $35 Million. However, PSG did not give details of the number of tokens awarded to the star but stated it was a "significant amount."
Fan tokens have become popular in the sports sector. Clubs can boost fan engagement through fan tokens because they allow holders to vote on various matters concerning the club and players.
However, these voting rights are limited to small decisions such as the choice of jerseys. Besides PSG, other soccer clubs that have embraced fan tokens include Leeds United, Aston Villa and Arsenal.
Besides making fans feel like part of the team, the tokens also generate additional revenue for the clubs. According to Socios.com, the platform behind the fan tokens, clubs have generated an additional $200 Million in revenues from these coins in 2021.
Fan tokens have the same characteristics as other cryptocurrencies. They are prone to volatility and can also be bought and sold on cryptocurrency exchange platforms.
Despite the high risk associated with the crypto sector, cryptocurrencies have been endorsed by prominent figures such as Elon Musk, Twitter's founder Jack Dorsey and Jay Z.

Fan Tokens Skyrocket
Reports from PSG indicate that interest surrounding fan tokens has increased since the news of Messi's welcome package at PSG.
After news that Messi would join the club, PSG's fan token trading volumes surpassed $1.2 Billion. New sales for these tokens generated around 30 Million euros and out of these sales, PSG will walk away with 15 Million euros.
PSG's fan token has a market capitalization of around $52 Million and amidst news of the soccer star joining the club, the coin's value gained by more than 130%. At the time of writing, these tokens were trading at $41, according to data from CoinMarketCap.
Because of these gains made by PSG, other sports clubs have been urged to join the movement and generate more revenues through fan tokens. The CEO of Socios.com, Alexandre Dreyfus, stated,
"I believe this could be the start of a new trend as fan tokens and Socios.com play an increasingly prominent role across sport at the very highest level."
Besides benefitting through fan tokens, PSG believes that Messi will lead the club towards winning the UEFA Champions League. PSG has never won this title, but Messi has won the title four times through his previous team Barcelona.
Besides, Messi's popularity in the soccer community will also increase PSG's commercial deals and merchandise sales.
Disclaimer
The information provided here is for INFORMATIONAL & EDUCATIONAL PURPOSES ONLY!
View our complete disclaimer on our Disclaimer Page