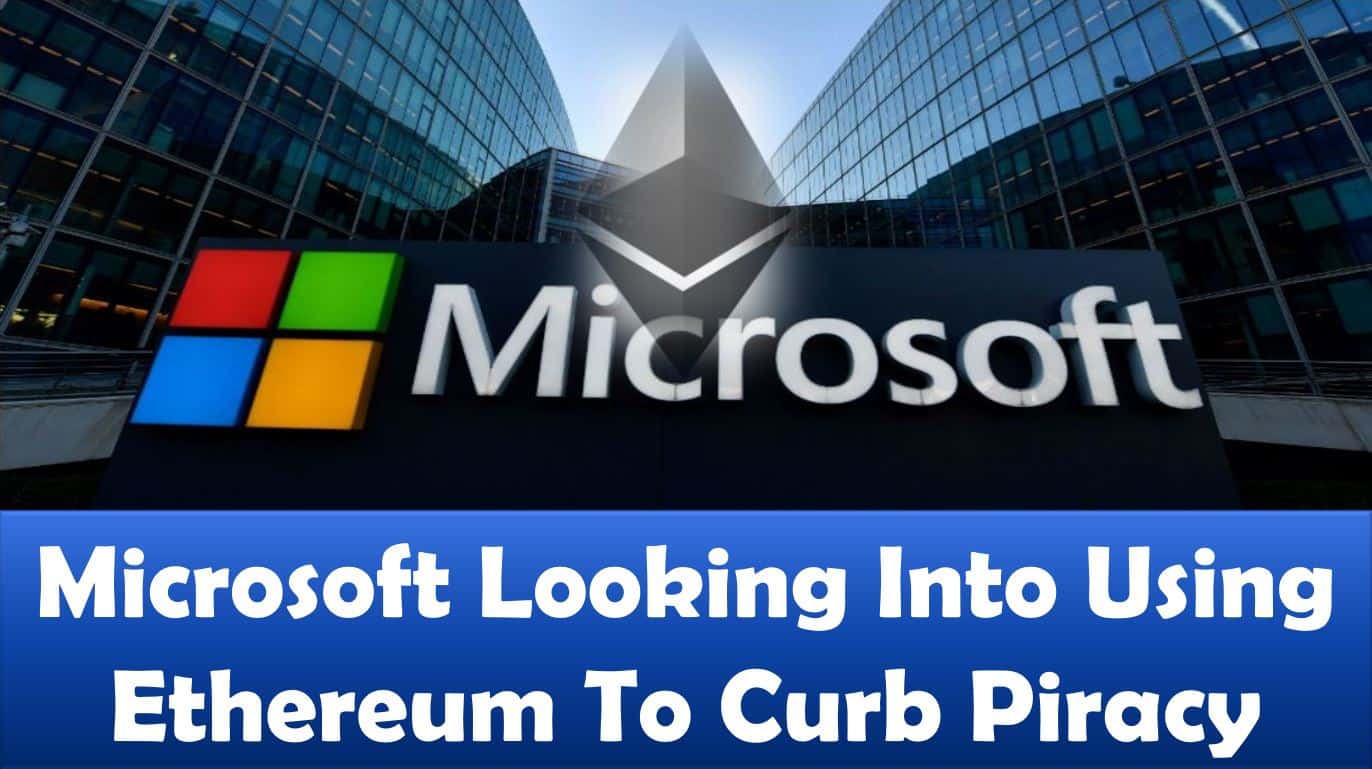 Microsoft Looking Into Using Ethereum To Curb Piracy
Last updated on September 9th, 2022 at 09:56 am
Microsoft is literally a household name. When you think about Microsoft and its Office productivity suite and Windows Operating systems, you think privacy and security. To curb piracy and the hacking of private information, the tech giant is now looking into blockchain.
A recent report by Microsoft showed that the company was looking deeper into establishing strong anti-piracy measures.
The firm stated that it was partnering with Alibaba and Mellon University, which recently did a study illustrating how blockchain can be implemented in systems to help with anti-piracy issues.
Solution Built on Ethereum
The new Microsoft service will be based on Ethereum.
The research on how this system will work is titled "Argus: A Fully Transparent Incentive System for Anti-Piracy Campaigns."
This title depicts that the new solution will offer complete transparency, which blockchain can only enable.
The solution aims to promote a trustless mechanism that will also protect data provided by whistle-blowers who issue reports on piracy cases.
"In the implementation, we overcome a set of unavoidable obstacles to ensure security despite full transparency," the research added.
The Argus solution will also offer backtracing of pirated content. The pirated content will be traded to the source using a watermarking algorithm.
A "proof of leakage" report will be issued on the leaked content, and it will contain a procedure to aid in hiding information. This will be a streamlined distributed system that will ensure that pirated content will not be submitted twice.
The Argus system will also contain safeguards to ensure an informer will not report the same pirated content multiple times using different names.
On this functionality, the firm stated that
"With the security and practicality of Argus, we hope real-world anti-piracy campaigns will be truly effective by shifting to a fully transparent incentive mechanism."
---

---
Dealing With High Ethereum Fees
The firm further went into more detail, stating how it will deal with the high gas fees on the Ethereum network.
To deal with this issue, the research stated that various cryptographic strategies would be implemented to ensure that the cost of reporting piracy will be at a bare minimum.
To achieve this, the cost of privacy reporting would equate to the cost of sending around 14 ETH on the public Ethereum network. This would ensure that thousands of transactions are processed on the network.
Piracy has been one of the greatest threats to creativity.
To prevent it, technology firms worldwide have come up with various solutions to protect investors and ensure that digital piracy is dealt with.
Besides Microsoft, other major tech firms such as Tech Mahindra have come up with digital contracts based on blockchain. The new tool is based on the IBM Hyperledger Fabric protocol and has been designed for use by the media and entertainment sectors.
Besides offering privacy and security, implementing blockchain can also help in offering a transformation approach to firms that rely on interoperability. For example, these firms include healthcare sectors that have for the longest time battled with finding the best ways to protect themselves from data insecurity.
Disclaimer
The information provided here is for INFORMATIONAL & EDUCATIONAL PURPOSES ONLY!
View our complete disclaimer on our Disclaimer Page