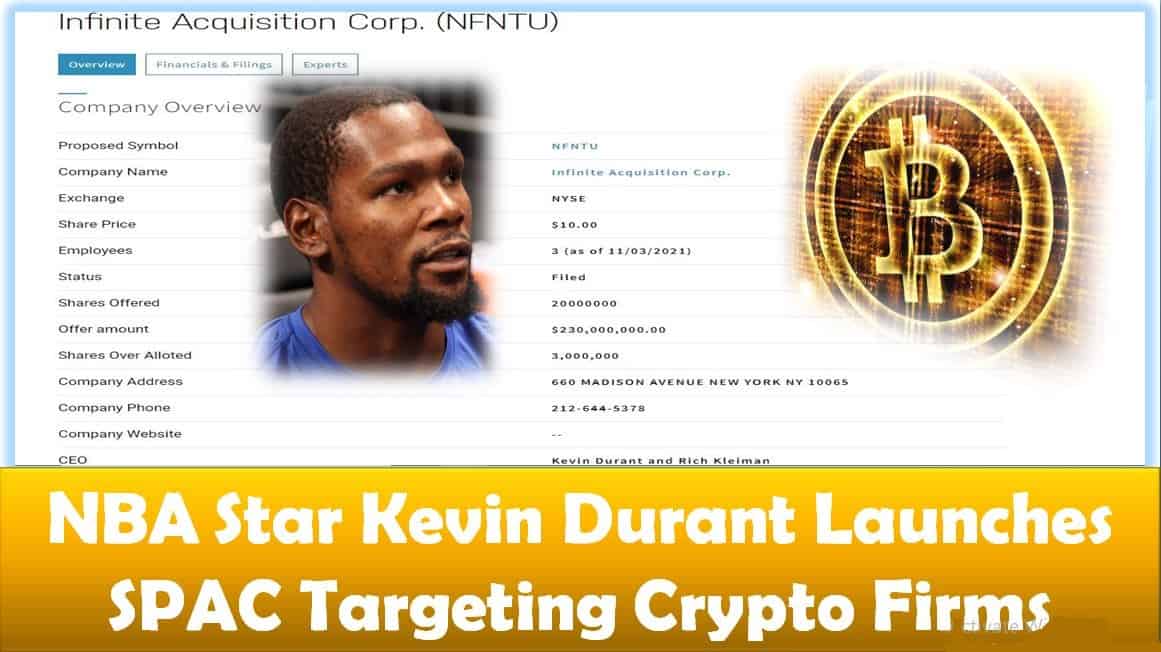 NBA Star Kevin Durant Launches SPAC Targeting Crypto Firms
Last updated on November 1st, 2022 at 12:00 am
Kevin Durant has unveiled a Special Purpose Acquisition Company (SPAC) that targets technologically innovative firms. Some of the firms that will be included in this SPAC include those operating in the crypto sector.
The SPAC is collaborating with Rich Kleiman, Durant's business associate. The firms targeted by this SPAC will be either acquired or merged to go public.
A SPAC is a firm created to acquire or merge with other private companies for the purposes of an IPO. At times, a SPAC can be referred to as a "blank check" company because it does not have any form of offerings but only wants to get into a merger with a private firm for an IPO.
Durant is an agile investor and was among the people who were early into getting Coinbase shares. The NBA superstar made immense profits after Coinbase's direct listing in April this year.
Durant launched his new firm through Thirty-Five Ventures. Other parties involved include Lion Tree Investment banking company and Rich Kleiman.
The firm will be known as Infinite Acquisition Corp, as the SEC had listed a filing for such a firm with an IPO of up to $200 Million.
The SPAC is expected to list at the New York Stock Exchange (NYSE). Through this listing, the firm expects to have its stock trade under the ticker NFNT.U.
The filing states that 20 million units will be available, going for $10 each. The IPO offer has been underwritten by Credit Suisse and the SPAC has stated that it will buy back the shares in cash if it fails to close a merger deal within 18 months.
Focusing on Crypto
Infinite Acquisition is targeting firms that offer digital assets and crypto products. The U.S. has seen major growth in these firms, with exchanges such as Coinbase and Kraken reporting an increased user base. Another target is Ledger, one of the largest and most popular hardware wallet providers.
As we mentioned previously, Durant has previously invested in the crypto space. He was among the early investors in Coinbase. He has also invested in Robinhood, another digital asset brokerage firm and Dapper Labs to promote NBA Top Shots.
One of his most notable investments in crypto is in the Valora crypto application. Durant has joined other notable celebrities who have also endorsed the app.
Valora seeks to use stablecoins to create efficiency in cross-border payments by making the process cheaper and more convenient. The app also enables users to swap between different fiat currencies easily while avoiding the high charges of forex firms.
The SEC filing mentions major crypto players such as BlockFi, Coinbase, Dapper Labs, Axie Infinity, Ledger and Kraken.
"These technologies make the internet ownable, providing new ways to reward and compensate creators for their work allowing unbound creativity, and driving toward the emergence of potentially massive new platforms to harness this democratization of scarcity."
Crypto firms are not the only ones under the radar of Infinite Acquisition. The filing also listed a wide range of companies that the SAPC would want to merge with or acquire. Some of these companies operate in the health and wellness sector, e-commerce, food technology, supply chain and sports.
The filing stated that the firms that the SPAC will be targeting are those that have "visionary founders leading technology-enabled platforms." These firms needed to use technology to create a competitive edge and offer better customer relationships.
Disclaimer
The information provided here is for INFORMATIONAL & EDUCATIONAL PURPOSES ONLY!
View our complete disclaimer on our Disclaimer Page