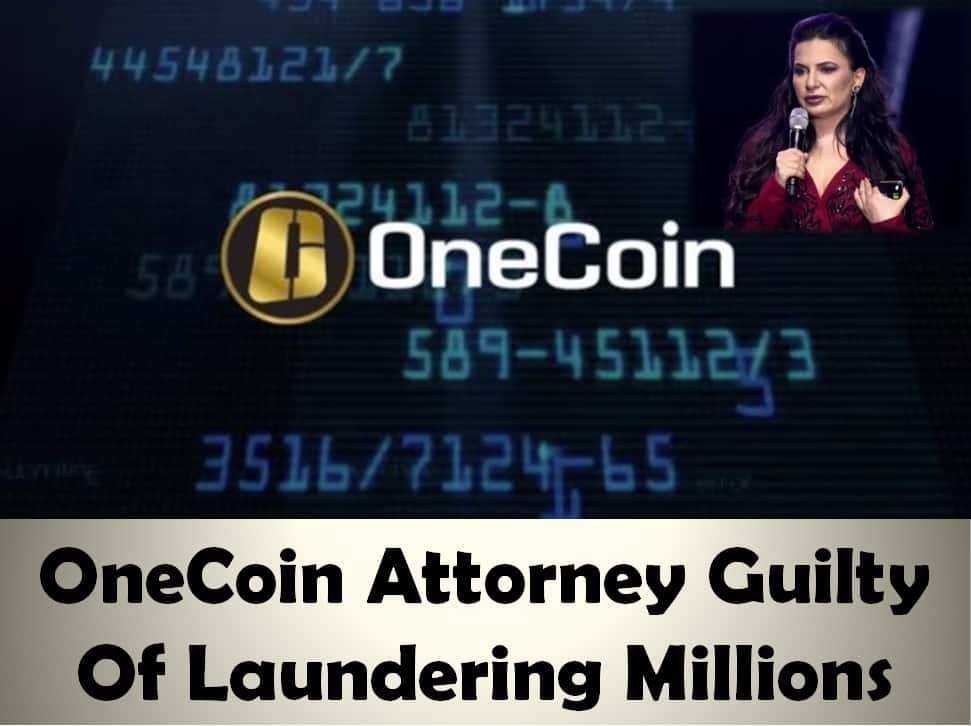 OneCoin Attorney Guilty of Laundering Millions
Last updated on November 1st, 2022 at 02:04 pm
The cryptocurrency space is meant to give power back to the people… to allow them to do what they need and want to do with their money, without having to get 'permission' from a 'trusted third party.'
But to quote Uncle Ben in Spiderman – "with great power comes great responsibility."
Unfortunately, some of the people in the crypto space often miss the mark when it comes to integrity and moral character… hence, the space is replete with scams.
The OneCoin fraud debacle is one of those scams.
While the unraveling of this scam has been going on for some time now, the information about those involved and the level of deception continues to be exposed.
OneCoin had been outed as a highly sophisticated pyramid scheme, with the head, Dr. Ruja Ignatova, who has gone missing some time ago.
It's been estimated that OneCoin has accrued $4 billion in stolen funds and a lawyer allegedly laundered $400 Million of it.
US Lawyer Gone Bad
Mark Scott is the lawyer accused of earning $50 Million in fees for laundering over $400 Million in funding. He was forced to stand before the jury in the ongoing OneCoin Investigation. Nicholas Folly, a very wittily named prosecutor, described the scope of the allegation as "staggering."
Scott was the former partner at Locke Lord, one of the 75 largest law firms in the US. He faced the accusations leveled against him which included using a list of fake companies, fraudulent schemes and offshore accounts to launder a hefty $400 Million in funds for Dr. Ruja Ignatova.
Ignatova was the so-called "Cryptoqueen" of the whole OneCoin fiasco. The allegations state that the money laundering happened between 2015-2017.
Fenero Funds Are Fake
According to the allegations, Scott created an array of investment funds offshore and called them "Fenero Funds." These investments were used in order to launder OneCoin's illegal money.
Prosecutors went all-in in damming Scott with an "overwhelming" amount of evidence. This evidence included an email Scott allegedly sent to Ignatova in which he claimed he wanted to do "smoke and mirrors" for the fraudster cryptoqueen.
Relentless Refusal
As the evidence started to pile, Scottdecided to double down on his denial. He claims that he had no idea OneCoin was a scam or that the Fenero Funds were part of OneCoin.
Regardless of the email mentioned above, Scotts' defense lawyer continued pushingthat there is no evidence to say that Mark Scott believed that there was foul play going on at OneCoin.
Disclaimer
The information provided here is for INFORMATIONAL & EDUCATIONAL PURPOSES ONLY!
View our complete disclaimer on our Disclaimer Page