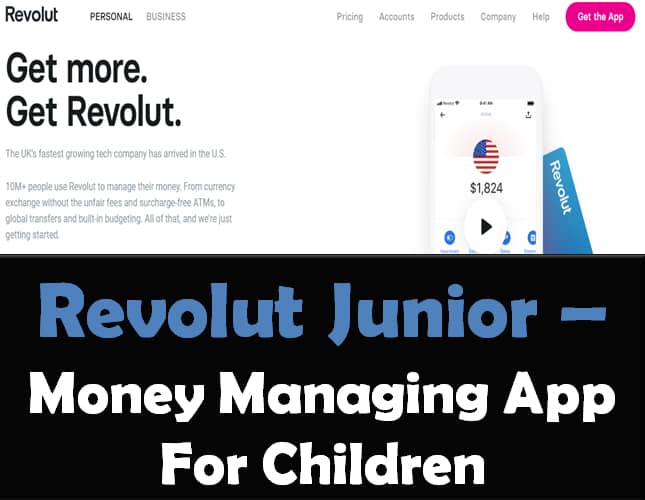 Revolut Junior — Money Managing App For Children
Last updated on December 8th, 2022 at 09:38 am
Revolut, a London-based global financial bank with over 10 million users, has recently launched a new service targeting a much younger demographic — children.

The company's new service is called Revolut Junior. This feature, which is actually a sub account of the main account held by parents, was launched in February 2020.
The purpose of these Junior Accounts is to teach kids between the ages of 7 and 17 how to handle and manage funds on their own.

Revolut believes that promoting good money habits at an early age will help the younger generations, as long as it remains within safe parameters and guidance of responsible adults.
Parents' Have Complete Oversight Into Child's Spending
The parent's role will be crucial, as a Revolut Junior account can only be created by a parent or a legal guardian, who must also be an existing Revolut user.
The new product has three components — a Revolut Junior app, a new section of the original Revolut app for adults and a new Revolut Junior card for children to use.
Revolut Junior app is designed with tools that will allow kids to get transaction alerts and check their balance, while the parents' app will allow them to manage children's allowances in a secure place. Parents will also be able to use the existing Revolut app to directly transfer money to the kids' accounts, access transactions, check their balances and more.
The parents' app will also notify them whenever their children spend money, thus allowing them to be in control of the card and all transaction functions, including online payments. Additional features, such as the ability to set regular allowance, saving options, spending limits, financial goals and tasks and more, will be added by the end of the year.
During the roll-out's initial stage, the new service will only be available for Metal Revolut and UK Premium users, although expansion to other regions of Europe will come as well in the following months.
Effects on The Future of Cryptocurrency
As some may know, apart from its usual money managing services, the challenger bank also offers instant access to five different digital currencies for its Premium and Metal account users. The coins in question include Bitcoin, Ethereum, XRP, Bitcoin Cash and Litecoin.
At this point, it is uncertain whether Revolut Junior will allow the same access to children and allow them to invest in crypto, even under parental guidance and supervision. If it does, the bank will spread awareness over future generations and help develop an interest in an early age, which will certainly be quite helpful if the crypto industry continues to expand at the current rate.
Even if the coins are not offered to kids, they will be used to managing their money through Revolut, which makes it very likely that they will continue using the app as they enter adulthood and still gain exposure to cryptocurrencies in their late teens.
Disclaimer
The information provided here is for INFORMATIONAL & EDUCATIONAL PURPOSES ONLY!
View our complete disclaimer on our Disclaimer Page