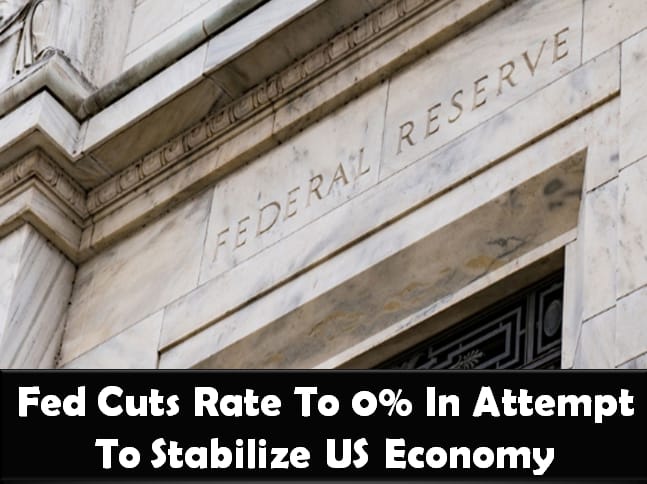 Federal Reserve Cuts Rates To 0% In Attempt To Stabilize US Economy
Last updated on December 8th, 2022 at 09:39 am
The US Federal Reserve has once again reacted in response to the negative impact that the COVID-19 outbreak had caused within the country. As the American economy continues to crash due to the growing coronavirus fears, the Fed has cut its benchmark interest rate again, this time to 0%.
At the same time, Bitcoin's price itself has crashed, as traders and investors around the world liquidated their assets in an attempt to preserve their wealth and have liquid assets to spend if needed. While the crypto market managed to remain stable longer than the stock market, last week has seen BTC price got cut in half, before seeing a mild recovery that took it back to $5,500.
The Fed Takes Action
Experts claim that the correlation between the stock and crypto markets is reaching an all-time high, as the sentiment and activity in the global economy reached a 10-year low.
The US central bank attempted to incentivize businesses and households for eight years following the last economic crisis, keeping the benchmark rates at 0% from 2008 to 2016. Over the course of the last two years, as the economy saw a recovery, the bank gradually raised the rates, only to cut them to 0% again now, due to the impacts being felt by the coronavirus.
The central bank will buy $700 billion worth of bonds, including $200 billion of mortgage-backed securities and $500 billion of Treasuries, in an attempt to provide industries with the necessary liquidity.
Judging by recent developments, it is possible that S&P 500 may have this rate cut priced in, since it surged by around 9.3%. However, Bitcoin trading sees a correlation of 0.5 to the S&P, which is the highest ever recorded, which indicates that major investors still view the coin as a speculative investment.
Bitcoin Fails To Act as a Safe Haven
As a result, they are abandoning the largest cryptocurrency in an attempt to make safer investments, as uncertainty continues to dominate.
So far, it would appear that Bitcoin's safe haven narrative has failed to protect its HODLers, but that sentiment may change if this global pandemic drags on for a long period of time.
Disclaimer
The information provided here is for INFORMATIONAL & EDUCATIONAL PURPOSES ONLY!
View our complete disclaimer on our Disclaimer Page