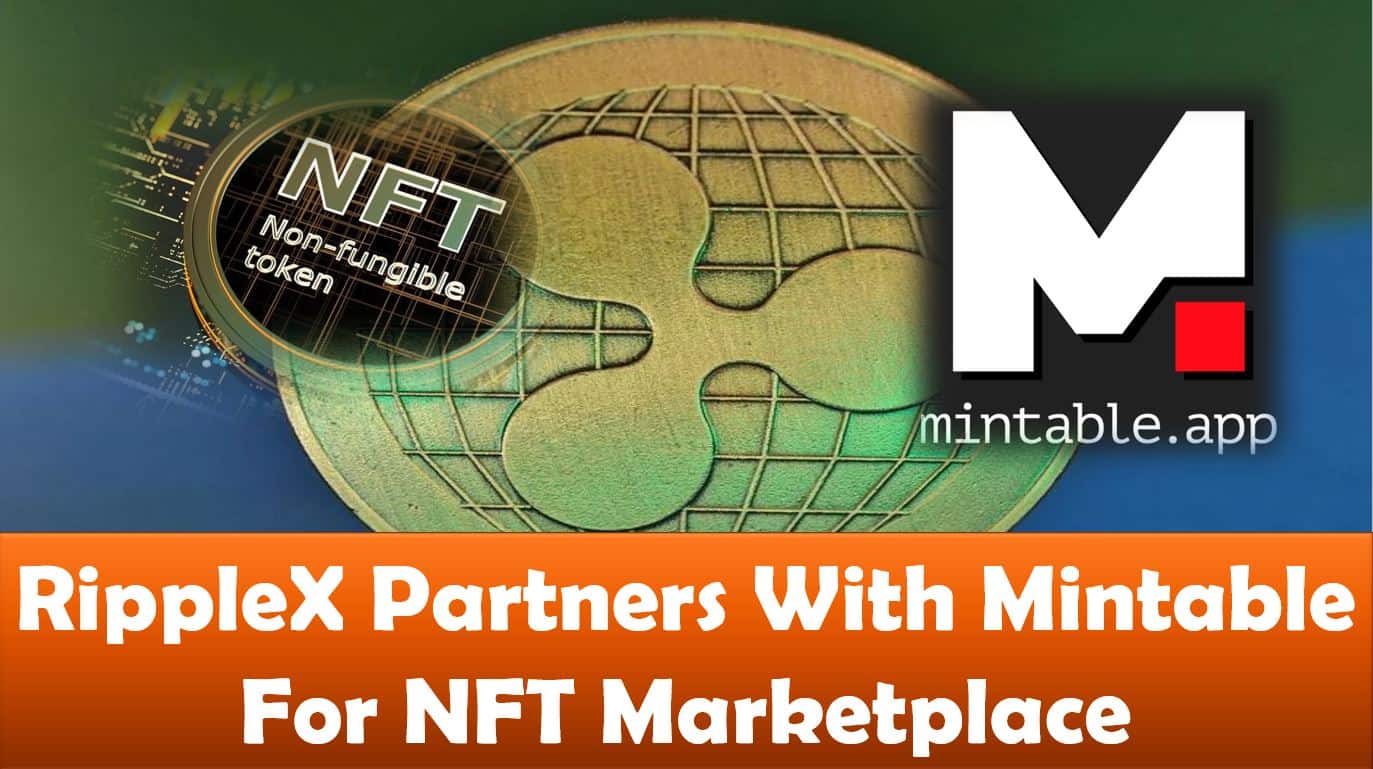 RippleX Partners With Mintable For NFT Marketplace
Last updated on December 4th, 2022 at 10:51 pm
XRP
Ripple started out the month of July with a huge announcement about a strategic partnership with Mintable.
Mintable is an NFT marketplace where users can develop, purchase and trade digital collectables using fiat currencies or digital assets. This partnership will enable Ripple to jump into the rapidly growing sector of NFTs.
According to the announcement, the partnership would help boost crypto adoption as digital assets become mainstream. Having digital assets that can be sold on the blockchain for real income will also boost this adoption.
Growth of NFTs
According to Ripple, NFTs sales had garnered around $54 Billion in 2020.
"NFTs have the long-term potential to accelerate the creator economy, inspire new business models and open access to broader participation in the modern financial systems," the statement read.
Even with this growth, there were still barriers inhibiting the accessibility and monetization of NFTs. Building NFTs on layer-1 protocols would support transactions, but the high fees charged on the platforms would act as a barrier.
Ripple recognized that NFTs needed to be accessible to everyone around the globe for minting, selling, buying and transferring. However, such capability would only be achieved through a multi-chain mechanism. This will enable cross-chain interoperability where each chain will find its place, hence boosting user experience.
Mintable also completed a $13 Million Series A funding round where its CEO and founder, Zach Burks, stated that
"Throughout 2021, NFTs have reached mass appeal, having touched almost every sector spanning entertainment, fine arts, sports, and many more. As the technology continues to mature and the space rapidly evolves, this is a critical company milestone for Mintable, and we are thankful for the support from our investors."

Mintable Offers an Ideal Solution
While participating in Mintable's Series A funding round, Ripple recognized that the platform would create support for multiple blockchains. Mintable aims at boosting mass adoption for NFT through its marketplace that offers solutions to the complexity of blockchains. In the past year, Mintable has developed 700,000 NFTs.
Ripple's XRP Ledger (XPRL) also comes with its advantages to help develop a seamless NFT experience. Mintable will integrate with XRPL to allow creators to sell their NFTs in a secure, sustainable and efficient manner. The same benefits will also apply to buyers and resellers.
XPRL also lowers transaction costs to achieve sustainability. By using XPRL, Mintable will lower transaction fees to $0.0004.
Moreover, XPRL offers a more energy-efficient solution because it offers carbon neutrality and consumes around 790,000 kWh per year, making it highly efficient than most proof-of-work networks.
This energy efficiency will enable NFTs to be created on the platform in large numbers in a sustainable way. Billions of NFTs can be minted, bought or sold without creating concerns about environmental impacts.
The price of Ripple's XRP has been recording downswings during the recent market volatility. However, this integration of RippleX on Mintable is expected to boost the value of the token.
NFTs have been a craze in the crypto community, and by investing in them, crypto firms have witnessed growing popularity and value and Ripple might benefit from this.
Disclaimer
The information provided here is for INFORMATIONAL & EDUCATIONAL PURPOSES ONLY!
View our complete disclaimer on our Disclaimer Page