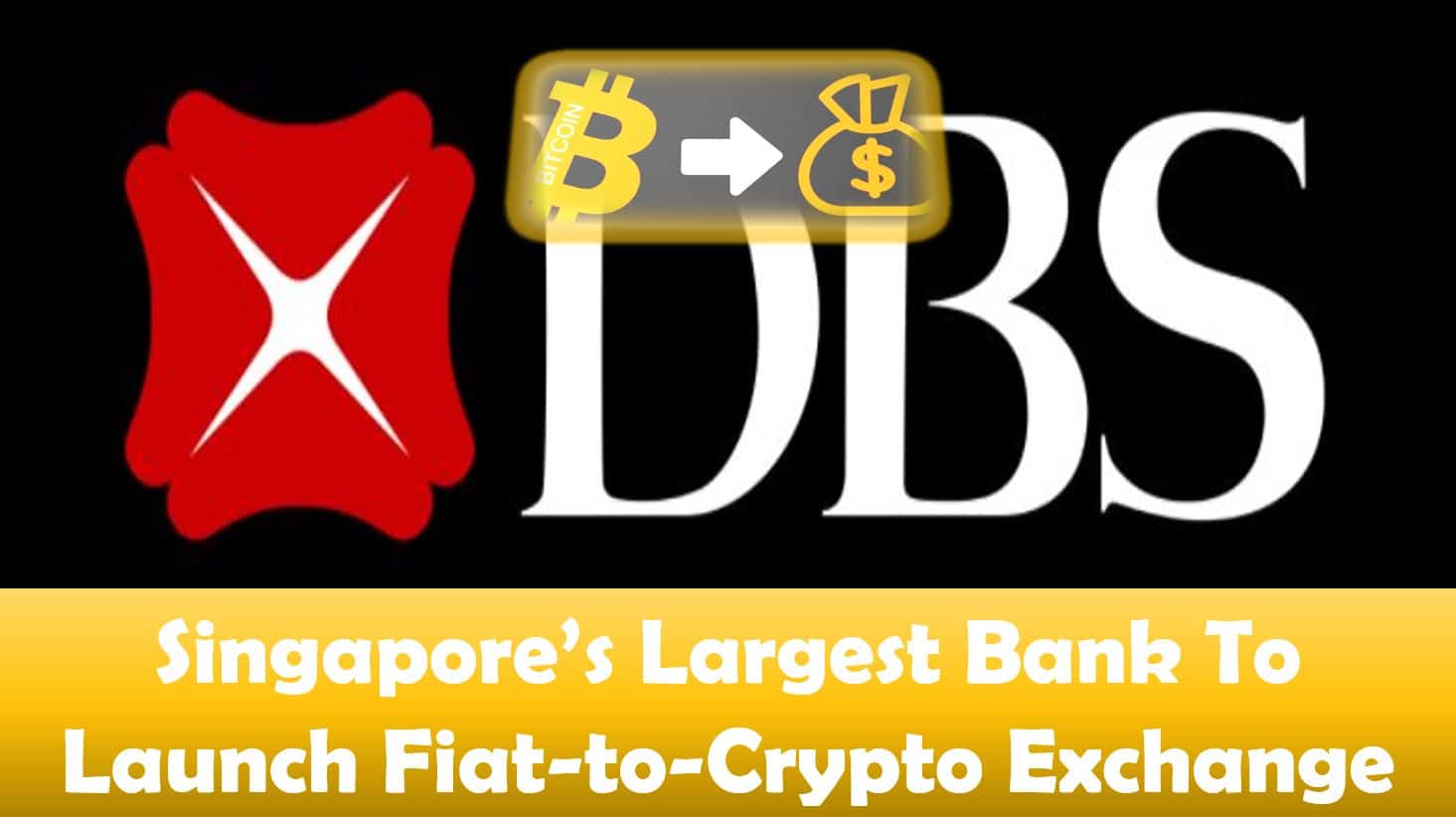 Singapore's Largest Bank To Launch Fiat-to-Crypto Exchange
Last updated on November 1st, 2022 at 12:30 pm
According to a recent report, the largest bank in South East Asia, DBS Singapore, has concluded plans to launch its fiat-to-cryptocurrency exchange called "DBS Digital Exchange." The exchange will be regulated by Singaporean monetary authority.
Once launched, the trading platform will be open for users who wish to trade any of the four crypto assets – XRP, ETH, BTC, or BCH – against the U.S. dollar (USD), the Japanese yen (JPY) Hong Kong dollar (HKD), or the Singaporean dollar (SGD).
The exchange will also engage in security token offerings in the future, according to the report, to enable companies to raise funds. However, the digital exchange is not targeted towards retail investors and doesn't hold any cryptocurrency assets.
DBS Exchange Not Like Other Exchanges
Unlike other crypto exchanges, DGS Digital Exchange will not have custody of any digital asset. Rather, the parent company, DBS Bank, will play that role by keeping all digital assets.
This move makes sense given the bank is already playing that role as a recognized custodian bank. DBS will be using DBS Digital Custody to keep the funds of digital asset customers safe.
Some Security Tokens Supported
DBS Digital Exchange will also be supporting some security tokens such as those backed by real assets like fixed income instruments, physical properties, as well as equities in the future.
Chief Executive Officer and Co-founder of Three Arrows Capital, a Singapore-based crypto-focused hedge fund, noted that the new crypto exchange will make trading easier for crypto traders in the country.
He also says the fact that DBS bank is launching the exchange makes it also easier for those in the mainstream financial sector to try crypto trading.
It seems apparent that DBS Bank does not want to make this announcement public yet, as it posted the news and subsequently deleted it.
But based on the cached web page, DBS Digital Exchange will be offering access to "an integrated ecosystem of solutions to tap the vast potential of private markets and digital currencies."
When reached for more information about the new crypto exchange launch, the bank declined to comment.
The cached webpage also revealed that digital assets are likely going to be the pillar of the future's digital economy. Since DBS Exchange will be fully supported and managed by the DBS bank, investors and companies can take advantage of the integrated ecosystem of solutions and tap into the digital currencies industry.
No Weekend Trading
Based on info available on the FAQ section of the webpage, DBS will not offer weekend trading and will have limited trading hours on Wednesdays, as traders will only have from 9 am to 4 pm to trade on the exchange.
Also, the exchange only provides services to institutional investors, including professional market makers and financial institutions. The official launch date of the exchange is yet unknown.
Disclaimer
The information provided here is for INFORMATIONAL & EDUCATIONAL PURPOSES ONLY!
View our complete disclaimer on our Disclaimer Page