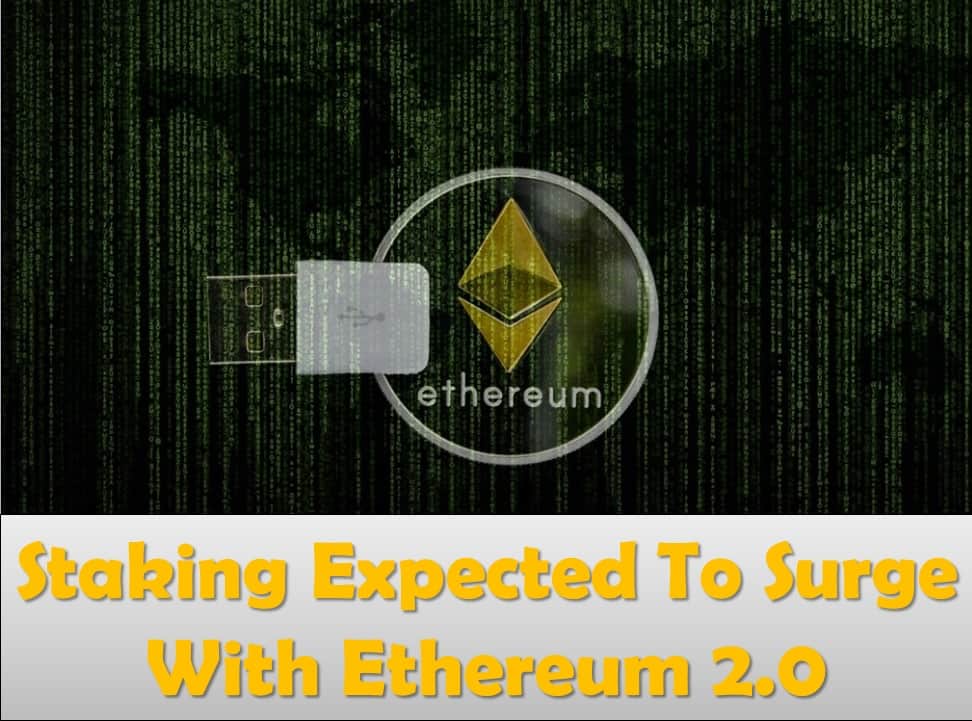 Staking Expected To Surge With Ethereum 2.0 Launch
Last updated on November 1st, 2022 at 02:22 pm
If you've been in the crypto space for any length of time, you've heard the discussions surrounding Ethereum…
'it needs to be able to scale'
'one popular dApp clogged up the entire network' – CryptoKitties
Then there is comments from Etherum co-founder, Vitalik Buterin where he talked about using the Bitcoin Cash blockchain to help with scaling…
But, whether or not you are a fan of Ethereum, the fact remains that… Ethereum is a Crypto 1.0 technology.
Ethereum is currently the second largest cryptocurrency by market cap in the space. So, no matter what, if the crypto space is going to continue to evolve, Ethereum needs to evolve as well.
Staking Expected To Blow Things Up
In a recent report, Binance Research decided to try and predict potential impacts of Ethereum 2.0 roll-out on the crypto economy activity, estimating that staking might generate an additional $16 billion in the industry.
As some may know, the process of staking coins and tokens revolves around holding cryptocurrencies in a wallet in order to help secure the blockchain network of the coin being staked. Stake holders are rewarded for their efforts, usually via network fees.
Learn How To Earn Passive Income Staking Cryptocurrency
Currently, staking already accounts for around $8 billion in the current market. However, according to Binance Research's recent report, this amount could easily double once Ethereum 2.0 finally arrives.
Learn More About Cryptocurrency Staking Here
Binance's researchers consider their report to be the first real study of staking and its future in the industry of digital currencies. Not only that, but the results that they came up with predicts an interesting development in the short-term future. If the prediction turns out to be correct, it would certainly mean that a major boost in the crypto market activity is coming.
Of course, Ethereum 2.0 will be responsible for a major change in its own right, as it would finally complete the project's shift from PoW to PoS.
Learn More About Consensus Algorithms Here
The report says that staking is very likely to take a much more substantial portion of the attention within the crypto market. This particular activity is already gaining popularity among the infrastructure players and such a major boost is going to allow the ecosystem to mature further.
Of course, the report also touched upon Binance Staking within the exchange's own platform, thus promoting its own product. The platform offers useful products and tools which can allow users to check out a detailed analysis of the most popular staking coins in the crypto industry.
Users can then invest in those coins if they are interested in using the platform's capabilities. In return, they can also gain interest on their holdings.
Importance of Ethereum 2.0
Ethereum's transition from Proof-of-Work to Proof-of-Stake, this will be a major change for the project. While this shift has been planned, the roll-out of this change is quickly approaching.
The launch of the update will bring a number of benefits to Ethereum, including greater stability, security and scalability. Many see this as just the kind of edge that the project needs to ensure its reign as the second-largest cryptocurrency project.
While Ethereum is not exactly endangered by any other crypto project at this time, there are many projects either currently in development of beta testing that would be considered a Crypto 3.0.
Disclaimer
The information provided here is for INFORMATIONAL & EDUCATIONAL PURPOSES ONLY!
View our complete disclaimer on our Disclaimer Page