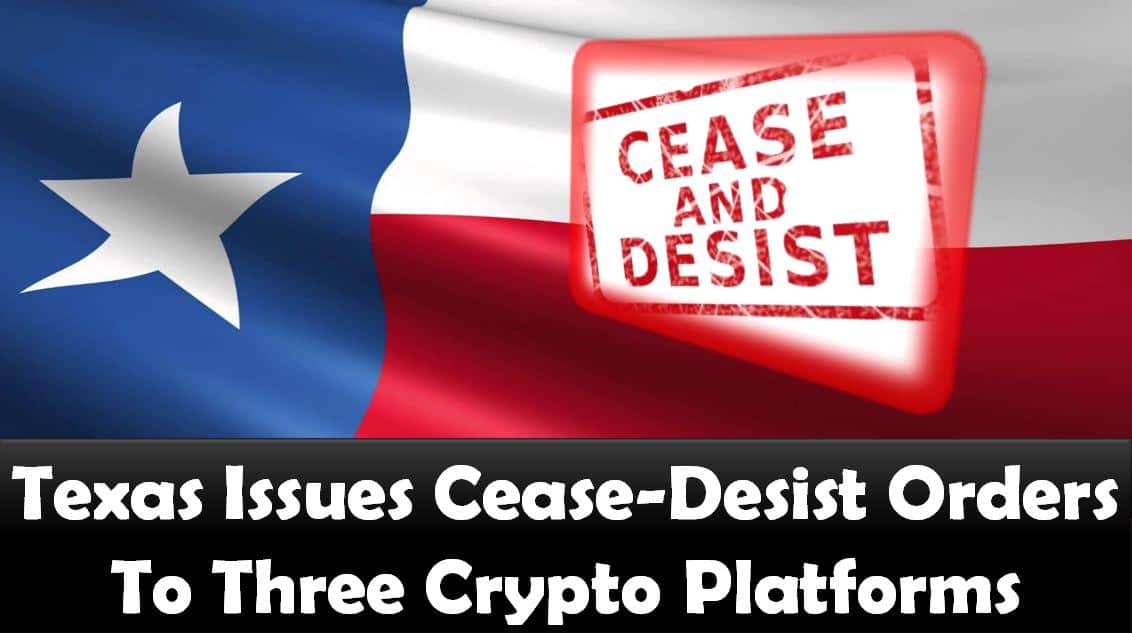 Texas Issues Cease-Desist Orders To Three Crypto Platforms
Last updated on December 5th, 2022 at 02:08 pm
The Texas State Securities Board (TSSB) has clamped down on three unregistered investment and cryptocurrency platforms with cease and desist orders.
The orders were issued to FxSmart-Robots, Digitaly Invest and Delta Crypt Limited. According to the order, they are to cease operations immediately, as the watchdog alleged that the investment is fraudulent and too risky for investors.
The Texas body accused Delta Crypto of floating a dubious cryptocurrency scheme that seems to deceive to investors. According to TSSB, the company sold investments promising participants unforeseeable high returns within a short period using artificial intelligence (AI) and other technologies.
---

---
Digital Crypt Used Binance Brand To Lure Investors
The report also revealed that the phony crypto investment scheme used the Binance brand to convince investors of the genuineness of the scheme.
The Texan regulator has always been very critical about cryptocurrency investments. The stance of the TSSB has been that it sees some of these schemes as very fraudulent and too risky for investors.
The regulator has been issuing out public warnings against these perceived schemes during the COVID-19 pandemic. The latest move by the body is necessary to act swiftly for the protection of investors' funds who are most certainly going to lose their funds from such scheme, the regulator reiterated.
Investors Warned – Stay Clear of Schemes
The commission said Delta Crypt has been operating under several names and recently rebranded its dubious operations as BinanceAssets LTD as well as BitKind LTD.
It added that the firm has promised investors a high level of returns with little or no risks, and it should be seen as a clear scam.
Also, the company is promoting its fake scheme using action names FxSmart-Robots to tell the investors of too-good-to-be-true cashflow for their investments. They touted the profitability of a trading program linked to stocks, commodities, and forex.
The announcement also revealed that Delta Crypt claims it operates from the U.K., which has been subjected to previous warnings from security watchdogs in the Philippines. The initial warning stated that the company was "illegally offering securities paying 'ridiculous' returns" and cautioned the public to desist from any investments with the firm.
The pitch for the firm stated that those who choose the Diamond plan are guaranteed 40% return while those who pick the "Gold Plan" are guaranteed 30% returns.
The Texan regulator has also investigated whether the companies are registered with any authority. The results of the investigation showed that none of the firms are registered with state or federal authorities as dealers. As a result, they are engaged in fraud and have been banned from carrying out any further investment activities in Texas.
Disclaimer
The information provided here is for INFORMATIONAL & EDUCATIONAL PURPOSES ONLY!
View our complete disclaimer on our Disclaimer Page