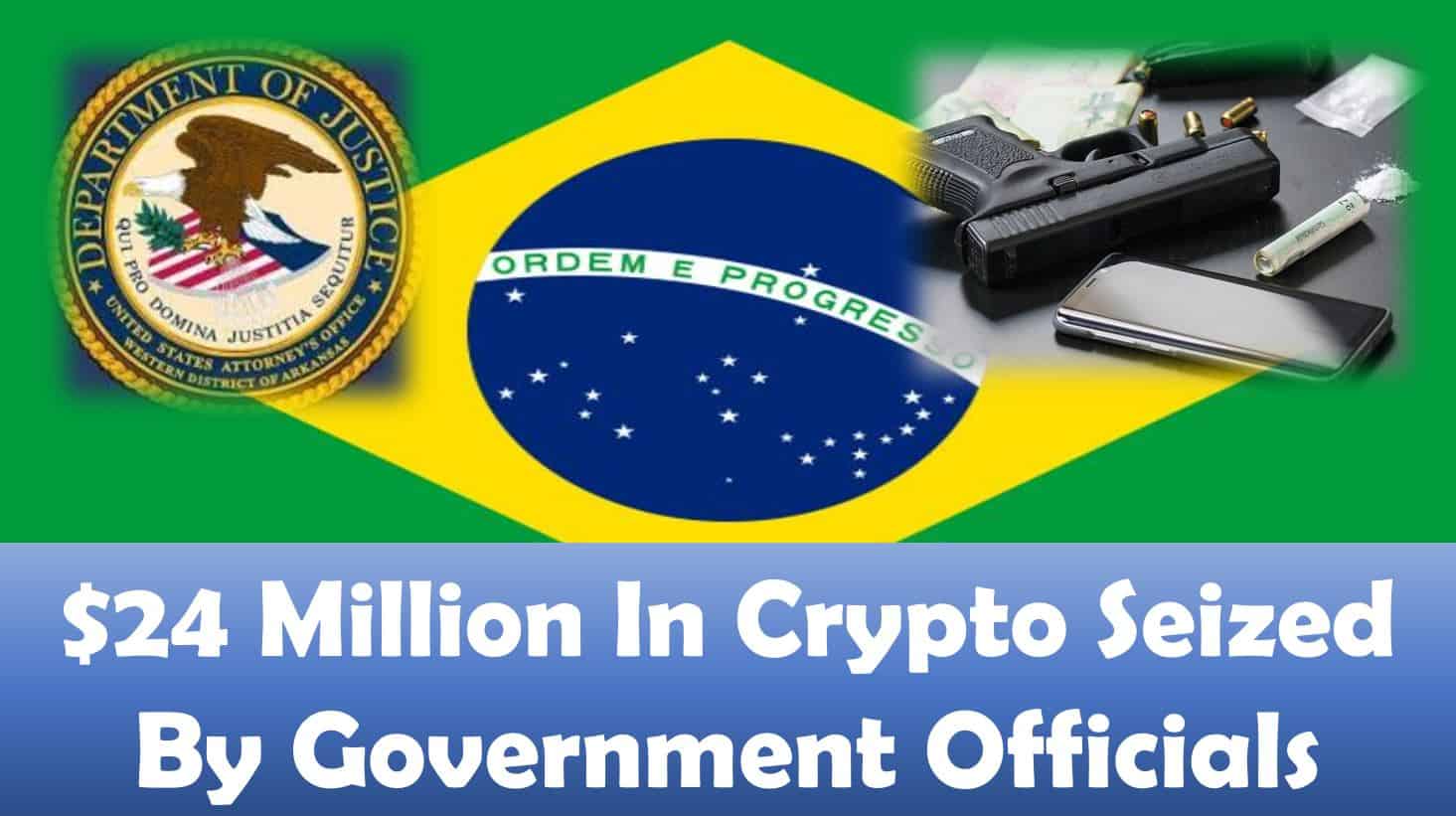 $24 Million In Crypto Seized By Government Officials
Last updated on September 9th, 2022 at 09:28 am
The U.S. Department of Justice has confiscated cryptocurrency worth of $24 Million from a Brazilian crime cartel on behalf of the Brazilian Government. The cartel has garnered about $200 Million from their fraudulent activities which including scamming their victims.
In one of their more popular scams, these scammers bilk potential investors out of their funds with the promise of 15% profit payouts after they invest with them. Obviously, these returns never materialize and their money is gone.
Governments Carried Out Joint Operation
This operation was carried out in join collaboration with the U.S. Department of Justice and the Brazilian Government. Both countries entered into a treaty known as 'Mutual Legal Assistance in Criminal Matter.'
The U.S. Justice Department filed the forfeiture complaints in the federal court. These filings named Marcos Antonio Fagundes as the head of the scheme. He has also been accused of other fraudulent activities and charged with several criminal violations in the Brazilian court. The violations include money laundering as well as securities laws violations.
The DOJ alleges that Antonio Fagundes promoted the scam by guaranteeing investors massive profit in virtual currency investments. After an investigation into the scheme, the authorities found out that some of the investors received their funds back, but many of them did not.
The DOJ alleges that the scam was further perpetuated when investor funds, which were supposed to go into various digital assets, were actually siphoned off and kept in their crypto wallet.
Apart from the $24 Million worth of cryptocurrency seized by the U.S., the Brazilin Government has also seized most of Antonio Fagundes' financial assets generated through this fraudulent scheme.
---

---
Cryptocurrency Scams On The Increase
While this is undoubtedly a huge blow to the cartel, the U.S. Justice Department has conducted similar seizures in the past, even this year.
Earlier in the year, it seized several Bitcoin accounts belonging to different web scammers. The Bitcoin accounts were owned and managed by three terrorist syndicates who store millions of dollars in crypto.
The investigation also revealed that other similar fraudulent activities were going involving the use of cryptocurrency. Criminals believe that by using Bitcoin and other cryptocurrencies it makes it more difficult to trace. However, for anyone who understands blockchain technology, the truth is unless they are using a privacy crypto, all transactions are traceable.
The increase in fraudulent activities demanding crypto as payment has increased rapidly over the past few years the investigation revealed. We reported on one such event involving hackers demanding Monero after hack the campaign website of President Trump.
The bottom line is that schemes like these put a target on the backs of Bitcoin and cryptocurrency traders and investors by bringing unwanted negative attention to the space.
Disclaimer
The information provided here is for INFORMATIONAL & EDUCATIONAL PURPOSES ONLY!
View our complete disclaimer on our Disclaimer Page