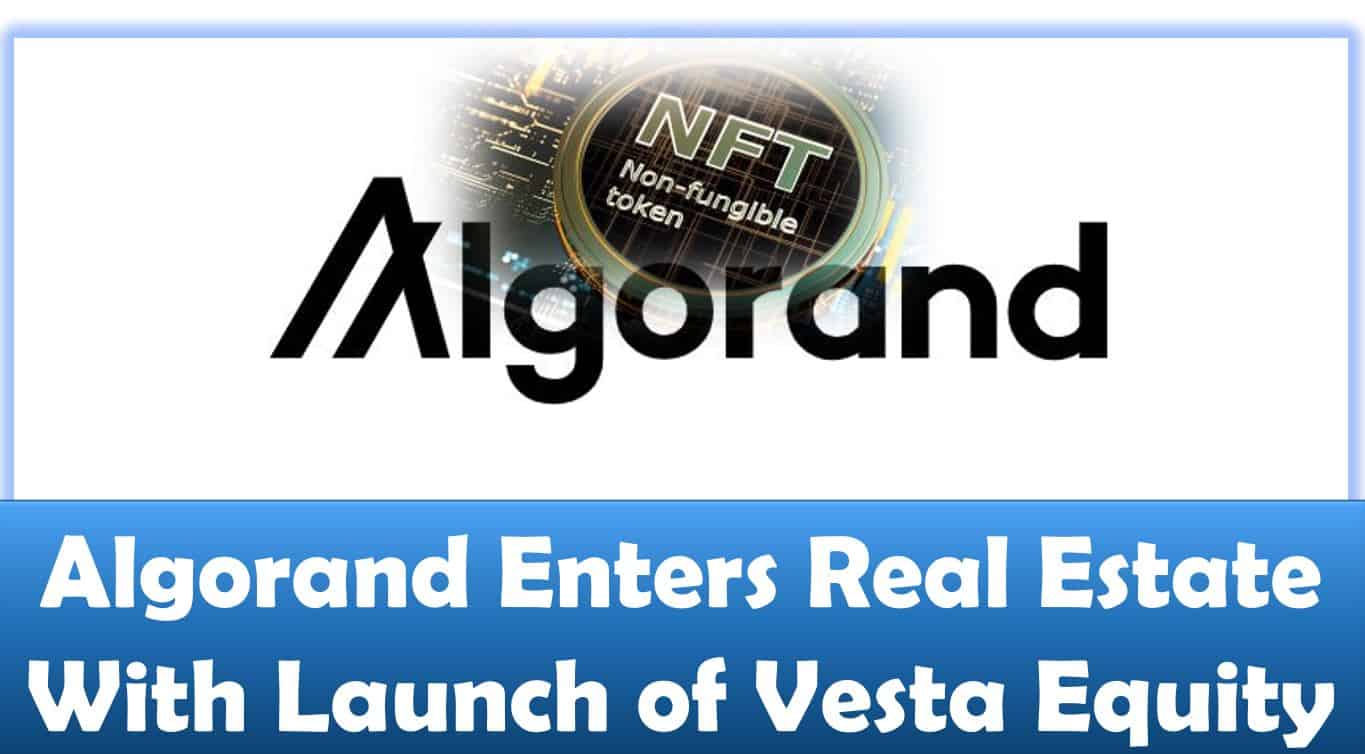 Algorand Enters Real Estate With Launch of Vesta Equity
Last updated on October 31st, 2022 at 11:35 pm
The recent bearish pressure has resulted in a downtrend in price action, but this has not prevented networks from growing their ecosystem.
Recently, the Algorand blockchain has made notable success, as demonstrated by the new projects streaming into the network.
Recently, the Algorand network announced the launch of Vesta Equity. The latter is a platform for non-fungible tokens (NFTs) that will run on the Algorand network. The project targets real estate owners to allow them to control their assets.
The platform allows users to tokenize their properties and it has an option that allows them to benefit from the valuation of their properties. Moreover, the platform also enables the conversion of these properties into tokenized digital assets.
Vesta Equity allows users to access a native marketplace that removes the through transaction process with NFTs backed by real estate prices. Vesta Equity has a catalogue that comprises properties, addresses and price ranges. Investors interested in these NFTs also get a chance to see the percentage of the available equity, listed equity and sold equity.
Vesta Equity has been developed using user-friendly features. It offers additional data and provides extra data such as the forecast of the property values for up to 30 months. It also provides the home price index (HPI) to estimate the potential value of properties over the coming years.
Disrupting The Real Estate Market
The Algorand blockchain is providing something unique when it comes to NFTs.
The blockchain is intervening in the NFT space to automate and remove the need for third parties in the sector. This mechanism allows property owners to have more control over their investments.
Michael Carpentier, the CEO and co-founder of Vesta Equity, commented on this development, saying,
"Imagine a world where with a few clicks of your mouse you can access the entire accumulated value of the equity in your home without incurring debt or selling and moving. At the other end, investors can participate by purchasing into the future appreciation of the property and build a portfolio of real estate assets as they do with stocks."
The COO of Vesta Equity, Imran Rahaman, also commended the project's launch on Algorand saying that it was a major innovation in the real estate sector. Rahaman also added that the firm had developed a new use case through blockchain technology through Vesta equity.
"We become an example of a company using blockchain for what it was designed: to remove friction from traditional exchange of value systems, and to open up new financial opportunities for people everywhere."
The Algorand network has unveiled some strategic developments on its mainnet. The smart contract capabilities on the network offer a wide range of benefits and it also has a new feature dubbed Falcon Keys developed to boost the growth of the network and help it become a "trustless cross-chain interoperability."
Disclaimer
The information provided here is for INFORMATIONAL & EDUCATIONAL PURPOSES ONLY!
View our complete disclaimer on our Disclaimer Page