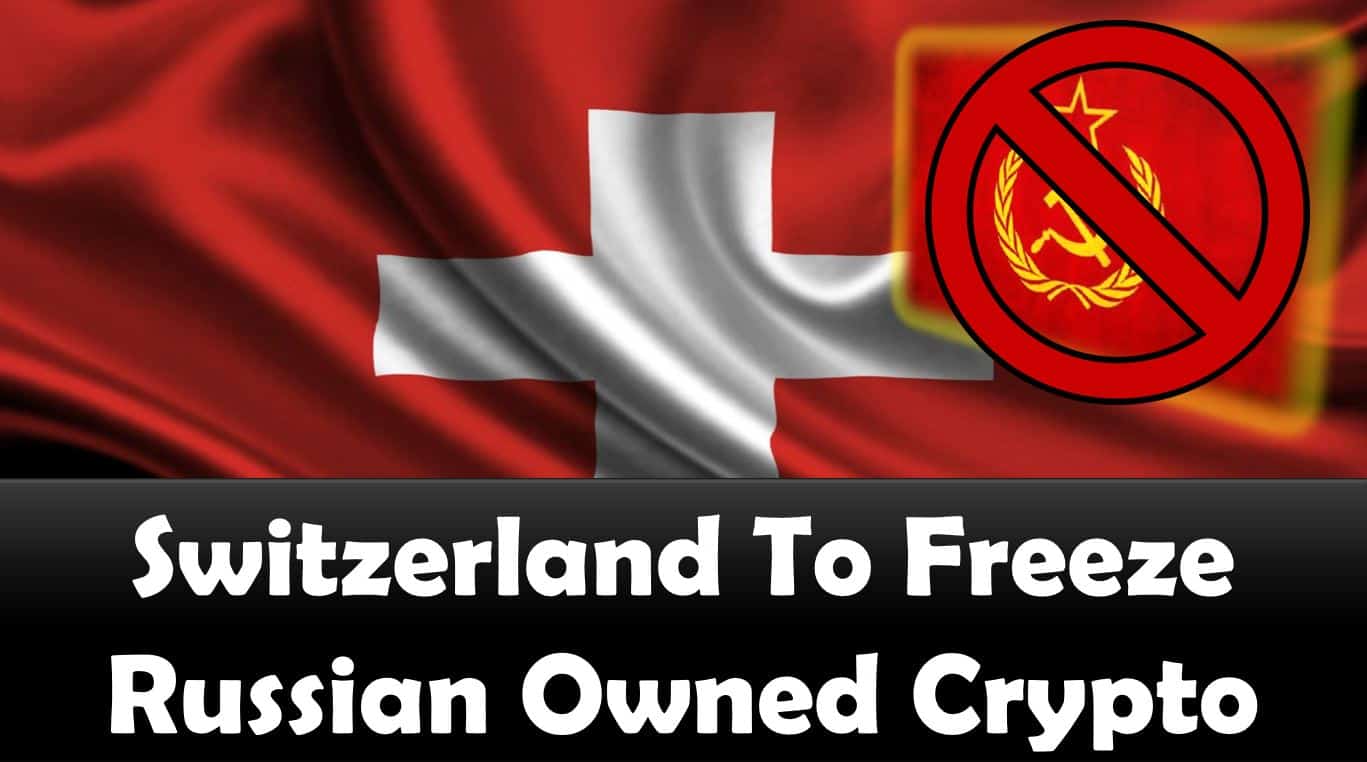 Switzerland To Freeze Russian Owned Crypto
Last updated on September 9th, 2022 at 10:20 am
The crypto sector has been under intense pressure following the sanctions that have been imposed on Russia. The pressure has built up from regulatory bodies being concerned that sanctioned individuals will turn towards cryptocurrency assets to protect their wealth.
Switzerland is now freezing the crypto assets owned by Russian users and businesses in its country.
Before this, Switzerland had maintained a neutral stand and it had not joined the other members of the European Union in imposing sanctions on Russia.
A report from the Financial Times stated that the federal government of Switzerland was planning to freeze the cryptocurrency assets owned by citizens in Russia and businesses situated within Switzerland.
The freezing of these assets extends the sanctions that have already been imposed on Russia by the European Union.
European countries voted to remove Russia from the SWIFT messaging platform and it has locked out major Russian banks from accessing the European market.
The Swiss Finance Minister, Guy Parmelin, has said that 223 Russians, including the close associates of Russia's president, Vladimir, will face sanctions, including freezing their bank accounts and physical assets.
The Financial Times report also noted that the freezing of the assets was necessary for Switzerland to promote the integrity of the blockchain sector. By the end of 2021, it was reported that around 1128 blockchain companies operated in Switzerland and Liechtenstein.
The European Union has expressed concerns over how the cryptocurrency sector can be used to evade sanctions. The France Finance Minister, Bruno Le Maire, said,
"We are taking measures, in particular on cryptocurrencies or crypto assets which should not be used to circumvent the financial sanctions decided upon by the 27 EU countries."
However, a Switzerland spokesperson added that
"if someone holds their crypto key themselves then, wherever they are, it's going to be virtually impossible to identify them. But if they are using crypto services – fund, exchanges, and so on –these service points we can target."
Calls For Russian Crypto Ban
There have been increased calls for players in the cryptocurrency sector to block access to Russian users since Russia invaded Ukraine.
The largest exchanges, including Binance, Kraken and Coinbase, have said that they will not impose a unilateral ban but only freeze the accounts of sanctioned individuals and entities.
These exchanges have said that imposing a unilateral ban would require a "legal requirement."
Moreover, several players in the crypto sector, including Ripple's CEO, Brand Garlinghouse, have argued that it was nearly impossible for sanctioned Russian oligarchs to use cryptocurrencies to hide their assets.
Blockchain technology makes it possible for transactions to be traced in real-time, and the information is publicly available. Therefore, if these individuals decided to move their money into crypto, it would be easily detected.
Moreover, freezing assets only applied to the cryptocurrencies stored on exchanges.
Digital assets stored in self-custodial wallets are nearly impossible to confiscate unless the owners decide to move the assets.
Disclaimer
The information provided here is for INFORMATIONAL & EDUCATIONAL PURPOSES ONLY!
View our complete disclaimer on our Disclaimer Page