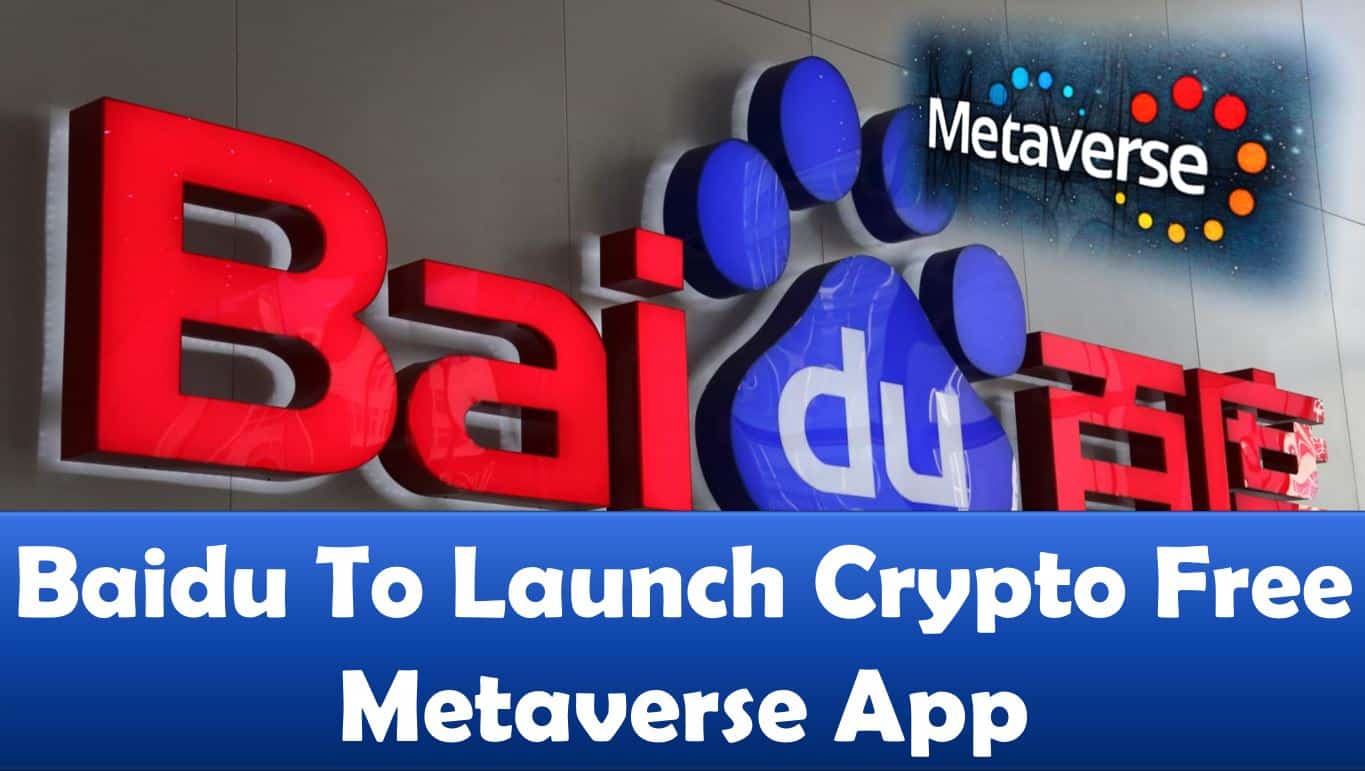 Baidu To Launch Crypto Free Metaverse App
Last updated on September 9th, 2022 at 10:17 am
Baidu has announced it will be launching a metaverse app.
According to the tech giant, the app will take at least six years to develop before being launched. The announcement comes as leading Chinese tech giants race towards the metaverse.
However, Baidu has announced it will not feature digital assets on the platform. This could be attributed to the Chinese ban on cryptocurrencies introduced earlier this year.
The Vice President of Baidu, Ma Jie, spoke of the metaverse plans for Baidu during "Create 2021," an event organized annually for Baidu developers. Jie gave insight into the roadmap and timeline towards developing Baidu's digital world experience known as "XiRang."
Jie stated that this metaverse app has been under development for the past year. However, it will take at least six years before the app has been developed.
The metaverse app will also be equipped to handle large volumes, with Jie stating that it will potentially host 100,000 virtual attendees.
XiRang will be developed as an open-source protocol. It will be a platform that metaverse developers can exploit to develop infrastructure that can be used to support the virtual world. The application will be accessible by developers based in China.
China crypto market regulations bar firms from dealing in cryptocurrencies. Therefore, to ensure that it does not step over these prohibitive regulations, Jie stated that Baidu's metaverse application will not support digital currencies. Additionally, it will not support trading assets related to virtual properties.
The Chinese government has cracked down on internet tech giants that are in contradiction to the country's regulations. Tech giants that have exhibited monopolistic properties have experienced government crackdowns.
Therefore, it is a safe option for Baidu to stay away from crypto assets. The tough regulatory framework has also prompted other tech giants to stay away from restricted practices, and many are now exercising caution, despite the overwhelming demand to dive into the metaverse.
Chinese Tech Giants Racing Towards Metaverse
In September, China announced a fresh ban on crypto trading activities. At the time, the country did not mention if there would be any restrictions on innovative technologies such as the metaverse.
However, state publications have issued reports on virtual worlds, stating that it could expose investors to fraud.
The People's Bank of China (PBoC) has warned investors against participating in NFTs and the metaverse. Despite these restrictions, the metaverse sector is still fresh and there is yet to be an official stance on the matter.
The first metaverse industry group in China was recently launched, dubbed the Metaverse Industry Committee. The committee is an organization that will run under the China Mobile Communications Association (CMCA), which is supervised by the state.
Recently, another report showed that Chinese tech giants were racing towards securing metaverse trademarks. According to a South China Morning Post publication, more than 1360 local firms had submitted applications for metaverse-related trademarks.
Over 8500 trademark applications were submitted by December 19th. Some of the firms that have applied include Baidu, Alibaba, Tencent, Bytedance and NetEase.
Disclaimer
The information provided here is for INFORMATIONAL & EDUCATIONAL PURPOSES ONLY!
View our complete disclaimer on our Disclaimer Page