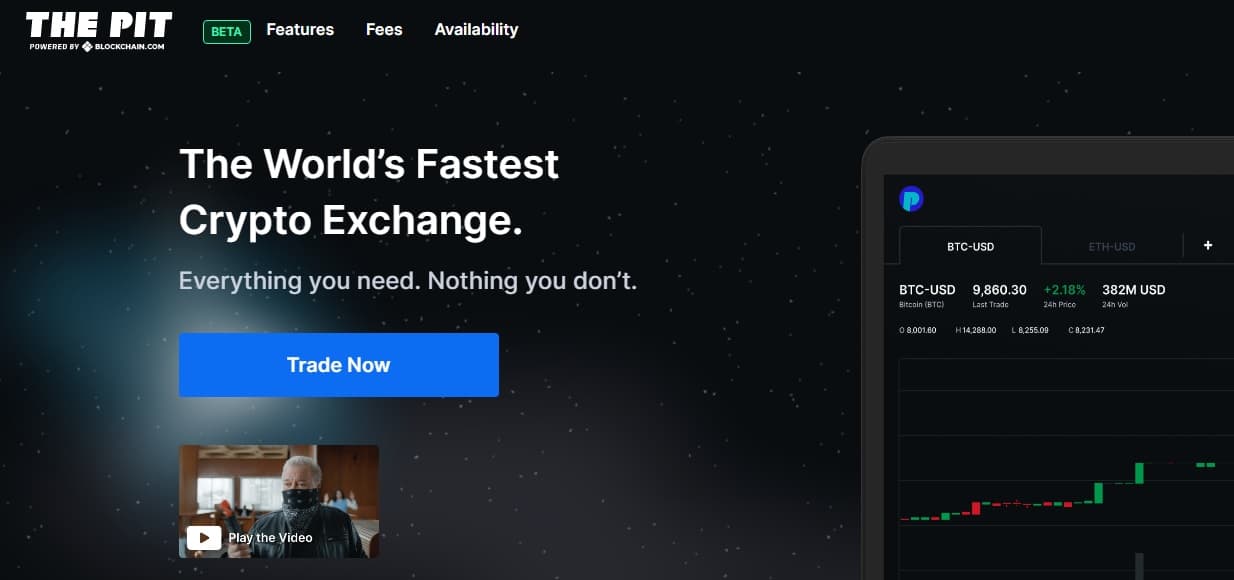 Blockchain Introduces High-Speed Crypto Exchange
Last updated on November 1st, 2022 at 04:53 pm
Having new ways to exchange cryptos and purchase with fiat is always welcome in the space. A new crypto exchange was just launched yesterday by one of the world's largest crypto wallet companies, Blockchain.
The new exchange is known as 'The PIT' and it will allow institutional and retail clients to execute trades at lightning speeds. The company claims that trades on their platform will be done in microseconds, which is a major improvement over many others among their competition.
Blockchain has spent more than a year doing research and development of its new matching engine, called Mercury. The results are more than favorable, as the company delivered a solution that delivers speeds a quantum faster than any other digital currency exchange to date.
The company used its stealth team containing veterans from all the major firms such as Google, the New York Stock Exchange, Interactive Brokers, TD Ameritrade, Goldman Sachs, UBS and Revolut to build the PIT. The goal was to bring the highest trading speeds in the industry and it would appear that they were successful.
Blockchain's trading products head, Nicole Sherrod, commented on the issues of other exchanges, stating that many volatility spikes result in the exchanges' matching engines getting overwhelmed. The most obvious result is that the exchanges have to shut down and prevent people from trading.
---
---
The PIT Starts With 26 Trading Pairs
Cryptocurrencies made a strong comeback earlier this year. There remains high volatility in the space. Back in June, Bitcoin nearly climbed back to $14,000, only to drop by around 30% in the following days.
This market volatility has lead to the return of the traders, investors and the general interestors to crypto. These crypto market participants want to have a fast, reliable exchange. This is what Blockchain wanted to achieve and deliver.
It was already announced that the exchange is about to get its first crypto/fiat pair on August 6th. Of course, it will be BTC/USD.
The exchange will be available globally, serving users in over 200 countries. It will start with 26 different trading pairs, as well as a global banking network which will be used for withdrawals, deposits and fiat-to-crypto trading.
It will also work with a number of fiat currencies, including GBP, EUR and USD. As for cryptocurrencies, the exchange will initially offer BTC, ETH, LTC, USDT and PAX tokens.
Crypto Market Demands Improved Exchanges
The New York Stock Exchange's former chief software architect for trading systems, Tom Haller, was the head of the development team that created the new matching engine. According to Blockchain, the crypto exchange market is in dire need of renewal.
The company's co.-founder, Peter Smith, stated that the users are tired of waiting for a decent exchange to emerge, which is why Blockchain decided to come up with its own solution and meet traders' demands as soon as possible.
Blockchain itself was previously launched in 2011, which makes it one of the first crypto-businesses that are still active today. It emerged as a crypto wallet and it saw major success and popularity since then. It managed to raise around $70 million from various investors, including Virgin, Digital Currency Group, Google Ventures, Lakestar and Lightspeed Venture Partners.
Disclaimer
The information provided here is for INFORMATIONAL & EDUCATIONAL PURPOSES ONLY!
View our complete disclaimer on our Disclaimer Page