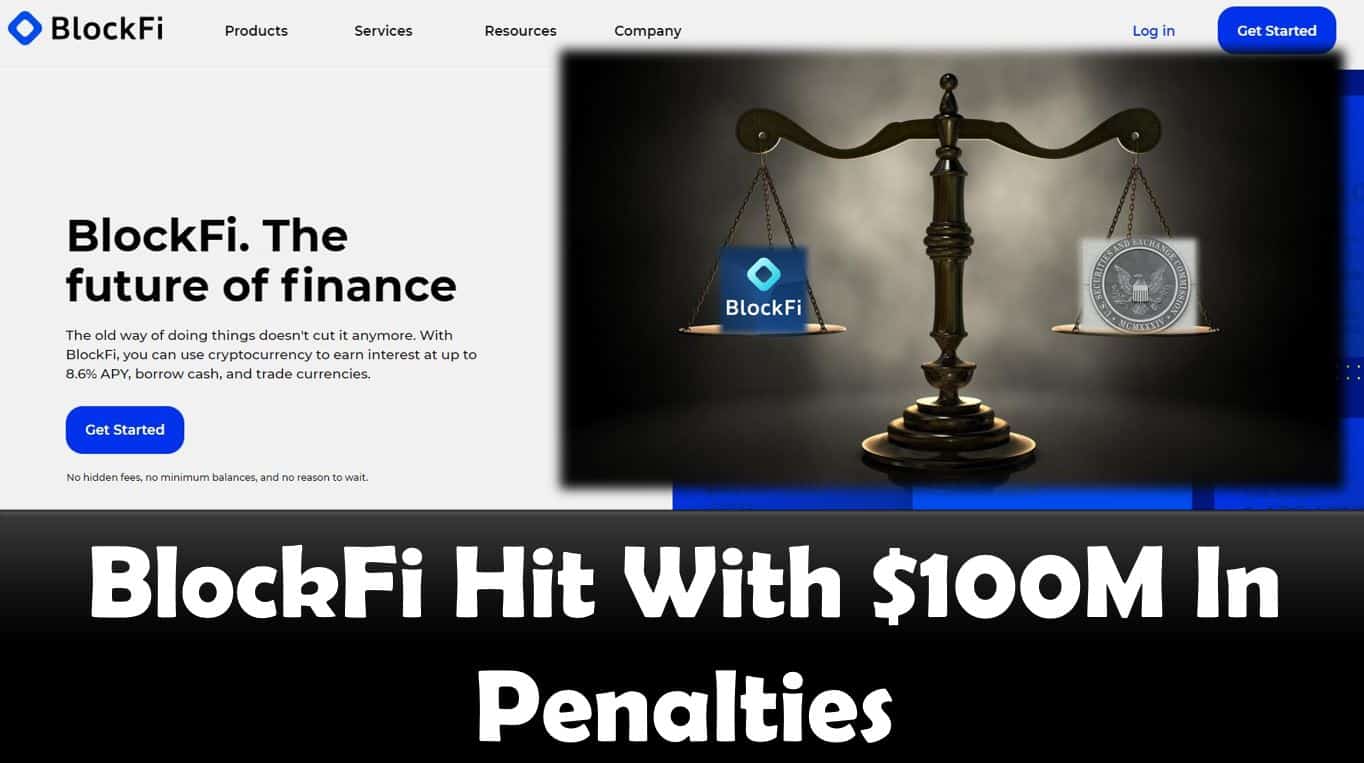 BlockFi Hit With $100M In Penalties
Last updated on November 8th, 2022 at 01:54 pm
BlockFi, a crypto lending platform, has agreed to pay $100 Million to settle ongoing investigations by the Securities and Exchange Commission and various state regulators in the United States.
BlockFi has been accused of offering an illegal product in which consumers are paid high interest rates in exchange for locking up their crypto tokens.
The Securities and Exchange Commission is expected to receive $50 Million, with the remaining $50 Million going to state regulators in the United States.
As a result, BlockFi is suspending its high-yield offering for the bulk of its users in the United States.
BlockFi's main business offering was high returns for locking up Bitcoin, Ethereum and Tether with users being paid interest rates ranging from 5% to 10%. BlockFi then used those users' tokens to lend out again at an even higher rate.
The Securities and Exchange Commission alleged in November that these BlockFi interest accounts fall in the category of unregistered securities.
BlockFi executives claim that they can provide such high interest rates to users as institutional investors will pay them much more to borrow those deposits.
However, crypto-interest accounts, unlike bank accounts, are not insured by the federal government.
"We have been in productive ongoing dialogue with regulators at the federal and state level. We do not comment on market rumors," said BlockFi spokesperson Madelyn McHugh. "We can confirm that clients' assets are safeguarded on the BlockFi platform and BlockFi Interest Account clients will continue to earn crypto interest as they always have."
Crypto-lenders have come under fire for attracting tens of billions of dollars in deposits by promising returns that are significantly higher than those available through ordinary savings accounts.
BlockFi will no longer be able to open new interest-bearing accounts for U.S. residents as part of its arrangement with authorities.
---

---
BlockFi's Legal Woes
This is not BlockFi's first time falling in the crosshairs of U.S. regulators.
In 2021, state officials from BlockFi's home state of New Jersey, as well as regulators from Vermont, Alabama and Texas all took on the company in some form. Some issued cease-and-desist orders, while others issued show-cause orders.
The main concern that drew the attention of the Securities and Exchange Commission, was the offering of unregistered securities.
When a consumer invests in an investment product or "in a common enterprise," as the Securities and Exchange Commission refers to it, the Securities and Exchange Commission considers it to be an investment contract. An investment contract is regulated by the Securities and Exchange Commission.
BlockFi announced earlier this year that its Bermuda-based subsidiary will handle clients outside the United States.
At the same time, the company will unveil a cryptocurrency wallet that does not pay interest, a new interest-bearing product for accounts with at least $3 Million in crypto all while continuing to promote their Bitcoin rewards visa card.
In addition to fining BlockFi, the SEC informed the largest crypto exchange in the United States, Coinbase, that it would sue Coinbase if they went ahead with offering a similar lending product, causing the company to halt their plans for a similar product in September.
Disclaimer
The information provided here is for INFORMATIONAL & EDUCATIONAL PURPOSES ONLY!
View our complete disclaimer on our Disclaimer Page