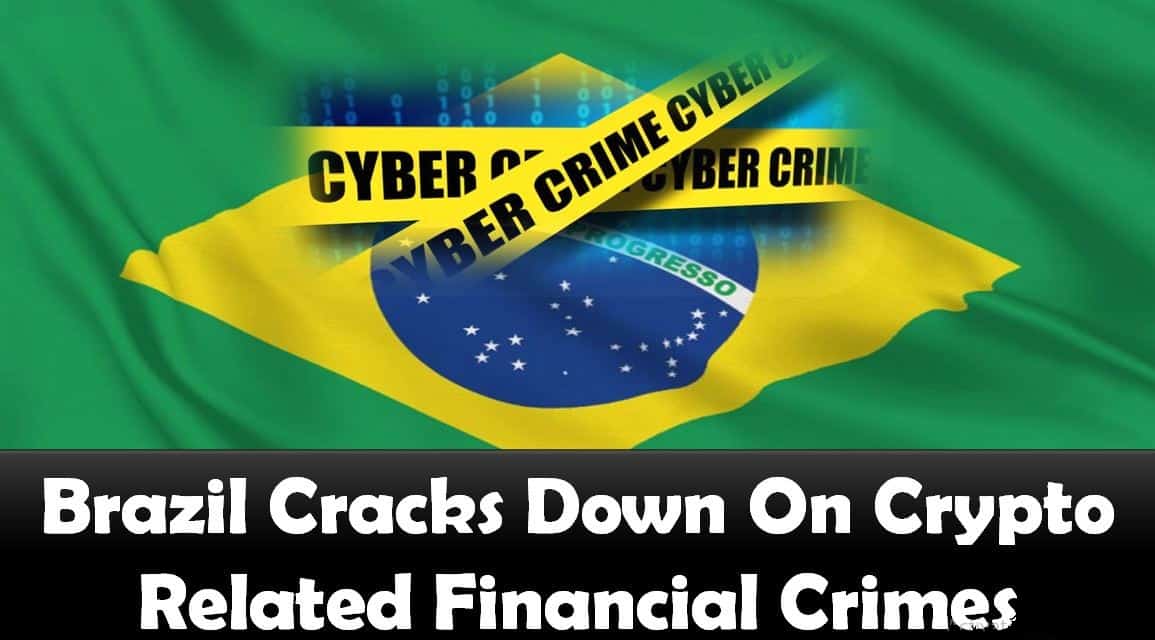 Brazil Cracks Down On Crypto Related Financial Crimes
Last updated on December 4th, 2022 at 10:20 pm
One of the main challenges that cryptocurrencies face is legitimacy.
Many government officials link cryptocurrencies to fraudulent dealings such as money laundering and terrorism financing. However, different jurisdictions have developed a new and differing set of rules to ensure cryptocurrencies are not used for illegal activities.
In Brazil, lawmakers are working on a framework that will offer a stricter oversight over the cryptocurrency sector and attempt to alleviate crimes within it. The proposed framework includes a set of penalties charged to those who use cryptocurrencies for money laundering.
Penalties for Financial Crimes
The Brazil Special Committee of the Chamber of Deputies has approved a proposed bill on penalties charged to those who use cryptocurrencies such as Bitcoin for money laundering and other financial crimes.
This new bill seeks to increase the amount of fines charged against those who launder money through cryptocurrencies. This fine has been increased from one-third of the laundered amount of money to two-thirds.
The bill also seeks to increase the prison sentence of those committing crimes through cryptocurrencies.
This fine has been increased to four years from the previous three years. The maximum prison time served by those found guilty has also been increased to 16 years from the previous ten years. The prison sentence will also be accompanied by a fine.
However, the decision by lawmakers is not the last, given that the bill must still pass by the Chamber's Plenary for further debate.
Bill To Protect Crypto Investors
The bill has gained support from the Federal Deputy, Aureo Ribeiro, who has now stated that the new bill will enable the state to protect the citizens of Brazil from crypto-related scams.
Ribeiro stated that the number of people in Brazil who were falling victim to crypto-related scams increased by the day.
He mentioned that over 300,000 people were now victims of "financial pyramid schemes with cryptocurrency", with most of these schemes happening in Rio de Janeiro.
Ribeiro further added that
"With the lack of regulation, people have nowhere to turn. The market will advance and adjust in Brazil. There will no longer be profiteers using technology to deceive millions of Brazilians."
Ribeiro further stated that this new bill has broad coverage regarding regulations across the broader crypto ecosystem. He stated that the bill would enable the relevant bodies to have a clear oversight regarding cryptocurrency trading, custody, payments and fiat exchanges.
A local publication in Brazil quoted Ribeiro stating that Bitcoin could become an accepted means of payment if the new bill is passed into law.
If this happens, Brazil will join the growing list of Central American countries that are shifting their focus towards cryptocurrencies as a way of supporting innovations and helping their economies deal with rising inflation.
Brazil is also among the nations that have reported rising numbers of cryptocurrency adoption and development.
In August, the head of Brazil's Central Bank, Roberto Campos Neto, urged the state to embrace the advancement of the crypto market by changing the local regulatory framework.
In June, the Brazil Stock Exchange approved another Bitcoin exchange-traded fund (ETF). This listing is following previous approvals of crypto ETFs in the country earlier in the year.
These advancements have places Brazil ahead of developed economies that are still hesitant to approve crypto ETFs. The U.S. Securities and Exchange Commission further extended the date for approving a Bitcoin ETF until late November.
Disclaimer
The information provided here is for INFORMATIONAL & EDUCATIONAL PURPOSES ONLY!
View our complete disclaimer on our Disclaimer Page