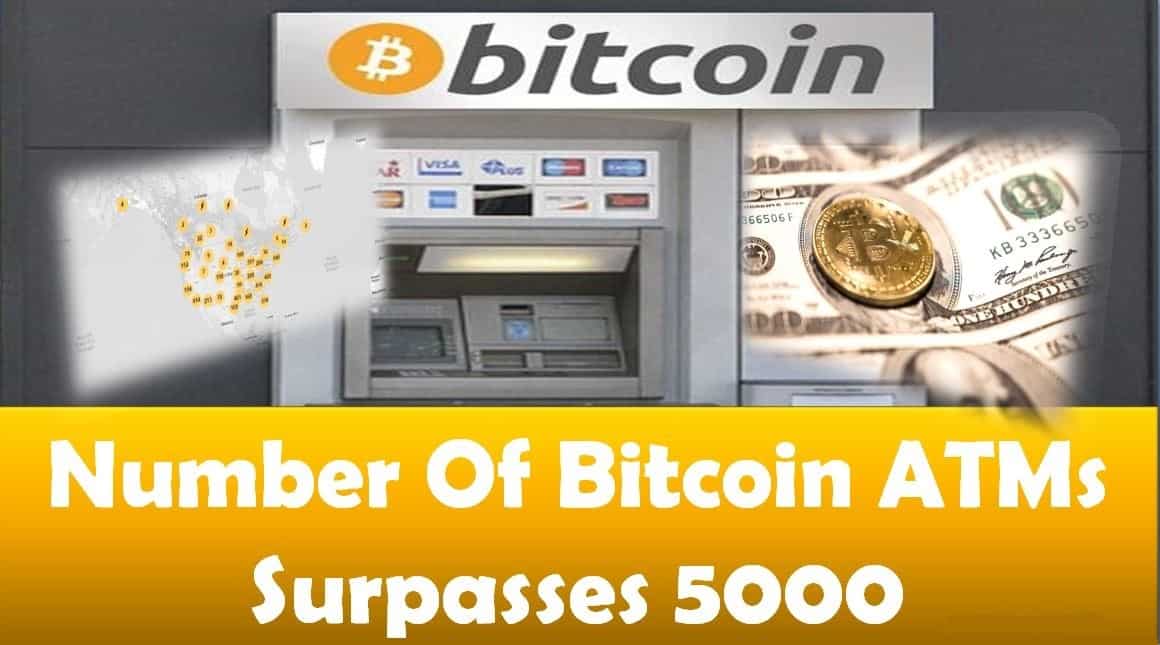 Number Of Bitcoin ATMs Surpasses 5000
Last updated on December 4th, 2022 at 10:21 pm
Bitcoin
Growing adoption of Bitcoin has created a steadily increasing need for Bitcoin ATMs to match the need for these digital currencies.
North America alone has witnessed such a widespread explosion of these depots. This can only mean that more and more people are looking for a safe haven for their wealth, thus the increasing need for Bitcoin ATMs.
The expansion of the crypto ATMs initiated by Bitcoin Depot is an undeniable win for the network. So far, there have been more than 5000 installations in North America.
This is an overstretched surge influenced by the retail adoption of crypto. Businesses have embraced digital assets as a means of payment, prompting the need to have these ATMs available for buyer convenience.
Growing Bitcoin Adoption
With such an achievement, Bitcoin Depot has secured a place at the top of the list of the biggest ATM network across entire North America.
As it stands, they now have three times the number of ATM kiosks compared to what they had seven months ago. This gives users a more accessible supply and therefore encourages crypto-related transactions.
The association between Bitcoin Depot and Circle K convenience stores is one of the key influencers for such an explosive turn of events. Their adoption of crypto as a mode of payment has further increased the need to set up more crypto kiosks to match the ever-growing demand by customers.
Bitcoin Depot and Circle K declared three months ago that they proclaimed Circle K Convenience Stores as a hub for thousands of Bitcoin kiosks. The widespread Bitcoin ATMs comes out as a campaign to adopt Bitcoin, among other digital assets, to be used in retail trade.
More expansions and Bitcoin ATM installations have happened in places like El Salvador, which is a notable milestone.
This is because El Salvador only accepted Bitcoin as a legal tender, allowing users to transact in Bitcoin easily and even convert BTC to their fiat currency.
The people of El Salvador are now enjoying this progress as supported by the government. In addition, the government also supports the Chivo cryptocurrency wallet, making the playing field even more convenient for El Salvadorans.
In a statement by President Nayib Bukele, over a third of the country's population use Chivo in their everyday life since its introduction.
Associated Risks With ATMs
The quick and extensive adoption of Bitcoin in recently months has nonetheless created a certain level of risk. These risks revolve primarily with regard to the adoption and use of Bitcoin and crypto ATMs.
These risks surround potential system flaws in the ATMs which allow for hackers to create a cyber attack to exploit these vulnerabilities.
Recently Kraken Security Labs has issued several warnings highlighting this system vulnerability. The security report showed that administrators failed to change default admin QR codes in many ATMs, thus making it easy for hackers to exploit.
Kraken Security Labs is a professional body and a security outfit serving the Kraken cryptocurrency exchange.
According to the warnings, once hackers acquire the administrator code, it becomes easy for them to walk up to a Bitcoin ATM and compromise its integrity and security. It is, therefore, a call to action to tighten up security before the worst happens.
Disclaimer
The information provided here is for INFORMATIONAL & EDUCATIONAL PURPOSES ONLY!
View our complete disclaimer on our Disclaimer Page