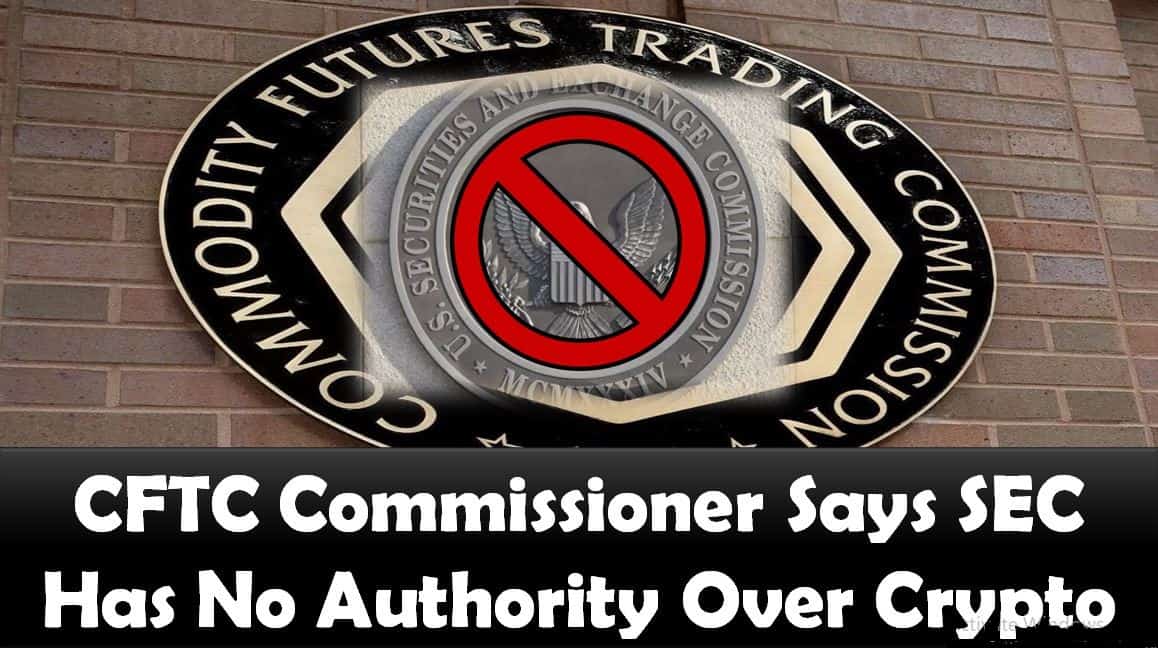 CFTC Commissioner Says SEC Has No Authority Over Crypto
Last updated on November 1st, 2022 at 12:24 am
The Commodity Futures Trading Commission (CFTC) has stated that cryptocurrency regulations do not fall under U.S. Securities and Exchange Commission (SEC) oversight. The CFTC argument comes as the SEC looks for ways to gain more control over the crypto market.
In a recent Twitter post, according to the commissioner, Brian Quintenz, cryptocurrencies fall under the regulation of the CFTC.
In his remarks, Quintenz said that cryptocurrencies were commodities and hence, they fell under the regulatory scope of the CFTC.
"Just so we're all clear here, the SEC has no authority over pure commodities or their trading venues, whether those commodities are wheat, gold, oil….or crypto assets," he stated.
The post by Quintenz was made shortly after Chris Giancarlo, a former CFTC commissioner, tweeted similar sentiments.
Giancarlo also supported that the CFTC had more control over cryptocurrency regulations than the SEC, as it has more experience in the area.
"Only one US regulatory agency has experience regulating markets for Bitcoin and Crypto, and it is not SEC. It is CFTC. If #Biden Administration is serious about sensible cryptocurrency regulation, it needs to nominate a CFTC chairman," Giancarlo tweeted.
Other Twitter users supported the remarks made by the two CFTC commissioners.
Moreover, the U.S. House Committee on Agriculture also supported the sentiments through a post on their official Twitter account.
The committee stated that crypto assets were "bigger than the SEC." For this reason, Congress had to come up with more legislation that will protect investors and innovation.

SEC Tightening Grip on Crypto
The SEC has been attempting to tighten its grip on the cryptocurrency market.
The regulatory body ended 2020 with a case against Ripple Labs, claiming that XRP was a security and not a token. Since the case started in 2020, the SEC has suffered major blows as Ripple Labs has made several wins.
Despite the case not showing signs of ending anytime soon, the SEC's argument in the case seems to be growing weaker. The SEC has in the past stated that cryptocurrencies such as BTC and ETH are not securities.
This week, Gary Gensler, the SEC Chair, made a speech about cryptocurrencies during the Aspen Security Forum. During the event, Gensler stated that cryptocurrencies needed more regulatory oversight to guarantee investor protection.
The SEC chair also mentioned decentralized finance, signaling that the SEC could soon shift its focus to DeFi lending platforms.
Gensler also stated that the SEC needed to be conferred with more powers that will help in gaining full oversight over the crypto market.
"We need additional congressional authorities to prevent transactions, products and platforms from falling between regulatory cracks," Gensler stated.
The SEC has been reluctant to approve a Bitcoin ETF and during the speech, Gensler failed to comment on the matter. The crypto community has eagerly awaited the approval of a Bitcoin ETF, despite the ongoing discussion on what digital assets fall under the SEC's scope.
Disclaimer
The information provided here is for INFORMATIONAL & EDUCATIONAL PURPOSES ONLY!
View our complete disclaimer on our Disclaimer Page