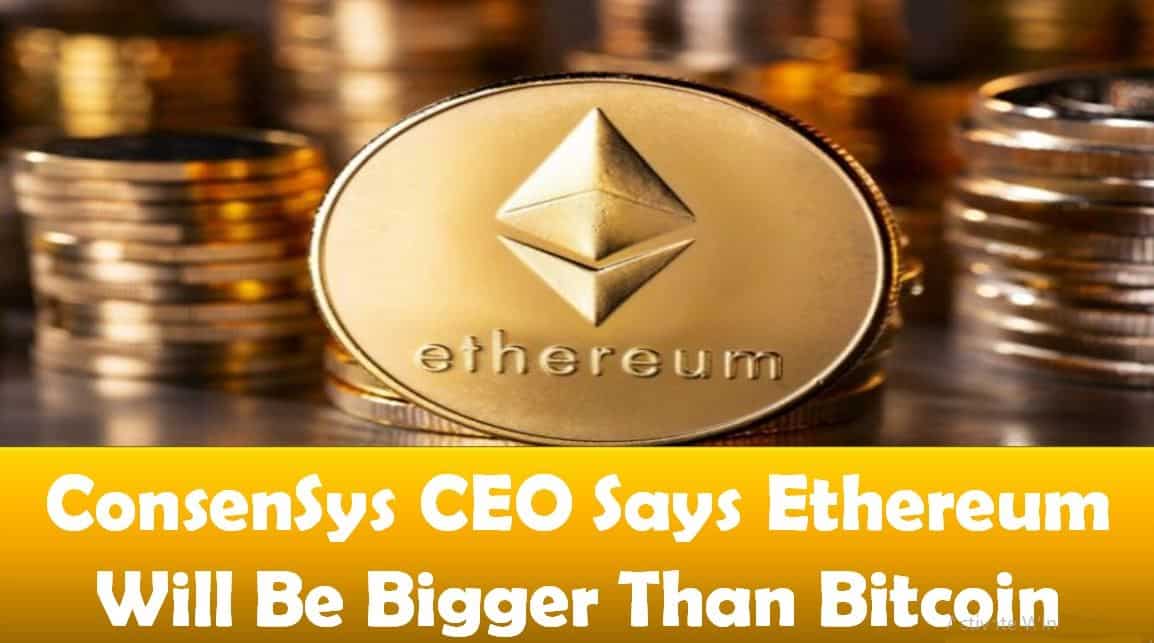 ConsenSys CEO Says Ethereum Will Be Bigger Than Bitcoin
Last updated on December 4th, 2022 at 10:37 pm
Ethereum
ConsenSys CEO and Ethereum's co-founder, Joseph Lubin, has stated that Ethereum is shifting into "ultrasound money" amidst the long-awaited London Hard Fork upgrade.
Lubin was giving an interview with Bloomberg, where he was speaking on the EIP-1559 upgrade.
Lubin also added that ETH would be "orders of magnitude" and surpass Bitcoin in time.
The CEO also mentioned that with Ethereum's London Hard Fork upgrade and transitioning to ETH 2.0, the Ethereum network was poised to become 1000 times more eco-friendly.
Ultrasound Money
During Lubin's interview, one of the points that picked interest in the crypto community is that Ethereum will become "ultrasound money," given that Ether had an "enormous demand" even before the hard fork upgrade came into play.
Ultrasound money is a phrase used by the crypto community on social media platforms to mock Bitcoin supporters who state that BTC is "sound money."
Most Bitcoin supporters argue in support of this, given that BTC has a maximum supply of 21 Million coins.
The EIP proposals will put a cap on ETH supply, making it a deflationary currency, where supply will reduce as Ethereum created will be less than Ethereum burned.
Some ETH supporters believe that this mechanism will give ETH a higher value proposition than BTC, hence the phrase "ultrasound money."
"So we're a fixed amount of gold on the planet. And the fixed supply of Bitcoin represents sound money to certain people. With $13 billion worth of Ether locked up in Ethereum 2.0 and $70 billion locked up in decentralized finance, we have enormous demand for the Ether token,"stated Lubin.
However, Ethereum's deflationary nature might not kick in immediately after the London Hard Fork upgrade, as explained by one Twitter user.
The user stated that ETH would most likely become deflationary after the entire network transitions to a proof-of-stake consensus.
ETH Bigger Than BTC
Joseph Lubin further argued that ETH was better placed in surpassing Bitcoin by outlining various advantages of Ethereum over the largest cryptocurrency in terms of market capitalization.
Lubin stated that Ethereum had become more utilized compared to Bitcoin. He also mentioned that the number of transactions tokens on Ethereum had surpassed those on Bitcoin.
"The Ethereum ecosystem surpassed the Bitcoin ecosystem long ago in terms of the amount of developer activity, in terms of transaction number per day, in terms of transaction value, in terms of the number of tokens," Lubin stated.
Lubin also argued that Ethereum was a "crypto-fuel," which, despite having the attributes of a cryptocurrency, was used for the functionality of the network.
He also stated that whilst Bitcoin has real use cases, Ethereum was more focused on decentralised applications, eventually making the network bigger than Bitcoin.
The crypto space has been bombarded with numerous debates on which cryptocurrency had the potential to surpass Bitcoin's market cap. Ethereum, the largest altcoin, has become the most likely cryptocurrency to do so.
However, with Bitcoin holding over 44% dominance in the entire cryptocurrency market, any likely replacement has to make massive growth.
Disclaimer
The information provided here is for INFORMATIONAL & EDUCATIONAL PURPOSES ONLY!
View our complete disclaimer on our Disclaimer Page