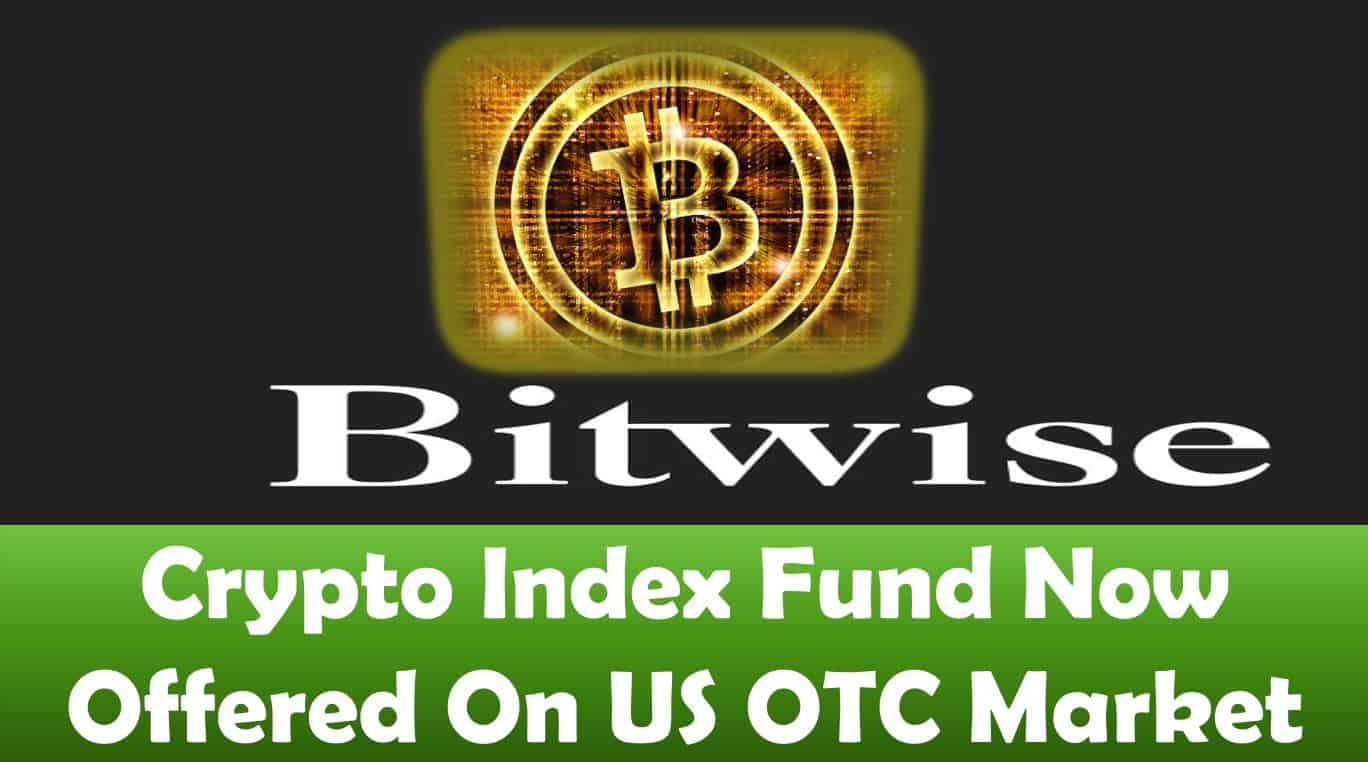 Crypto Index Fund Now Offered On US OTC Market
Last updated on December 7th, 2022 at 08:11 pm
A leading crypto fund manager Bitwise Asset Management announced that its Crypto Index Fund shares will be available for trading for American investors from today. The fund manager started with $120 Million in assets under management.
For the first time, there has been relentless demand for crypto assets, with the uncertainty surrounding the value of fiat money. Many investors, who were previously skeptical about crypto investment, are now turning to digital assets to diversify their portfolio.
Bitwise is now offering investors more digital asset investment options, with its crypto index fund BITW.
Co-founder and Chief Executive Officer of Bitwise Asset Management Hunter Horsley commented on the development. According to him,
"With BITW, investors can now get exposure to Bitcoin, Ethereum, and other cryptocurrencies."
The investment option will also enable them to stay relaxed without the need to constantly monitor event changes within the crypto space.
The Financial Industry Regulatory Authority (FINRA) reviewed a form 211 quotation of the fund's shares before the announcement of the listing.

BITW Perfect For Financial Advisors
According to the announcement, the fund's shares will be traded via traditional brokerage accounts with Coinbase Custody Trust Company having custody of traded assets.
The Chief Investment Officer at Bitwise, Matt Hougan stated that BITW will serve financial advisors, saying this group wants an easy and safe way to allocate crypto for clients.
The development is coming after the U.S. Securities and Exchange Commission refused to approve the company for a Bitcoin-focused exchange-traded fund.
BITW Trading Environment
Governance of the Index is guided by an advisory board and overseen by a committee. The advisory board features world-renowned experts in fields of both crypto-asset analysis and index design.
According to Hougan, cryptocurrency is unarguably the best-performing asset class in the world this year and 2021 is looking strong for crypto assets as well.
When the public trading of BITW shares begins, it will provide a more suitable trading environment for institutional funds, individuals, family offices, as well as financial advisers to allocate to space. According to him, the fund provides a more balanced and robust solution to investors.
Several exchange-traded funds (ETFs) placed their efforts on Bitcoin. But Hougan reiterated that having a crypto index fund offers exposure to other crypto assets, as many of them have even outperformed Bitcoin so far this year.
Bitwise Still Interested in ETF Despite SEC Setback
While ETF shares require documentation and registration with SEC, BITW's shares do not have such issues.
However, Hougan said launching BITW will not prevent the firm from pursuing a Bitcoin ETF since such a launch is part of the main goals of the firm. He further reiterated that if the SEC had approved the company's filing, its ETF would have gone live already.
Hougan also said cryptocurrency doesn't start and end with Bitcoin as it's much more than Bitcoin. Even though Bitcoin is the most desirable digital asset, other crypto assets are doing great as well, he pointed out.
Disclaimer
The information provided here is for INFORMATIONAL & EDUCATIONAL PURPOSES ONLY!
View our complete disclaimer on our Disclaimer Page