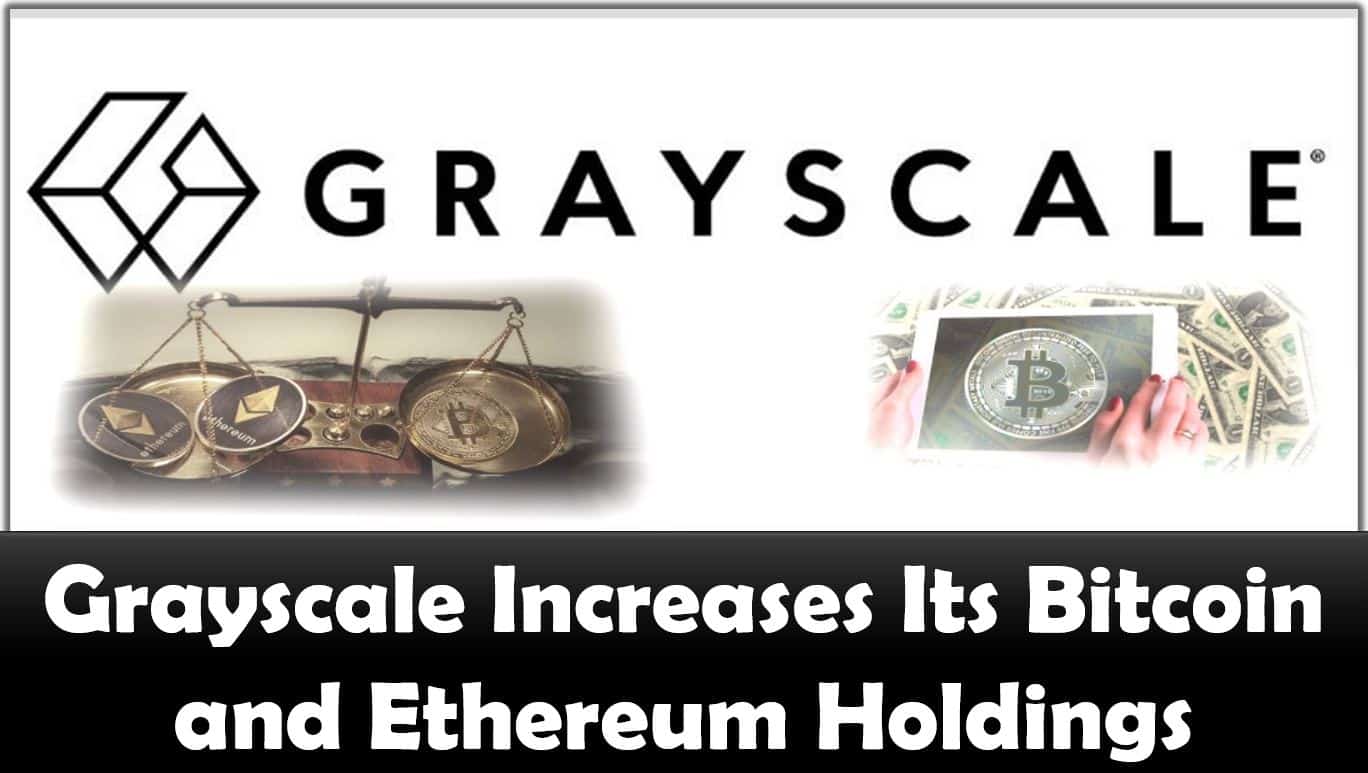 Grayscale Increases Its Bitcoin and Ethereum Holdings
Last updated on December 5th, 2022 at 02:46 pm
The biggest cryptocurrency asset management company Grayscale has accumulated more Ethereum as institutional clients increase their interests in the industry. Apart from the accumulation of Etherem, the company also gathered 14,000 Bitcoin within the same period.
Any entity in the cryptocurrency space that doesn't realize that Grayscale is a force to be reckoned with is very mistaken. They have been buying up quantities of cryptocurrency assets that would make most people, even in the traditional finance space shudder.
We've been reporting about their continued acquisitions of digital assets starting back in June when we highlighted how they had purchased 2/3rds of all newly mined Bitcoin.
That was followed up with our report about how they listed over $10 Billion in assets under management.

There seems to be no slow down in the acquisitions by Grayscale. Crypto analytics firm Bybt.com compiled the data which shows that the Grayscale asset management company now has over $12 Billion worth of digital assets under its asset management. This includes 561,000 Bitcoin and 2.94 Million Ethereum. In total, the value of Ethereum under the management of Grayscale is about $1.7 Billion.
Grayscale Investments has been busy in the market for the past year. Last year, the investment manager partnered with Coinbase and allowed the exchange to become the new security provider for its digital assets holdings. The Coinbase custodian role covers both the single asset and diversified investment products of Grayscale Investments.
The asset management firm holds more Bitcoin value than any other digital asset, with a total valuation of more than $10.7 Billion. But even with the dominance of Bitcoin, the firm has increased its investment interest in Ethereum lately.
Growing Interest In Ethereum
Managing Director at Grayscale Investments, Michael Sonnenshein commented on the development. He said during an interview with Bloomberg that the company has desired to acquire more Ethereum in recent times compared to other digital assets.
He further stated that some investors prefer Ethereum over other cryptocurrencies. Furthermore, there are other institutional investors whose only interest is in Ethereum and nothing else.
These groups of investors have tried to accumulate more Ethereum, which sees its increase in the Grayscale management portfolio.
Also, the high increase in ETH demand is because of the growing conviction surrounding Ethereum as a market class. The development of the asset class has continued to solidify itself, Sonnenshein pointed out.
Bitcoin Still King Despite Ethereum Interest
Despite the increasing interest in the second largest digital asset by marketcap, Ethereum, Bitcoin remains the king of the hill.
However, with the increased accumulation of Ethereum, it shows that institutional investors are gradually looking at Etherem as having the potential of competing favorably with Bitcoin in the market.
Ethereum has grown by more than 300% this year alone. When it comes to the percentage increase in price, ETH had done better than Bitcoin. So, any investors who invested in Etherem rather than Bitcoin have experienced better gains.
But even with the high interest in Ethereum as an investment tool, there are still reservations about the Ethereum network, as it's still facing some issues and version 2.0 is still no in mainnet.
Given all of this, in a recent post, Ripple Chief Executive Officer Brad Garlinghouse stated that the dominance of Bitcoin will not end anytime soon in the crypto market.
Disclaimer
The information provided here is for INFORMATIONAL & EDUCATIONAL PURPOSES ONLY!
View our complete disclaimer on our Disclaimer Page