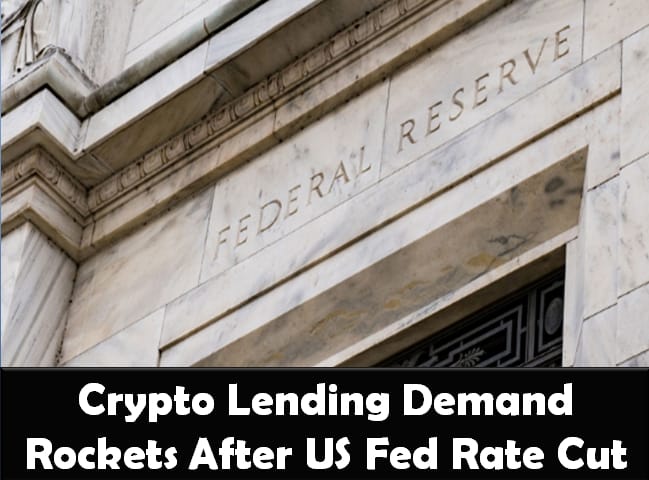 Crypto Lending Demand Rockets After US Fed Rate Cut
Last updated on November 8th, 2022 at 01:55 pm
The U.S. Federal Reserve (Fed) has recently enacted an interest rate cut. In the wake of this, the demand for crypto lending services has surged.
The Blockchain-powered lending platform, Figure Technologies, enjoyed triple the number of loan applications in recent times.
Rate Cut Causes Monumental Rise
When the Fed announced their cut in the prime lending interest rates by 0.50% to achieve the target range of 1.00% to 1.25%, many people were surprised.
While the hope of this rate cut was to stifle the fall of the stock market, it had no effect as the stock market fell to lows last seen in 1987.
However, it appears that there may have been an unexpected benefactor for these cuts. Figure Technologies, a company that leverages blockchain to transform the crypto lending market as a whole, stated that last week saw a 300% increase in loan applications being received by the company. As it stands now, the total amount of loans that the company itself has funded through this has smashed over the $1 billion mark.

Public Statement Highlights Market Needs
The co-founder and CEO of Figure, Mike Cagney, gave a public statement about the matter as a whole. He stated that the 300% increase in the number of applications shows that consumers as a whole are keen to leverage the current rates of HELOC mortgages and student loan refinancing being on an unprecedented low. Through the lower debt costs, consumers will stand to benefit from it and more cash will be on hand thanks to the revised HELOCs and cash-out refi, according to Cagney.

Cagney stands as the founder of the personal-finance firm, Social Finance, or SoFi. He stated that Figure was one of the first "de novo" fintech companies to achieve $1 billion in funded loans so quickly. He attributed his company's tremendous success to the company's proprietary blockchain platform, Provenance, which was built with a focus on crypto lending solutions from inception.
Cuts To Compensate COVID-19 FUD
The fundamental factors behind the Fed's decision of easing monetary policy, is to try and encourage consumers to borrow more money. This stands as one of the central bank's bids to try and curb the massive amount of fear that the COVID-19 virus had brought forth. With the excessive amount of Fear, Uncertainty and Doubt (FUD) that has spread because of it, the general public is taking extreme measures to try and prevent a perceived super-plague from destroying civilization.
Figure explained that the average loan sizes that were applied after the rate cut the Fed had done, stands at about $50,000 per household.
Disclaimer
The information provided here is for INFORMATIONAL & EDUCATIONAL PURPOSES ONLY!
View our complete disclaimer on our Disclaimer Page