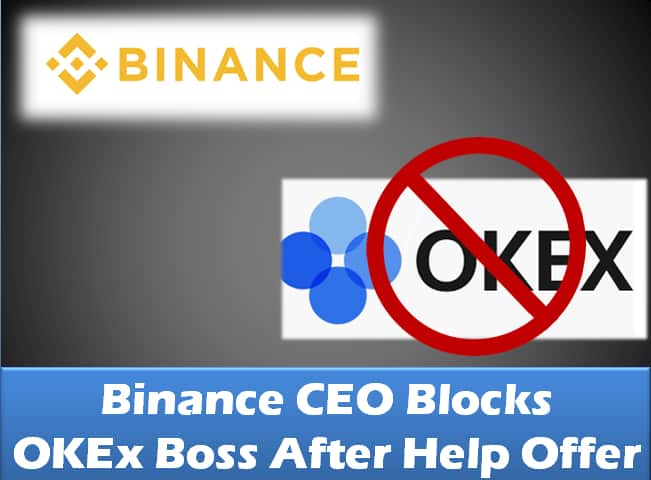 Binance CEO Blocks OKEx Boss After Offer of Help
Last updated on November 1st, 2022 at 01:27 pm
Binance CEO recently announced that the exchange has ceased trading due to a message broker issue.
When the CEO of Binance's rival, OKEx, offered to "help," Binance's Changpeng Zhao blocked him with no other response.
A new Twitter drama took place recently, involving CEOs of two major crypto exchanges, Binance and OKEx.
The trouble started when Binance's CEO, Changpeng Zhao (CZ), announced that trading is currently paused due to the message broker issue. CZ promised that the exchange's team is working on it, not sharing too many details about the incident.
While Binance has undeniably had numerous innovative business endeavors, the fact remains that the exchange has had a number of technical issues lately which are damaging its reputation. With that in mind, it's no surprise that CZ simply tweeted a short message, announcing yet another difficulty in a long series.
The community noticed the increasing number of problems as well, with many members suggesting that Binance should stop experimenting and simply operate as a robust working exchange that it once was.
CZ Blocks Rival Exchange's CEO
Among the comments, however, was also one posted by Jay Hao, the CEO of OKEx, who asked CZ if he needs "help" in dealing with the problem.
The CEO of Binance's rival also offered some technical advice, noting that "Kafka" was not enough for a trading system, indicating that the same issue is likely to happen again. That's when he offered help, but it appeared that Binance had things under control, as the problem was resolved only a few minutes later.

Not only that, but Binance also provided its customers with a few minutes of a head start, for those who wished to cancel their orders before the trading continued.
However, after seeing Hao's message, CZ did not answer — instead, he just blocked Hao's Twitter account without a word. Hao then started a thread on his original post, noting that his help "has been turned down right away." He also said that he thought CZ believes that the blockchain community is open and free, noting that he was apparently wrong.
For now, it remains unknown whether Kafka was really what caused the problem, or whether CZ took Hao's response as a provocation or a genuine offer to help. However, the fact is that Binance's CEO blocked his rival and that Binance still has a lot of issues in its system that need to be fixed.
Disclaimer
The information provided here is for INFORMATIONAL & EDUCATIONAL PURPOSES ONLY!
View our complete disclaimer on our Disclaimer Page