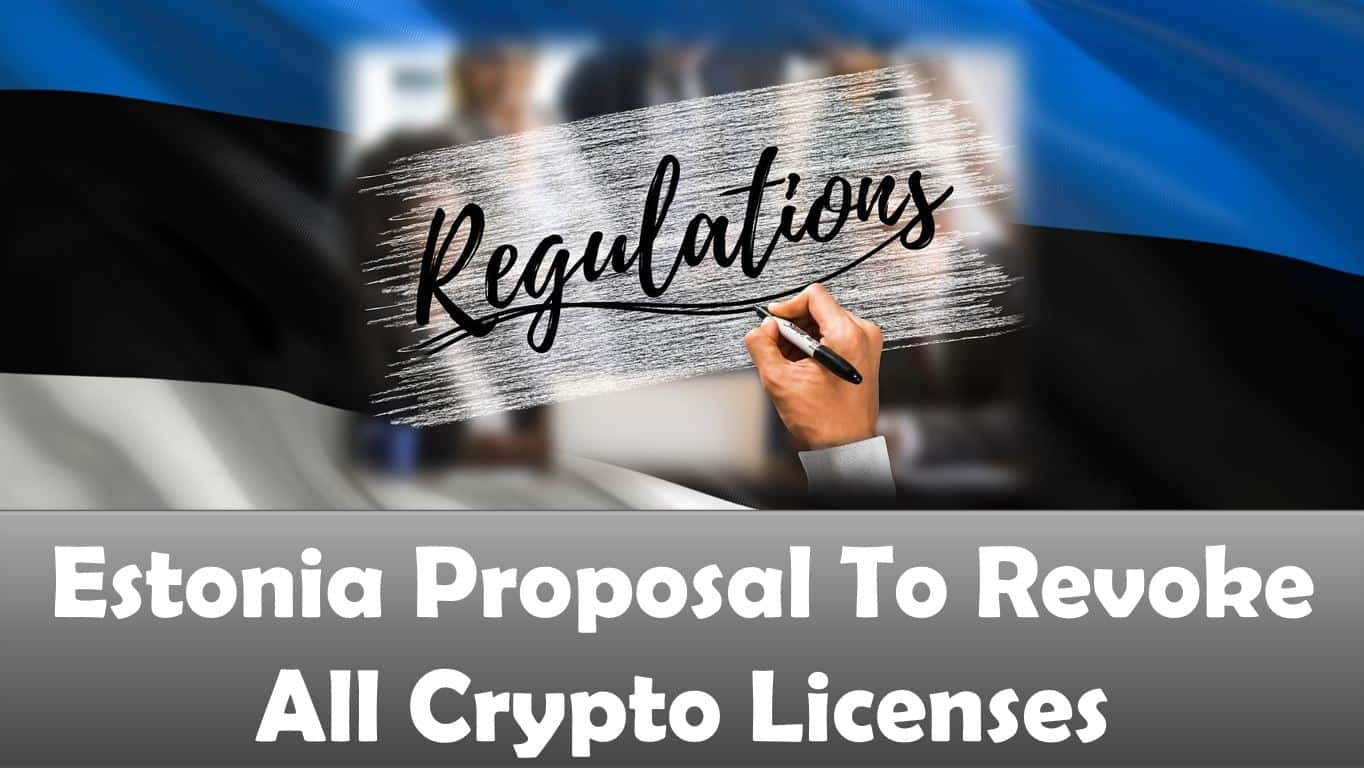 Estonia Proposal To Revoke All Crypto Licenses
Last updated on November 1st, 2022 at 03:54 pm
While the rest of the world is showing a more open approach regarding crypto assets and their regulations, Estonian regulators have decided to crack down on all exchanges in the country.
Financial market regulators in Estonia want to revoke all licenses of crypto exchanges.
According to the regulators, revoking these licenses would pave the way for a fresh regulatory framework that all exchanges will have to abide by when seeking to operate in the country.
The head of the Estonian Financial Intelligence Unit (FIU), Matis Maeker, has requested the government to bring down all the regulatory frameworks that are in place to pave the way for fresh licensing of crypto firms.
According to a local publication, Maeker argued that the public lacked adequate knowledge regarding cryptocurrencies and the high risk carried by these assets.
Maeker, a former executive of the Anti-Money Laundering department at the Financial Supervision and Resolution Authority, stated there were several concerns regarding cryptocurrencies that needed to be addressed first.
Maeker claimed that cryptocurrencies were highly susceptible for use in illegal activities such as money laundering and financing terrorism. He also stated that the crypto sector was highly vulnerable to hacking attacks.
"These risks are very, very high. We need to react cardinally and very quickly," he added.
Around 400 companies have been issued with a virtual asset service provider (VASP) license in Estonia. According to Maeker, this number is greater than the VASP licenses issued in the entire European Union.
The official further stated that despite the large number of crypto firms permitted to operate in Estonia, the country did not benefit.
He noted that these businesses "turn over very large sums, while Estonia gets nothing out of it."
The other issue he addressed is the lack of any change in the economic climate despite an influx of crypto firms. He noted that these firms failed to create jobs for Estonian citizens, and they contributed very little to the tax authorities.

More Stringent Measures
Maeker's suggestions included the introduction of a strict capital requirement for the firms operating in this sector. According to this proposal, firms operating in the cryptocurrency sector will need to hold a minimum of 350,000 euros in cash or securities.
Currently, cryptocurrency firms in Estonia are restricted to an equity requirement of only 12,000 euros, equivalent to $13,800 USD.
Regarding vulnerability to hacks, Maeker noted that cryptocurrency firms needed to be mandated to have advanced IT systems that will ensure investor funds are not accessed by third parties.
The official also stated that these firms should be restricted to only accepting fiat currency for investment. Other options such as refinancing property should be prohibited to protect investors due to the highly risky nature of crypto assets.
This is not the first time that the Estonian regulator is addressing concerns related to cryptocurrencies.
By the end of 2020, the regulator had revoked the licenses of around 70% of the VASPs operating in the country. A local publication in the country stated that the operation that commenced in June 2020 led to a total of 1808 VASP licenses being revoked.
Nevertheless, the European region continues to be a major hub for cryptocurrency firms. A recent report by Chainalysis stated that Europe led the crypto charts with around $1 Trillion worth of crypto transactions.
Disclaimer
The information provided here is for INFORMATIONAL & EDUCATIONAL PURPOSES ONLY!
View our complete disclaimer on our Disclaimer Page