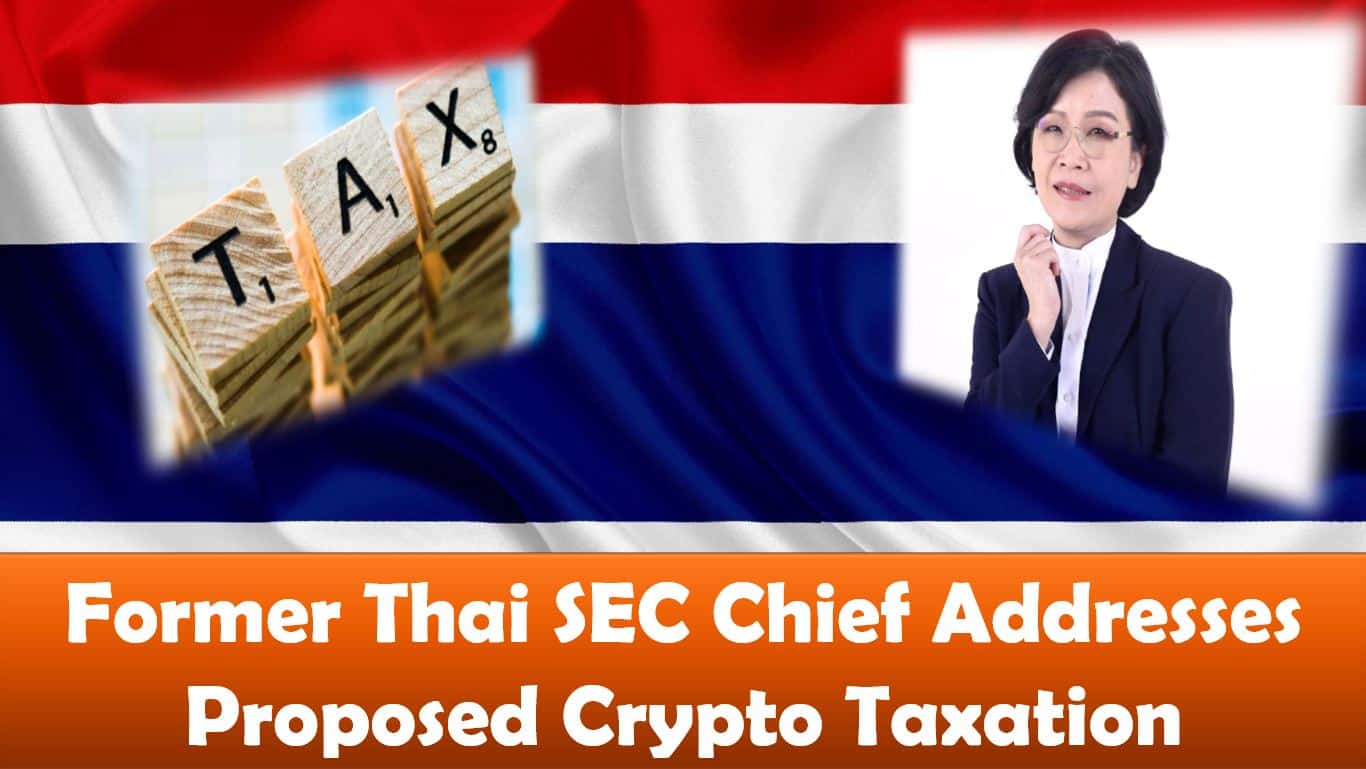 Former Thai SEC Chief Addresses Proposed Crypto Taxation
Last updated on December 4th, 2022 at 09:52 pm
The former deputy secretary-general of the Thailand Security and Exchange Commission (SEC), Tipsuda Thavaramara, has addressed the issue surrounding cryptocurrency transactions in the country.
Thavaramara noted that while the move to collect taxes from the cryptocurrency sector was good, several issues needed to be addressed first.
According to a local publication, the remarks by the former executive at the Thai SEC come as the Thailand Revenue Department commences its discussions on matters related to taxes in the cryptocurrency trading sector.
The former SEC chief praised the decision by the tax body to discuss the matter of taxation in the crypto sector. In the report, the executive stated,
"whether policies focus on the promotion of trade industry or not, the Revenue Department should collect taxes fairly under clear rules and practices."
Thavaramara noted three flaws to the crypto taxation system being adopted in Thailand and other countries.
Firstly, she stated that the capital gains tax is imposed on crypto exchanges. She stated that these trading platforms were not liable to pay for the income generated by their clients.
Thavaramara also added that the current mode of taxation would affect the retail sector. This was because crypto payment service providers were required to charge capital gains tax from their customers.
She stated that Thailand needed to follow in the footsteps of Australia and Singapore. The two countries have exempted cryptocurrencies from value-added tax requirements.
Crypto Regulatory Framework in Thailand
The current crypto regulatory framework in Thailand is not supportive of cryptocurrency investments. Currently, the government is discussing imposing a 15% tax on cryptocurrency trading activities.
The proposed crypto tax has not been welcomed by all players in the sector, who have expressed their concern over the effects of this tax. The chief of the Thai Stock Exchange, Pakorn Peetathawatchai, noted that implementing this new tax would undermine the growth of the sector.
Thailand is also deliberating the acceptance of cryptocurrencies as a legal asset. Earlier, the country's central bank had advised Thai banks against accepting cryptocurrencies.
The current dilemma many countries face surrounds the issue of crypto taxation.
The majority of countries that have imposed a capital gains tax on cryptocurrencies have not developed a solid structure to support the same. There is no solid reference of the right taxation policies to be adopted for the sector.
Besides Thailand, South Korea is also looking towards taxing cryptocurrency gains. The country is currently deliberating a 20% tax on crypto gains.
However, this taxation policy was highly debated against by various players in the financial sector in the country. Because of a lack of a clear regulatory framework backing it, the regulation was postponed by a year.
Thailand is among the countries focused on the development of a CBDC. The country is planning to launch a CBDC to complement the country's fiat currency. The tough regulations on cryptocurrencies could be similar to the occurrences in China.
Disclaimer
The information provided here is for INFORMATIONAL & EDUCATIONAL PURPOSES ONLY!
View our complete disclaimer on our Disclaimer Page