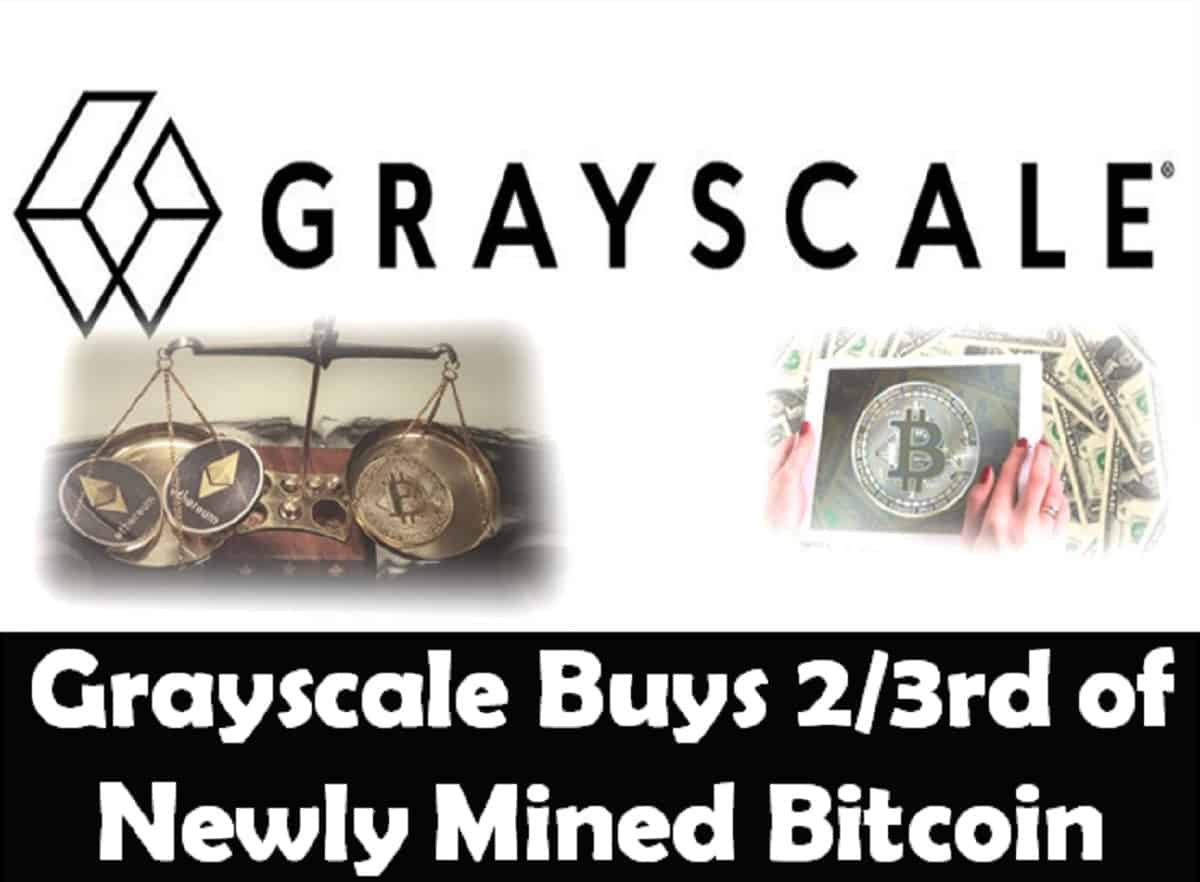 Grayscale Buys 2/3rd of Newly Mined Bitcoin
Last updated on December 7th, 2022 at 09:37 pm
Bitcoin
Crypto fund investment manager, Grayscale Investment, is thought to have bought two-thirds of the entire mined Bitcoins in the past 100 days before Bitcoin halving that occurred on May 12th.
A researcher named "parakite," posted a message on Reddit saying from February 7th– May 17th Grayscale bought about 60,762 BTC. The researcher stated that the Bitcoins have been locked for 6 months. This means the acquired BTC will not be sold for at least the next six months.
Kevin Rooke, a Twitter user, also followed the line of Parakite's statement. In his tweet, Grayscale's average weekly Bitcoin investment had increased 10x to $29.9 Million per week in the first quarter of 2020 from a previous value of $3.2 Million in the first quarter of last year. Rooke said the majority of the increase is because of the improved investment from institutional money.
Parakite also reiterated that the level of acquisition of BTC in Grayscale Bitcoin Trust has increased after last month's halving. With this level of Bitcoin purchases by Grayscale, which has not fallen below 600 BTC per day for the past 100 days, Grayscale has now bought about two-thirds of the total supply of newly mined Bitcoins. Interestingly, the aggressive manner of BTC acquisition may continue in the coming days. While responding to the tweet posted by Rooke, founder of Grayscale, Barry Silbert, implied that more acquisitions are coming in the future.

Institutional Investors Busier Than Ever
In any case, Grayscale's Bitcoin Trust enables institutional investors to have privy of assets like Ethereum and Bitcoin without owning them directly. In a previous post, we highlighted that Grayscale had made record investments into Ethereum.
Certain numbers of various crypto assets comprises each of Grayscale's crypto-based investment funds. And as more institutional investors are purchasing into the funds, each fund will have proportionally more coins. This is also the only explanation for the severe bull positions Grayscale has made this year.
Ethereum
---


---
Grayscale In The News
The firm reported recently that several institutional investors took advantage of the turbulence in the market to invest more on cryptocurrencies. According to Grayscale, it almost doubled the previous quarterly high of $254 Million last year to a whopping $503.7 Million this year.
Grayscale also noted that inflows have passed the $1 Billion mark over a 12-month period. This is the firm's first-ever billion dollar year since its inception.
Again, the bulk of demand was made by institutional investors. Many have predicted that Institutional Investors will play a major role in the growth of the cryptocurrency industry.
Disclaimer
The information provided here is for INFORMATIONAL & EDUCATIONAL PURPOSES ONLY!
View our complete disclaimer on our Disclaimer Page