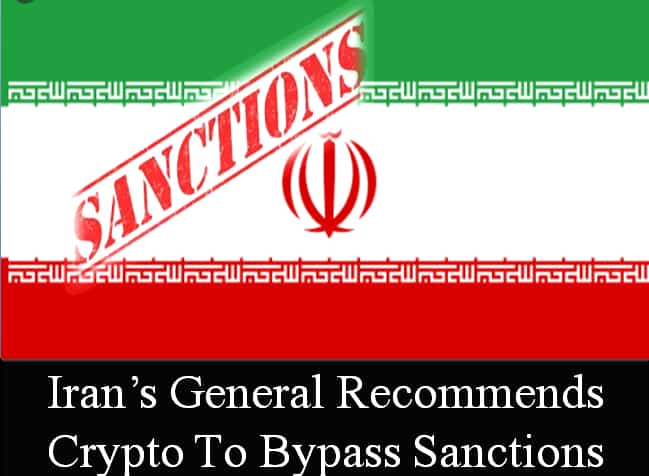 Iran's General Recommends Crypto To Bypass Sanctions
Last updated on November 1st, 2022 at 01:30 pm
Cryptocurrencies are well-known for various use cases, some of which are already available in practice.
While many of the various uses for cryptocurrency hold the potential to move the global economy in a positive direction, there are also some uses that are causing concern among the world leaders.
One such use would be for sanctioned countries to bypass the economic sanctions imposed on them. There are currently multiple countries that the US has enforced sanctions against, including North Korea, Venezuela and of course, Iran.
It may be no coincidence that another thing that these countries have in common is a strongly developed interest in cryptocurrencies. One can only speculate, but this is likely due to the potential of these digital assets to grant these governments access to the world's financial markets via the crypto space.
Now, according to recent reports, the Iranian commander of the Islamic Revolutionary Guard Corps, General Saeed Muhammad, called for the country to start using digital currencies for this exact purpose, according to Coinit.ir — a Telegram channel of an Iranian crypto news organization.
The reports say that the general spoke to the crowd in Iran on February 26th. He demanded the creation of a more sophisticated method that would allow the country to bypass sanctions. He openly called for the use of crypto with the country's foreign partners.
Iran's Been Eyeing Crypto For Years
As many might know, the sanctions were imposed by the Trump administration after the US withdrew from the Joint Comprehensive Plan of Action, back in 2018. Since then, the Iranian national currency has seen a significant drop partially due to the economic sanctions levied against the country. This has isolated the country from foreign investment and trade.
However, the use of cryptocurrencies has been surging around the same period, due in large part to a major bull run that took place in 2017. It was not long before sanctioned countries realized that they can start using the rapidly-growing asset class to circumvent sanctions.
The administration of Hassan Rouhani, the country's president, also announced a national crypto back in 2018. Meanwhile, the country's Ministry of Industries, Mining and Trade issued over 1,000 cryptocurrency mining licenses.
FATF Takes Action
The Intergovernmental Financial Action Task Force (FATF), which has been sending out 'guidelines' which have affected cryptocurrency exchanges has weighed in on these issues with Iran.
The FATF has decided to blacklist Iran, noting that it does not comply with anti-terrorism financing requirements.
Read More About How The Affects of the FATF Are Being Felt In Crypto
Disclaimer
The information provided here is for INFORMATIONAL & EDUCATIONAL PURPOSES ONLY!
View our complete disclaimer on our Disclaimer Page